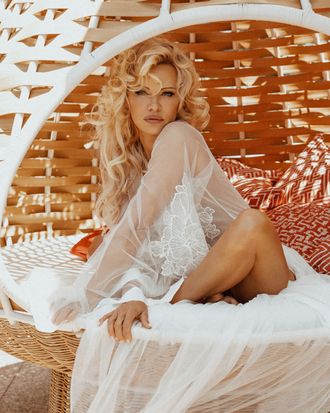 Pamela Anderson.
Photo: Karolina Turek
When Pamela Anderson announced earlier this week that she was retiring from posting because it's not compatible with the "peaceful sexy life" she's manifested, little did we know that her lifestyle featured a new Mr. Pamela. Indeed, the Baywatch star quietly married her fifth husband, her bodyguard, on Christmas Eve.
According to the Daily Mail, which published exclusive photos of the radiant newlyweds, Anderson and said bodyguard, a man named Dan Hayhurst, met at the beginning of the pandemic and have been inseparable ever since. They went with an intimate ceremony, inviting no friends or family. As light drumming resonated in the background, the couple said their vows before a local pastor on Anderson's family's property on Vancouver Island, which she says is "full of deer, bears, raccoons, eagles" and has "a lot of healing energy." Their witness was Qiyupelenexw, from Snuneymuxw First Nation, who gave a musical performance of the Paddle Song, which "signifies a new journey," per the Daily Mail. The wedding also featured a traditional "cedar-brushing ceremony," meant to bless both the new couple and their property.
"The trees have known me my whole life," Anderson reflected, "and to be surrounded by the nature I knew since birth on my wedding day was very powerful."
And Anderson was ever the beaming bride. For the big day, she wore an antique 1940s satin slip, a corset, a tulle skirt, a long Valentino veil that "[dragged] in the mud," and Hunter boots — but no jewelry. Her bridal bouquet was elaborate: Per the Mail, "an olive branch was included for peace, roses for romantic love, babies breath for new beginnings, eucalyptus for purifying energies, the exotic orchid for passion, plus a pine bough which speaks to coastal ancestral roots from the property and mother earth."
Following the vows, the betrothed couple tucked into a vegan vanilla and coconut cake topped with an antique handblown glass deer, representing the couple's shared love of animals. Since meeting on Vancouver Island, where Anderson and Hayhurst intend to settle down, they have each put their respective talents and resources toward supporting the RASTA animal sanctuary; Hayhurst has been helping build a new barn, while Anderson has provided the financial backing and served as the face for an ongoing billboard campaign, which features the tagline "Compassion Is Always Sexy."
Upon the announcement of their nuptials, the Sanctuary — which primarily posts photos of goats, sheep, pigs, and other various farm animals — shared a slideshow of Anderson and Hayhurst's wedding photos, asking their followers to "help us in congratulating our wonderful friends."
"These two lovebirds recently tied the knot on Christmas Eve and we truly couldn't be happier for them!" the caption continues. A resounding same from us!