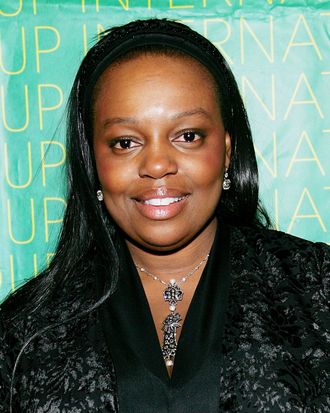 Photo: Evan Agostini/Getty Images
You may call her Ms. McGrath, the most influential makeup artist of our time, the creator of glitter lips, the head of a billion-dollar beauty business, Mother (if you're Naomi Campbell or Marc Jacobs), a heavy packer (she travels with a rumored 60-something suitcases) — and now you can refer to her as Dame Pat McGrath.
Just at the end of 2020, Queen Elizabeth II added McGrath to the Queen's New Year Honours List, a select group of those who are recognized and rewarded for having accomplished acts of greatness in their field (like creating brocade eyebrows or the 1,500-Swarovski-crystal mask she made for Givenchy). Queen Elizabeth II had already bestowed McGrath with an MBE (member of the order of the British Empire), the third-highest-ranking award, in 2014. But being a dame is an entirely different system and puts her in esteemed company with Judi Dench, Anna Wintour, Emma Thompson, and Elton John. It also makes her the first makeup artist to receive the honor of damehood.
On Instagram, McGrath said of the honor: "Not in my wildest dreams could I have imagined that one day Her Majesty Queen Elizabeth II would recognize me to be amongst the incredible recipients of this honour both past and present. When I first launched my brand, PAT McGRATH LABS, it was designed to inspire self-expression and individuality. I dedicate this honour in tribute to Makeup Artists everywhere, I adore each and every one of you. Never give up on your dreams - with hard work, creativity and perseverance anything is possible."
McGrath also appears on the cover of the February issue of Allure, making her the first makeup artist to ever do so since it first launched in March 1991. Congratulations to McGrath for all of the well-earned success and for joining the fancy prefix club.