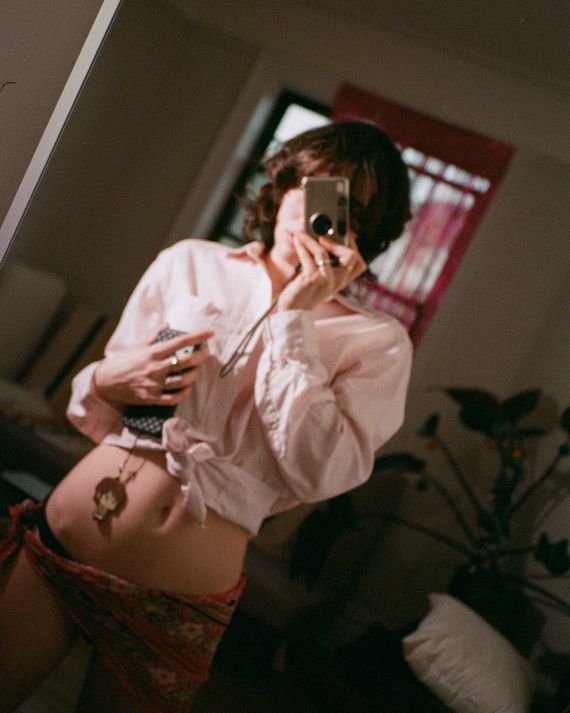 Midnight on January 1, 2021, was unlike any other in recent history. To document the passing of time after a year in which time itself seemed both fleeting and endless, the Cut asked photographers around the world to capture their intimate, unforgettable New Year's Eve celebrations.
On a typical New Year's Eve, photographer Lula Hyers, 23, would be out dancing with her friends, hopping from one crowded New York establishment to another in the freezing cold. Of course, 2020 was not a typical year, but that didn't stop her from dancing with her pod late into the night.
But first: fuel. Hyers and her friends love to cook, and they've been doing a lot of it together lately. "I like seeing how everyone's mind works in the kitchen," she said. "Some people are bossy, some quiet and determined, some simple and classic. We all bring a little special something to the mix when we come together." Their New Year's Eve menu consisted of various snacks: baguettes with different toppings, cheese, peppers, and olives. Plus wine.
After dinner, it was time for poker — another activity Hyers and her pod have gotten really good at during the pandemic. Even though they've known each other for years — six, ten, even 20 for some — they're still discovering new things about each other, growing and changing individually but also collectively. "As we gathered in the New Year together, as we have many years in the past, unsure of what was to come, [it was clear] that the love between us all was strong," Hyers said. "We care for one another immensely, no matter the distance or time."
On January 1, 2021, Hyers woke up and made a big group breakfast.