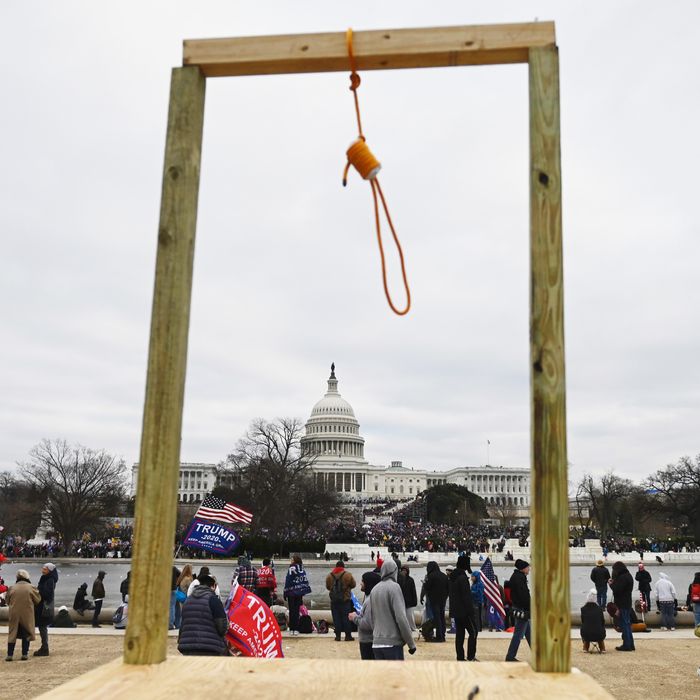 A noose outside the U.S. Capitol.
Photo: ANDREW CABALLERO-REYNOLDS/AFP via Getty Images
Ahead of Wednesday, when Congress was scheduled to tally the results of the Electoral College ballots and thereby certify Joe Biden's election as president, Washington, D.C., was bracing for chaos. Hundreds of Trump supporters had made plans to travel to the nation's capital to contest Biden's win, which has repeatedly been reaffirmed, though that hasn't stopped the President from fighting tooth and nail to overturn the results — and Trump supporters have demonstrated their proclivity for violence.
But the sheer level of mayhem and terror that ultimately unfolded at the U.S. Capitol today exceeded some of the worst expectations. In the early afternoon, the mob of Trump supporters who had congregated outside began to barrel through a small showing of Capitol Police, who did little to resist their violent advances, and then successfully made their way into the Capitol building. Then, they laid siege to it.
Inside the building, the insurrectionists — many of whom wielded weapons and Confederate flags — acted like unruly children allowed to freely roam a vacated school: They smashed windows, raided elected officials' offices, swiped podiums, mounted the dais, and otherwise wreaked havoc in any way they so desired. While some elected officials were able to evacuate to secure locations, others found themselves sheltering in the House chambers, where they were instructed to hide under their seats and put on gas masks. At one point, shots rang out, and a woman has reportedly died after suffering a gunshot wound to the neck.
Meanwhile, Capitol Police did little to quell the attempted coup, prompting comparisons to law enforcement's treatment of Black Lives Matter demonstrators over the summer, when officers frequently tear-gassed, fired rubber bullets at, and beat protesters. When asked why Capitol Police weren't ejecting Trump supporters from the building, one anonymous officer told the New York Times, "We've just got to let them do their thing now." One video shows police moving barricades to allow the violent mob to stroll into the Capitol.
While the unrest continues, here are some of the most disturbing images from the day so far.