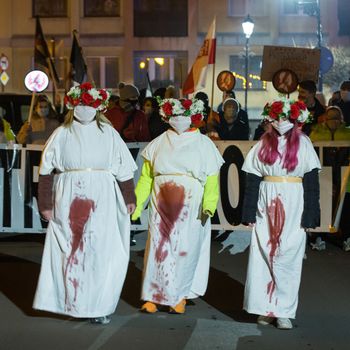 On January 27, protests broke out across Poland after the right-wing government announced it was enforcing a near-total abortion ban.
Photo: SOPA Images/LightRocket via Gett
Last night, a near-total ban on abortion took effect in Poland, despite mass outrage and protests against the ruling that drew hundreds of thousands of people.
The decision to ban abortion in nearly all circumstances was made last October by Poland's Constitutional Tribunal. Immediately afterward, the country erupted in protests the size of which hadn't been seen since the 1989 collapse of communism: Police estimate that 430,000 people attended 400 demonstrations throughout the country, in spite of the ongoing coronavirus pandemic. "I'm here because my sense of helplessness has reached its peak," one woman told the New York Times at the time.
Poland, which is staunchly Catholic, has long had some of the most stringent abortion laws in Europe — the procedure was only allowed in cases of fetal abnormality, rape or incest, or threat to the mother's life. The new ruling eliminates the first exception. This will effectively outlaw abortion in the country entirely: 1,074 of 1,100 abortions performed in Poland last year were because of fetal abnormalities, the Times notes.
At first, the October protests seemed to work; in November, Poland's right-wing government delayed the ruling's implementation indefinitely. But then, on Wednesday, the government abruptly announced that it was taking effect, driving thousands of Poles across the country back to the streets, bearing signs with messages like "Freedom of choice without terror."
"We are dealing with incompetence, corruption, a total decay of the state, so these men are doing what they know best — taking away rights and freedoms from the citizens," Marta Lempart, the leader of Women's Strike, which has organized the the mass demonstrations, told a local television station. "This is about women, but also about all other minorities and majorities that Law and Justice hates."
As reproductive-rights activists often argue in the face of such restrictive abortion laws, banning abortion does not stop women from undergoing the procedure. Rather, it forces them to travel to places with less stringent laws or to seek out abortion underground, which can be deadly. Every year, according to the Guttmacher Institute, more than 30,000 women die from botched abortions. Women's-rights organizations estimate that every year, as many as 200,000 Polish women are forced to travel abroad for the procedure, or look underground. Following this ruling, activists argue, this number will only rise.
This is not the Law and Justice Party's first attempt at banning abortion. In 2016, a year after it gained control of the government, the party put forward of a full abortion ban that major demonstrations successfully defeated. "For them it is not about protecting life," Donald Tusk, an opposition Polish lawmaker, told the Times. "Under their rule more and more Poles are dying, and less are being born."