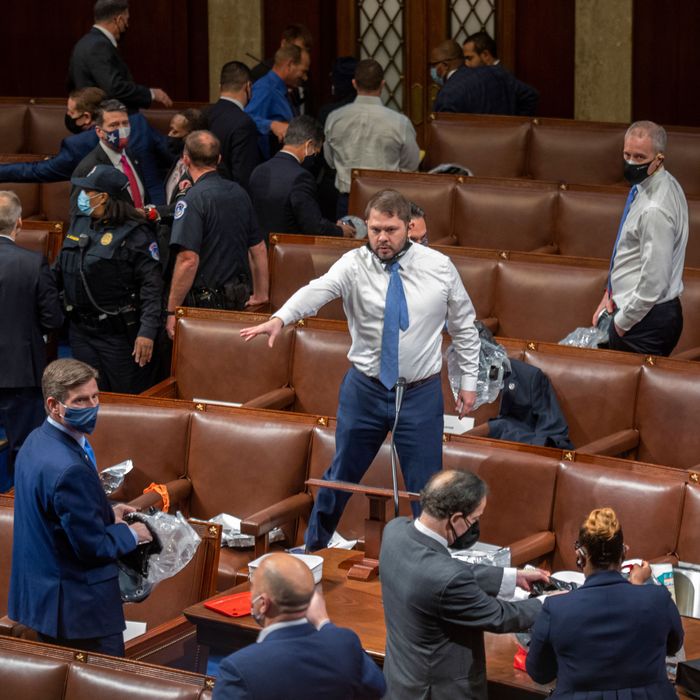 Photo: The Washington Post/The Washington Post via Getty Images
Representative Pramila Jayapal predicted her own COVID-19 infection. Last Wednesday, she and over 100 other members of Congress and their staff were forced to shelter in a secured, enclosed space as a violent, pro-Trump armed mob raged through the Capitol, smashing windows, defacing hallways and officers, and attempting to break down barricaded doors. Some of the people hiding with her — her own Republican colleagues — refused to wear masks. The following day, she told the Cut, "I am convinced that where we ended up, in the secured room … was a superspreader event."
Late last night, Jayapal tested positive for the virus. Two Democratic legislators who were sheltering with her, Bonnie Watson Coleman of New Jersey and Brad Schneider of Illinois, have tested positive as well. It seems as though Wednesday's events played out just as the congresswoman feared they would — "a superspreader event on top of a domestic terrorist attack," as she put it in a furious statement about her diagnosis.
"Domestic terrorist attack turned superspreader event" couldn't be a more salient illustration of where our country has ended up. This is where we are, after four years of Donald Trump's presidency, after long fomenting home-grown extremism and decades of institutional decay. Violent vigilantes roamed the Capitol, inflamed by conspiracy theories from the fringe and outright lies from officials, proudly displaying hate symbols and openly calling for Trump's opponents to be publicly executed. Among their ranks, reportedly, were police officers and Republican lawmakers; the chair of the House Freedom Caucus allegedly helped plan the event that culminated in this insurrection. It all played out in the halls of a government completely paralyzed in the face of a deadly pandemic that has brought America to its knees, our failure unparalleled the world over, while conservatives gleefully deny science and regulations and spread misinformation — triggering the libs by potentially exposing them.
The Republican representatives' refusal to wear masks as they cowered alongside their fellow members in the Capitol, within earshot of rioters rampaging, as a police officer was beaten to death, was its own kind of reckless violence. In her statement, Representative Jayapal called it "selfish idiocy."
The term is a concise summation of the incredible harm caused by Trump, his supporters, and the movement they represent. Their deranged, all-encompassing denial of reality — even as it has killed hundreds of thousands of Americans and filled hospital beds in every city — isn't just stupid, it is knowingly cruel. To drive home the point, the representatives not only refused to wear the masks; they mocked their colleagues who begged them to put them on. In a video circulated online, Democrat Lisa Blunt Rochester was captured approaching a group of six Republicans (who were sitting closely together waiting out the riot) and offering them blue surgical masks. As they repeatedly refused them, they were laughing and smirking.