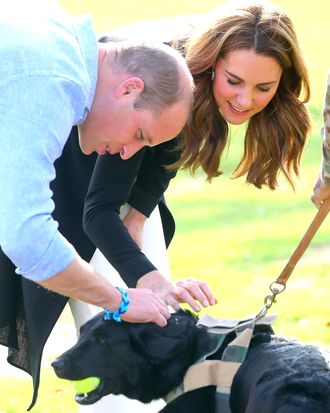 FYI, though: It's not this pup.
Photo: Chris Jackson/Getty Images
Huge announcement: Rumor has it the royal family recently welcomed a new member, and a very small one at that. According to the Daily Mail, Prince William and Kate Middleton quietly acquired a cocker spaniel puppy some months ago. Sources say the pup is "adorable" and that "the whole family are besotted," phrasing I am taking to include every member of the larger Windsor enterprise, up to and certainly including the queen. (A storied dog lover.)
The Mail did not obtain pics, but here is what we know so far: The eight-month-old mystery pup arrived before the death of the Cambridge's late dog, Lupo, in November. (Please, look at Lupo; a moment for Lupo.) According to the tabloid's informant, the Duke and Duchess of Cambridge, and presumably also their three children, "were devastated when Lupo passed away," and had "hoped that a younger dog would give Lupo some company and give him a little more life and energy."
The pup — who, it bears noting, is actually Lupo's niece or nephew — reportedly came from Kate's brother, James Middleton, noted Instagram influencer and dog breeder. Per the Mail, James and his fiancée, Alizee Thevenet, welcomed a litter of baby spaniels over the summer. The couple posted a tearful goodbye to the small potatoes in July, when they were 56 days old and ready to go to their new homes. (Proceeds reportedly went to a therapy pet charity.)
James did not specify which would be headed off to Kensington Palace, but the Mail reports that William and Kate naturally got the "pick of the litter." Let's lean in for a closer look.
Per James's Instagram, we're dealing with six puppies in total, three of them black and three of them brown, all of them with big baleful eyes and long silky ears.
Although I am not equipped to say which of them might be the prize pup — beauty being in the eye of the beholder, and all — it's potentially worth noting that one special peach merited a solo shot, possibly signaling that it is one to watch. I mean, this is pure conjecture of course! Who can know for sure! But, well:
Ultimately I think we must agree that each of these tiny faces is simultaneously The Best, and one day we hope that @KensingtonRoyal will grace us with a look at (and a name for) the rumored official selection. Until then, I would advise you to heed James's advice and clear some time for the final slide in his Instagram post. Sound up, people! Sound up.