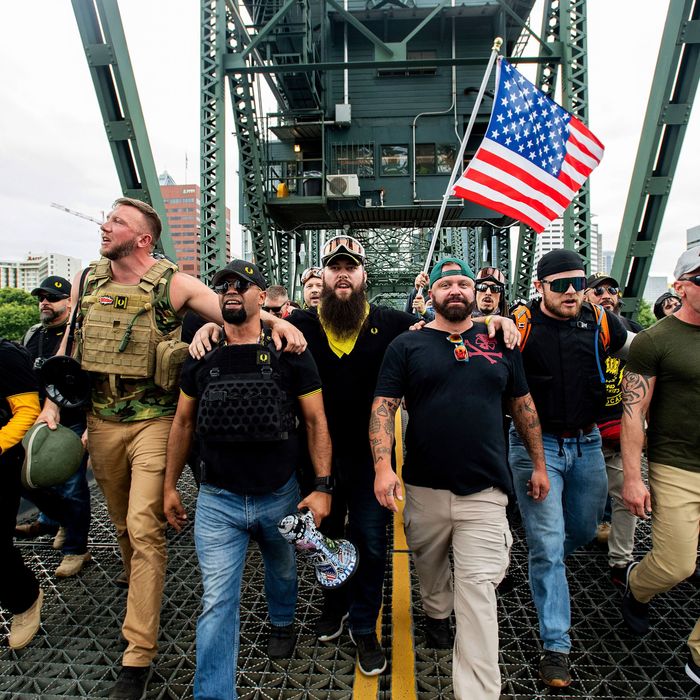 Proud Boys, a self-described "western chauvinist group," is categorized as "extremist" by the FBI.
Photo: Noah Berger/AP/Shutterstock
So far, the list of people arrested in connection with the violent siege at the U.S. Capitol earlier this month include a former West Virginia lawmaker, the health-conscious "QAnon Shaman," a high school therapist, and numerous members from various militia and far-right groups. Add to the list an organizer for the Proud Boys, the "Western chauvinist" group known for street violence and racist views, and which the FBI categorizes as "extremist."
On Wednesday, authorities in central Florida apprehended Joseph Biggs, 37, a Proud Boys member who in 2019 organized one of the largest far-right rallies of the Trump era in Portland. Biggs also, per CBS News, played a role in the January 6 insurrection that caused some lawmakers to fear for their life. He now faces a slate of federal charges: obstructing an official proceeding before Congress, entering a restricted area on the grounds of the U.S. Capitol, and disorderly conduct.
According to an arrest affidavit, Biggs began posting about the "Stop the Steal" rally on Parler, one of the far-right's preferred social-media platforms, as early as last December. "Jan 6th is gonna be epic," he wrote in one message; in others, Politico reports, Biggs encouraged his followers to join him in Washington, D.C., and to wear all black so as to resemble antifa. (Biggs is known to direct violent rhetoric at left-wing radicals who fall under this loose term, per CNN.) On the day of the insurrection, Biggs was part of the mob that breached the Capitol building, he admitted the federal authorities. However, he claims that he did not know beforehand of any plans to breach the building, and that when he entered the Capitol, he did not do so forcefully. Per the affidavit, in photos from the day, Biggs can be seen wearing an earpiece, as were other Proud Boys.
So far, federal charges have been brought against more than 115 defendants, and hundreds of people across the country are facing local charges.