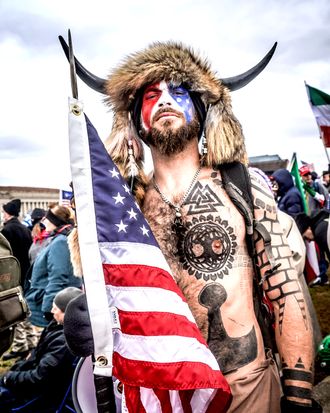 Jacob Anthony Chansley, a.k.a. Jake Angeli.
Photo: Selcuk Acar/NurPhoto via Getty Images
On Monday, Jacob Anthony Chansley — a.k.a. Jake Angeli of Arizona, a.k.a. the horned, shirtless man bearing a spear-flag during last week's insurrectionist attack on Congress — made his first court appearance since the Justice Department arrested and charged him for his participation in the Capitol riot. The self-styled "QAnon Shaman" did not address the charges against him ("knowingly entering or remaining in any restricted building or grounds without lawful authority, and violent entry and disorderly conduct on Capitol grounds," filed by federal prosecutors on Saturday), but his attorney did note that Chansley had refused to eat since being taken into custody. Oh? And why might that be?
"He gets very sick if he doesn't eat organic food — literally will get physically sick," his mother, Martha Chansley, told ABC15 Arizona.
During the hearing, Gerald Williams — Chansley's public defender — reportedly seemed unclear on whether or not his client observed a restricted diet for religious reasons. In any case, the judge deemed Chansley's refusal to eat "deeply concerning," and according to ABC15, he will be "provided food in line with a shaman's strict organic diet" going forward.
"We will abide with the judge's order," David Gonzales, U.S. Marshall for Arizona, said after the hearing.
Chansley has been a mainstay at far-right rallies in Arizona since at least 2019, according to the Arizona Republic, loudly espousing conspiracy theories propagated by QAnon and voicing his support for Donald Trump. Following the January 6 attack, he told the Washington Post about his spiritual background — which the outlet describes as "a mix of pagan and New Age–like religious beliefs" — and his "shaman's clothing." Chansley always wears face paint and a buffalo-horned hat made of coyote skin, in what he views as a nod to certain Native American myths that characterize the animal as a "trickster." ("I wear the skin," he told the Post, "because you cannot pull the wool over the eyes of an Angeli.") Then again, he reportedly indicated to the Republic last year that his outfit was merely a "way to attract attention."
Chansley has not yet entered a plea, but told ABC15 last week that he doesn't believe he did anything wrong in participating in the siege, which left five people dead. "I'm not really all that worried about it because, in all honesty … I didn't break any laws. I walked through open doors," he said. "I obey the orders of the president of the United States."