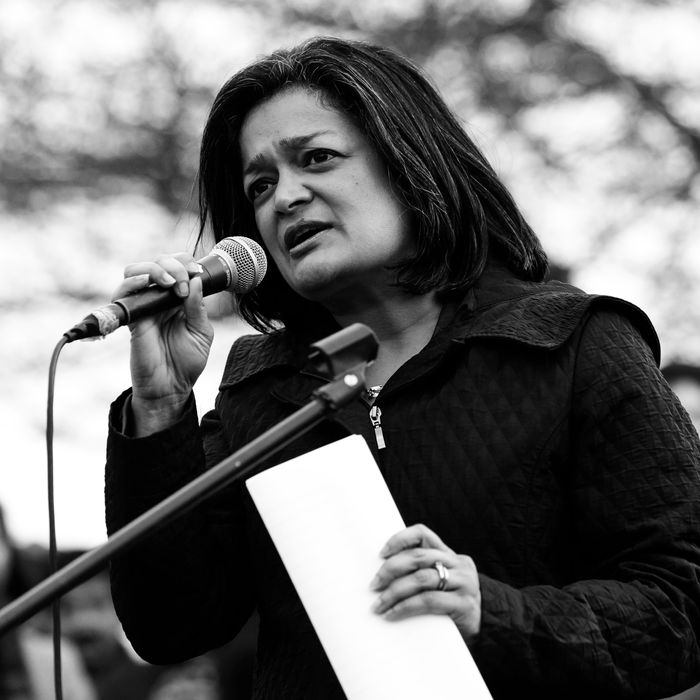 Photo: JASON REDMOND/AFP/Getty Images
Democratic congresswoman Pramila Jayapal of Washington has tested positive for the COVID-19 virus after being sequestered for several hours during last week's siege on the Capitol building in a room with maskless Republican colleagues.
After armed, pro-Trump insurgents stormed into the Capitol building on Wednesday, January 6, many congressmembers and their staffs — including Jayapal, who had initially been stranded in the gallery of the House chamber — were evacuated to a secure location; though over 100 people were crowded into a poorly ventilated room for hours, several of them refused to wear masks.
In a statement noting the "selfish idiocy" of fellow House members who refused to take basic safety precautions in the midst of a pandemic claiming the lives of more than 3,000 Americans a day, Jayapal said, "Too many Republicans have refused to take this pandemic and virus seriously, and in doing so, they endanger everyone around them. Only hours after President Trump incited a deadly assault on our Capitol, our country, and our democracy, many Republicans still refused to take the bare minimum COVID-19 precaution and simply wear a damn mask in a crowded room during a pandemic — creating a superspreader event on top of a domestic terrorist attack."
In an interview with the Cut last Thursday, Jayapal had predicted this exact outcome. She said she was already quarantining, "because I am convinced that where we ended up, in the secured room — where there were over 100 people and many were Republicans not wearing masks — was a superspreader event."
In her statement Monday night, Jayapal's office took care to highlight that "the duration in the room was multiple hours, and several Republicans not only cruelly refused to wear a mask but mocked colleagues and staff who offered them one," linking to video showing Delaware representative Lisa Blunt Rochester pleading with a group of Republicans to put on the masks she was offering them. They included newly elected Georgia representative (and QAnon enthusiast) Marjorie Taylor Greene, Arizona representative Andy Biggs, Pennsylvania representative Scott Perry, Texas representative Michael Cloud, and Oklahoma representative Markwayne Mullin, who can be heard rebuffing Rochester's proffered mask by telling her, "I'm not trying to get political here." (Greene's office would later tell CNN, "Congresswoman Greene is a healthy adult … She does not believe healthy Americans should be forced to muzzle themselves with a mask. America needs to reopen and get back to normal.")
Jayapal's statement includes her call to levy "serious fines … on every single Member who refuses to wear a mask in the Capitol," as well as the suggestion that "any Member who refuses … should be immediately removed from the floor by the Sergeant at Arms. This is not a joke. Our lives and our livelihoods are at risk, and anyone who refuses to wear a mask should be fully held accountable for endangering our lives because of their selfish idiocy."
Jayapal told the Cut last week that, like many of her House colleagues, she had received her first vaccination shot on Monday, January 4. Two days later, her workplace was under attack.
On Sunday, January 10, Brian Monahan, the attending physician of the United States Congress, sent an email to all members of Congress and to House staff, alerting them that during the hours that they had been "in protective isolation" during the raid, "individuals may have been exposed to another occupant with coronavirus infection." On Monday, Jayapal's colleague, New Jersey congresswoman Bonnie Watson Coleman, 75 years old and a cancer survivor, announced that she had tested positive after having sheltered in the room.
Jayapal had told the Cut last week that she had planned to get a COVID test in coming days, even before the warning notice from the congressional physician. The circumstances in the secure room had worried her enough that she'd also instructed her D.C. staff not to return to their offices until she got a result, so as not to endanger them. By Monday, Jayapal wasn't feeling well and feared that she had indeed been infected; she received her positive result late Monday night.