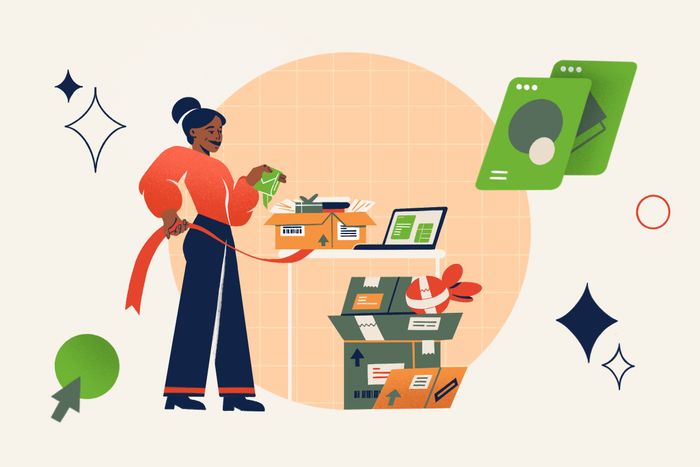 Photo: Illustrations by Vrinda Zaveri
Husband-and-wife business partners, Camilo Velasquez and Elisa Lewis, are no strangers to change or challenges. They opened craft bacon shop The Baconer together on top of raising their two kids — a feat that would strain anyone's work-life balance. But neither could have expected the onslaught of change COVID-19 brought last March. Overnight, they found themselves managing new challenges like virtual school for their kids, and taking an unexpected hit to their business. Suddenly, the restaurants and grocery stores that had made up the bulk of their customers were closing or in flux. They needed to find a new consumer base for their product — and fast.
So, they tried a new approach to keeping their business afloat: direct-to-consumer e-commerce. They decided to market themselves as an artisan, specialty gift purveyor online. "We had to get that much better at making quick decisions, executing on them, moving forward and not looking back," Velasquez says.
For the small businesses that have been able to stay open since last March, it's taken a lot of quick thinking, more than a few pivots, and a clear picture of their cash flow. Even before a pandemic forced retailers to close their doors to the public, there had been a decline in consumer spending — a trend that's only continued with stay-at-home orders and nationwide layoffs due to COVID-19. It's no wonder that in the first six months of the pandemic, nearly all of the 100,000-plus businesses that were temporarily closed because of the pandemic ended up shuttering for good.
Velasquez and Lewis adapted, but they needed more solutions to help them keep the business running smoothly. "In a year where everything has been so crazy with so much change, it's been critical to have a tool like QuickBooks. We can very easily put information into it, and it tells us what's happening in the bank accounts — and who owes us money, most importantly," Velasquez says. "I made a joke last night, without it we would have become those crazy people with a box full of printed receipts."
Instead of being buried under receipts and worries, QuickBooks helped them find a way to thrive in a year where many of their peers have not been so lucky. As Velasquez and Lewis learned, shift happens. By amplifying their online presence, turning to their community, and diversifying their offerings, they've grown in ways they hadn't anticipated.
Their story of survival isn't the only one. Despite the daunting number of businesses that have closed, others have found ways to make swift changes, stay open, and serve their communities. Here are five ways a few small business owners across the U.S. have kept their shop doors — both virtual and tangible — open during an unpredictable year.
1. Pivoting to e-commerce
Online shopping is often cited as a leading cause of the decline of brick-and-mortar retail. With the pandemic causing curfews, lockdowns, and social-distancing protocols, there were even more reasons for people to shop from behind the safety of a screen. That left many businesses rushing to get their online shops up and running.
Like The Baconer, Wanderful Boxes turned to online sales to make up for the loss of in-person shopping. Before the pandemic, its business was dependent on foot traffic from a neighboring salon — a problem once the salon shut down. "I was definitely feeling a bit defeated," says Sara Andrews, owner of Wanderful Boxes. "My website wasn't where I wanted it to be and I thought my business overall would suffer."
After realizing that she'd neglected her website, she worked with a consultant to revamp it. Now, her site allows her to offer local pickup for online orders and to widen her customer base. She's shipped to more than 30 states in the past year, a first for her business. "Making a few necessary tweaks and stepping outside my comfort zone with marketing and opportunities made a world of difference," she says, "and I now feel much more confident in my ability to adapt and thrive in any circumstance."
2. Transforming the shopping experience with new tools
With 2020's lifestyle changes to accommodate general safety concerns, the products that people cared about and how they shopped for them changed. At The Baconer, the owners made the most of their online shopping experience; Velasquez and Lewis streamlined the backend by connecting QuickBooks to their e-commerce platform, making it easier to check on inventory levels and sales. "It's really helpful for being able to access stuff on the go," Lewis says. "We can pull up anything on our phones, so it just makes our life easier in terms of checking in where we are, but also invoicing customers and compiling statements for them."
When it came to working with social-distancing regulations, Andrews found a way to bring Wanderful Boxes to customers with a new outdoor shopping experience, too. "The Shack here in Virginia Beach led the charge this year with adapting, and turning some of their space into a local vendor market that helped a lot of local small businesses stay in business through events and pop ups," she says. "That's the magic of small business, for me."
Behind the scenes, QuickBooks helped Andrews adapt to the new realities of shopping. "I've always used QuickBooks for bookkeeping, but this year I started invoicing customers for contactless pickup, tracking mileage for deliveries, and tracking project-related expenses for the increase in corporate gifting this year," she says. Invoicing with QuickBooks "is simple and effortless, and has made it easy to offer remote shopping, contactless pickups or drop-offs, and custom projects."
3. Joining forces with other small businesses
There's strength in numbers, and that's proven especially true for small businesses during shutdowns. For shops like Mischief in Oakland, California, banding together created opportunities to draw in new customers and strengthen the local community. "In addition to our own in-house designs, we feature the products and art of local makers who are small business owners too," owner Don Johnson says. "We want to shout out all of the makers in our community for participating and sharing our vision. They help make Mischief a destination gift shop for unique and locally made goods."
Velasquez echoes the sentiment, nodding to more experienced business owners who helped The Baconer pivot successfully. "There's a couple people in our orbit who are several steps further down the road than we are and we've looked to them for guidance, advice, introductions, and for the crash course on how to do this well, quickly," he says. "So I think that's been really critical, leaning on our network of people who know how to do what we're trying to do."
4. Building an online community
As much of the world turned to Zoom meetings for work, Instagram Live DJ sets for weekend parties, and other means of virtual connections, agile businesses found ways to tap into their online communities. The most successful businesses did more than amp up their websites; they became more active on social media, revamped email campaigns, and even hosted virtual events to stay connected to consumers throughout the pandemic. Mischief, known for its in-person creative workshops, found a way to keep its audience engaged with virtual workshops on everything from macramé making to embroidery.
"While we all miss in-person workshops, it's been so cool that people from all over the country have joined us for virtual creative workshops," Johnson says. "Family members who live on opposite coasts can participate in something meaningful together." The new workshops have been so well-received that Mischief plans to continue them along with in-person ones once it's safe to gather together again.
5. Tapping into optimism
During a year of immense change, small businesses found strength in reenergized local support. With a new focus on shopping small to save community shops, many businesses have been able to stay open despite the odds against them. This wave of support is something business owners would like to see last beyond the pandemic.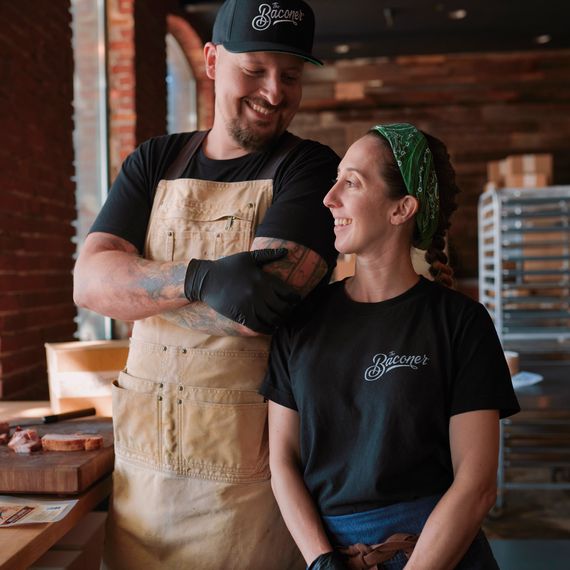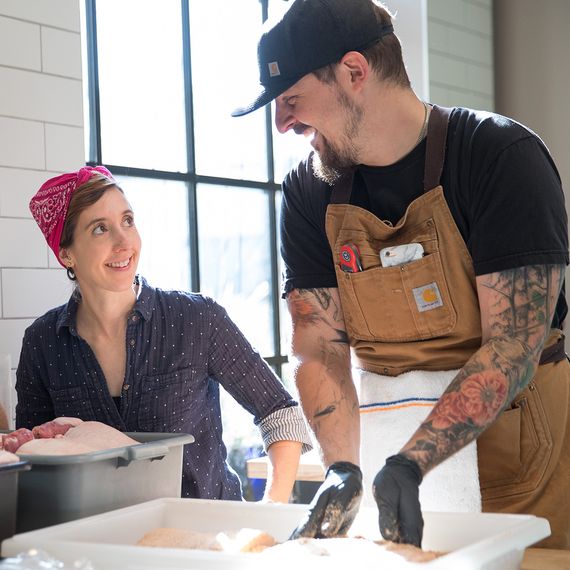 "I hope that we all continue to support and build up our local vendors and small businesses," Andrews says. "The intentionality of 2020 will hopefully stick around, it's been a lot of fun piecing together projects featuring local vendors and businesses who can use a boost during these times."
Along with consumers' wave of support for small businesses from consumers, Lewis is hopeful that the sense of community built among businesses lasts, too.
"There's so much more to business relationships than money and the bottom line," The Baconer's owner says. "I would like to see that continue as we grow, and be a really important part of who we are as a company. How we treat our employees, how we work with our partners and vendors — that stuff is really important because at the end of the day, it's what gets you through."
When Shift Happens
No one could have predicted the changes small-business owners have had to face in the last year. Read more on how entrepreneurs across all industries have made quick-thinking changes to not just survive, but thrive in 2021.
Read more small-business content here.
This advertising content was produced in collaboration between Vox Creative and our sponsor, without involvement from Vox Media editorial staff.