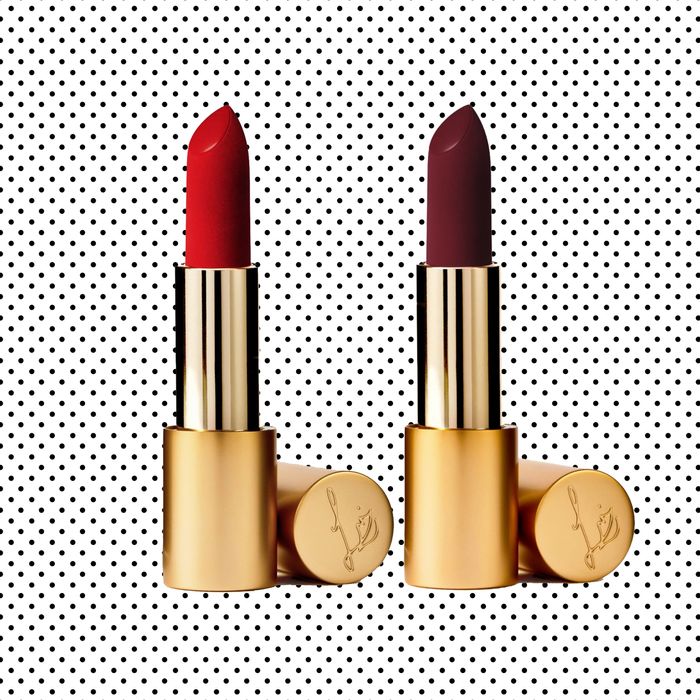 As we once wrote, "If you haven't laid in bed while wearing a sheet mask, ordering pizza, and watching a Lisa Eldridge makeup tutorial video, have you ever really been hungover?" Over a year ago, Eldridge, the queen of makeup and YouTube, launched True Velvet Lipstick, her first product, to instant sold-out success.
A noted perfectionist, Eldridge says that creating the perfect matte lipstick was so difficult she almost gave up multiple times. Lucky for us, she never did. In fact, she's now extended the line, adding 15 shades in a mix of nudes, pinks, and reds. The Cut tried a variety of shades of the "perfect lipstick" — here's what we thought.
Erica Smith, Beauty Writer
I haven't put on lipstick in over a year, but I'm glad this one broke the fast. Matte lipsticks usually take some finessing, but it's freakishly easy to get a good statement lip with this one, even if you're rusty. It gets you an impressive amount of pigment with barely any pressure, so there's no need for a bunch of dragging or going back over your work. No need to reapply, either.
The color fades over time, but so gradually, evenly, and prettily that it still looks put-together and intentional hours later (even after a plate of nachos). It's also very comfortable — I forgot I was wearing it until it was time to take it off. I braced myself for the smeared, chapped horror show that usually comes with longwear matte formulas, but my lips emerged smooth and unstained, as if my former no-lipstick streak was still going strong.
Mallory Johns, Chief of Staff, Vox Studios
Before the pandemic, I wore plenty of statement eye shadow and blinding highlight, but I always felt a little shy about lipstick. That all changed in 2020. Like everyone else, I initially veered more toward skin care, but as the number of Zoom calls I attended skyrocketed, so did my fascination with more noticeable Zoom beauty looks. I began experimenting with Tower Beauty's Lip Jellies, then moved onto liquid lipsticks and stains. Having mastered that red Zoom lip, I was finally ready to try lipsticks of the solid variety, which brings me to Lisa Eldridge and her Velvet Lipstick Collection.
I'm easily impressed by good packaging, and the gold tube did not disappoint — I felt like I was royalty. In the tube, the lipstick looks like actual velvet, with subtle ridges made to refract the light and create a sheen. I went with the shade Carnival, a striking magenta-ish pink. It glided nicely over my lip balm, but took two to three coats to get the payoff that I would have liked. Still, once I was there, I was impressed with how bold I looked, and when I showed up on a Zoom with my family, they all agreed!
My only ding would be on longevity. When I drank a cup of tea, one coat transferred to my mug. Yes, I did have a nice stain effect going on for the next few hours, but it wasn't the same. So I wouldn't call this lipstick maskproof — or kissproof — but there's a 100 percent chance I'll be wearing it for many Zoom meetings to come.
Stella Bugbee, Editor-at-Large
I love Lisa Eldridge, and I was thrilled to try this lipstick because I have used her videos to learn so much about makeup. The red is one of the most perfect shades I've ever tried — just the right amount of blue. I loved the velvet finish of the lipstick and in the tube, it looks like velvet, not wax — a nice detail.
But what I realized after trying it was that I simply no longer want to wear red lipstick. I have no reason to wear it under a mask, and on Zoom, it feels too bright. It feels like a glamorous nighttime color to me, and for now I am stuck in the shabby daytime. It's gorgeous, but not for right now. If, someday in the future, I ever need to go to a fancy event, I will wear this lipstick. But now, it's too much. I feel bad that she's launched this perfect color when I cannot really enjoy it.
Kathleen Hou, Beauty Director
This lipstick is special. It looks extraordinary. In the tube, it actually looks like a woven strip of velvet ribbon. Lisa Eldridge says people ask her, "Is this real?" You barely need to press it on the lips to instantly flood them with an intense wash of pigment. Applying it feels like that scene in Pleasantville when the black-and-white world starts to fill up with saturated color.
My favorite thing about the lipstick is that it Irish-exits the party. Over the course of the day, as I drank water, ate leftover Indian takeout, and put on a mask to go outside, it slowly and prettily began to leave my lips without me even noticing. It becomes more and more like a stain over time, without giving your mouth that chipped-paint effect. Yes, it will get all over your cups, forks, etc., but it will still look good on, which makes this a perfect party lipstick. Why doesn't this lipstick cost a zillion dollars?! I assume it's because Lisa Eldridge is a good person who wants her creations to be worn and loved by many.
Sangeeta Singh-Kurtz, Senior Writer
The color I chose — Velvet Blush — was rich and warm, a little like Michelle Obama's inauguration outfit as a lippie. Does it feel like velvet? Yes! But the problem is that the sensation of wearing velvet on your lips is not an altogether pleasant one. Rather than the waxy texture you get with other lipsticks, the effect of this is more papery, which meant it only worked on my bone-dry lips with a bit of chapstick underneath.
Beyond that, this is not a good lipstick to wear while eating, which is a problem for someone who likes to maintain a regular graze throughout the day. I wore it to dinner with my boyfriend in my kitchen — the only time I can fathom wearing lipstick these days — and I had to reapply it twice or else suffer the weird pale patch it left in the middle of my lips. Of course, maybe these issues are particular to the ecosystem of my lips, but if you're like me, I'd say wear it for a Zoom date, but get something a little more hydrating for more regular occasions.
Claire Lampen, Editor
Velvet Ribbon is the best red lipstick! It has annihilated all the competition! It has all the attributes I am looking for in this category: blue undertones, a matte finish, a nice fade. It eventually settles into a popsicle-type stain on me, meaning, crucially, that I can apply once and be done with it. While I am not really sure what it means for a lipstick to feel like velvet — smooth in one direction, like a shark? Heavy? Plush? Shiny? — I will say that the pigment is pleasingly saturated. One coat is enough color (at least for me) and it hangs around for probably … three to six hours, depending on your level of mouth activity?
Frankly, I don't remember what length of time translates to impressive lipstick wear at this point, but I do know my lips don't feel dry or waxy when I have it on. Sometimes I forget it's there, then receive a glamorous surprise when I look in the mirror.
I look forward to the day when I can wear lipstick outside the house again without a mask smearing it all over my face. I will wear this one all the time.
Angelina Chapin, Senior Writer
This lipstick is so smooth and long-lasting — a hard combo to find. I love the color, it's like fall on my lips. It's neutral enough to wear around the house and makes me feel like less of a WFH blob on Zoom meetings.
Daise Bedolla, Social Editor
One of my joys throughout quarantine has been wearing red lipstick. Before the pandemic, I had maybe worn red lipstick all of two times, but I found myself reaching for it as a fun and quick way to liven up my days (and my Zooms). The Lisa Eldridge lipstick in Velvet Jazz is more muted than the bright, orange-red hues I've been gravitating to, but it's equally as attention-grabbing.
I was surprised how much it actually resembled velvet when I opened the tube, and though the effect is subtler when you actually apply it, it does make you feel like someone could touch your lips and comment on the texture. I can see this becoming a staple both during my pandemic and post-pandemic days.
Every product is independently selected by our editors. Things you buy through our links may earn us a commission.