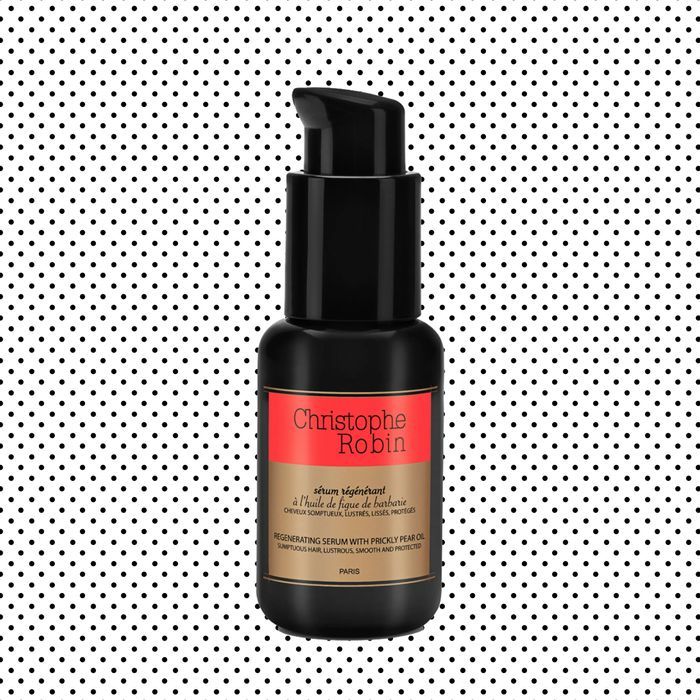 On a scale from one to Korean double-fried chicken, my hair is around an eight (somewhere near Popeyes chicken sandwich) in crispiness right now. I use Olaplex and Briogeo, but after a few days between washes, the ends (which haven't been to a salon in over a year) feel like the forgotten charred bits found when cleaning out a deep-fryer.
I've tried leave-in conditioners. I've tried dunking my hair in straight-up coconut oil, which left it greasy. I've tried other hair oils, which sort of worked for a few hours. Then I tried Christophe Robin's hair serum. Slightly creamy, with the texture of a non-dairy yogurt, it feels more like a moisturizer than an oil. Just two to three drops — it is expensive — made the dry ends of my hair (type 1C/2A) so smooth and silky that I kept running my split ends across my face during Zoom calls to make sure that it was real. A few more drops along the length of my strands made my hair look like it was wearing highlighter. I used it on wet hair (the brand encourages that too), and after air-drying, instead of looking limp or flat, my hair was bouncy, and looks like it meets its hydration goals on the daily. It looks so obviously and clearly better that it's a no-brainer to use the serum every time I shower.
The secret is that it's infused with pricey prickly-pear oil, which is known for being rich in omegas, difficult to extract, and having double the fatty acid and proteins of argan oil. Christophe Robin, Catherine Deneuve's longtime colorist, who knew her back when she was a brunette, is the creator of the product, and is veritably insulted by other brands that skimp out on formulations. ("They say it is a honey-based hair product, but you know, it is really 0.0001% honey!" he once told me.) It's also silicone-free, paraben-free, sulfate-free, phthalate-free, and mineral-oil-free. Sadly, though, it is not price-free. Yes, the bottle is small, but a little bit goes a long way.
Every product is independently selected by our editors. Things you buy through our links may earn us a commission.