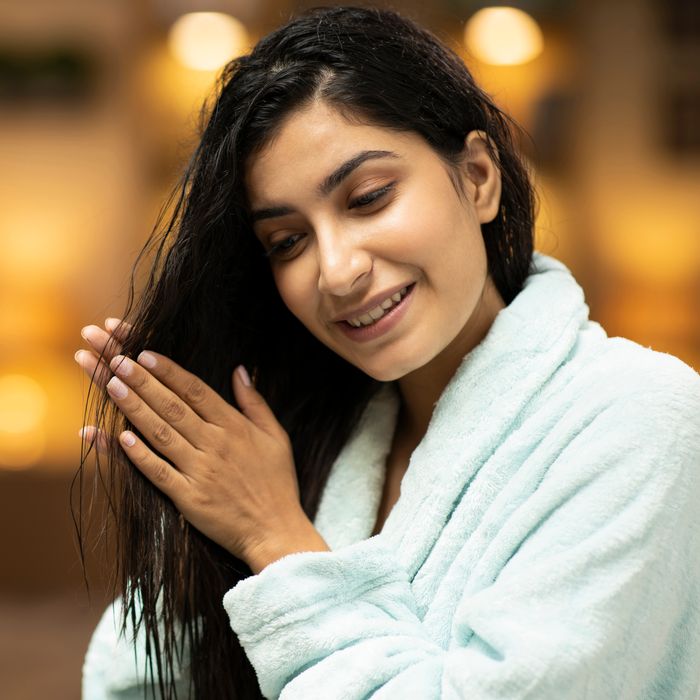 India has its fair share of amazing beauty rituals, and of those, the most popular and romanticized is hair oiling. Oiling and self-massaging the body, hair, and scalp have been prescribed in Ayurvedic texts as a self-care and detox-enabling practice that's been performed for hundreds of years on the Indian subcontinent. For younger family members who can't DIY, millions of families have a weekend bonding routine in which a grandma, mom, or other indulgent female relative drips warm drops of fragrant oils onto the scalp and massages it in none-too-gently, all the way through to the ends of the hair. The scalp gets an invigorating rubdown, the hair gets smoothed and nourished by sesame-coconut oil, or an Ayurvedic blend formulated with special herbs for hair health, and the massagee ends up as a relaxed, loose-limbed puddle. It's as dreamy as it sounds.
Until it's time to wash the dang thing off. Oil likes to stick around, and for me at least, the oil-to-shampoo formula was ever elusive. Suds up too little and you get greasy roots and hair that smells like leftover oil. Too many lather-rinse-repeat cycles result in a parched scalp and dry, frizzy ends, nullifying any hydrating benefits. Not built to handle that kind of uncertainty, I stopped oiling my hair years ago.
Then I tried Back to Your Roots Scalp + Hair Prewash, the first product created by Shaz & Kiks. The brand is founded by two Austin-based Indian American sisters, Kiku Chaudhuri and Shaz Rajashekar. They spent summers in Kolkata, India, being pampered by this same oiling ritual; their grandma spiked oils with herbs grown by their grandfather in his garden and brewed it for nearly an hour. They had glowing memories of those halcyon days and all the shiny, healthy hair that resulted from those treatments. However, Rajashekar, like me, hated the way the oil felt in her hair, so they set out to hack hair oiling.
Instead of settling on an oily texture, they came up with a whipped, creamy base which spreads easily through the hair when there's no grandma to rub it in. Like oil, the prewash is massaged into the scalp and strands and left to soak in for as long as you can manage — overnight is ideal. There are two variants: one for dry, frizzy or curly hair, and one for thin, flat strands. Both are formulated with 25 or more herbs, oils, and flowers known to be hair-health powerhouses in Ayurveda. Here's a quick lowdown on the Ayurvedic star players: amla, or Indian gooseberry, is great for hair growth, dandruff, and gray reduction; reetha acts like a natural surfactant or cleanser with anti-bacterial and anti-fungal properties; shikakai, another vitamin-rich surfactant helps balance oil production; turmeric helps hair loss by lowering levels of the follicle-assassinating compound TGF-B1; and neem is an anti-fungal and hair follicle stimulator.
Besides the boost from the herbs, the idea is that, unlike a post-wash treatment like a hair mask, the oils in a prewash saturate the strands, so come wash time, less water is absorbed by the hair shaft, leaving it less prone to damage. The dry hair mask includes moringa oil, which has a composition similar to the scalp's natural secretions, making it effective at soothing dryness. Then come penetrating greasers with more heft, to nourish dry strands with low porosity, like sesame oil and kokum butter (a potent emollient with omegas 3 and 9, vitamin E, and antioxidants). And for thin-haired heads, lightweight oils like jojoba, sweet almond, and amla seal in moisture without weighing flat hair down.
I've used the variant for dry, frizzy, curly hair, and can confidently say it's an A-plus example of reimagining age-old rituals the right way. The sisters have managed to retain the benefits of oiling while magicking away the annoying aspects — getting oil to spread evenly through dry hair, and the subsequent washing off. I felt the most difference on my scalp, which was gritty and greasy going in, but emerged flake-free and restored to factory settings. All those anti-inflammatory and oil-balancing herbs ensured that my scalp wasn't greasier after application. The lengths were softer, and best of all, I didn't need to shampoo any more vigorously than I normally do. Sometimes, I pop on a hair mask for added hydration on the ends; Philip Kingsley's Elasticizer Extreme has been in heavy rotation since I've had pandemic-caused split ends.
Another thing that has been retained — and needs addressing — is the smell. Don't open this tub expecting a sweetly fragranced hair mask. It smells more like a well-stocked aisle in Kalustyan's, the legendary Manhattan spice store, than it does any hair product you've come across. I've run the gamut of Ayurvedic treatments, as authentic as they come in spartan Ayurvedic centers (it would be a stretch to call them spas), and even I did a double blink when the lid came off. It is hard core. Not even regular, garden-variety Indian grandmothers would have a stock cupboard that smells like this; you'd need an Über-grandma dabbling in forgotten arts to get this particular level of authenticity. Pungent fenugreek hits you first (and lingers till the end), followed by turmeric, and a fiery whiff of something(s) I'm ashamed to admit I cannot identify. It doesn't dissipate as time wears on; I marinated in it for three hours at the longest stretch and it wafted around every time I moved my head. I'm not averse to earthy, herbal smells, and it grew on me.
"We wanted our customers to feel the power of the herbs, oils, and flowers the minute they open the jar. We tried to create something that was a part of our heritage that we can share in an honest and authentic way," says Chaudhuri. I can't help but think how subversive this choice was. Their commitment to authenticity meant they took the risk of alienating a chunk of people who would find the scent polarizing. But in doing so, they've achieved something special. They've effectively reclaimed this "exotic" smell and spun the narrative around to brand it the scent of authenticity and efficacy. They've dared to let it waft out loud and proud in all its eye-watering glory, without masking it with palatable mainstream fragrances that Western audiences are familiar with. "Of course we were concerned about it being a deterrent for some, but we had faith that our customers would appreciate our authenticity," says Rajashekar. It will be too much for some people; it was almost too much for me. But I'm glad I persevered for my hair's sake.
It sounds silly, but this product represents to me a small win for every brown kid who grew up hearing that classic playground insult, "You smell like curry!" Who knew the brown kids would grow up and build a beauty brand that smells like curry — just as potent, as addictive, and as good for hair and soul. One that's now sold in Urban Outfitters, no less. All that's missing is a loving grandma to massage it in.
Every product is independently selected by our editors. Things you buy through our links may earn us a commission.