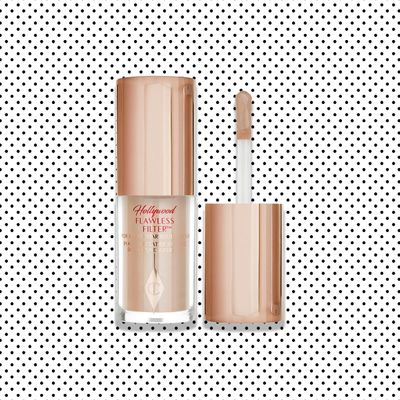 Real beauty, as celebrities always say when they're trying to downplay their hotness, comes from the inside. I've been thinking about this a lot lately, as I haven't been feeling like a sunshine-y sparkle girl full of rainbows and optimism, and it shows. I'm not saying that only happy people get glowy skin, but after absorbing and processing last week's news, my outsides are feeling as dull as my insides. Maybe some of you out there feel the same.
But the gift of beauty products, for better or worse, is that they let you fake your outsides. I've been doing some of that, hoping that it might have some sort of associative effect on my insides. I might feel like the emotional equivalent of a matte Benjamin Moore beige paint swatch. But with a dab of Charlotte Tilbury's Hollywood Flawless Filter, I can look a little brighter. I can pretend to feel a little brighter, too, when I catch my reflection in a blurry Zoom rectangle looking a little less matte and flat.
This isn't a new product, but I'm drawn to the fact that you can now get a small version for $15 (the full size retails for $44). It's a liquid highlighter that comes in a variety of skin-based shades, so it provides a little coverage too. You can put it anywhere you think needs a little brightness. If you're like me, you might be thinking, So, all over my entire face, then? but actually, it does work surprisingly well as a very dewy tinted moisturizer. It's not a cure-all, but it might make you look and feel a little less gray.
If you buy something through our links, New York may earn an affiliate commission.