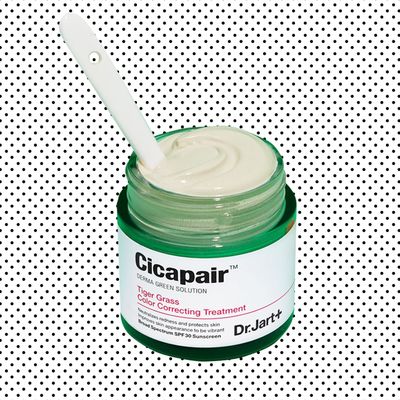 TikTok loves GameStop and putting green cream on your face for the purpose of beauty. I started noticing Dr. Jart's Cicapair Tiger Grass Color Correcting Treatment all over the app six months ago. A redness-erasing cream with SPF 30, it truly seemed to even out people's skin tone. Hyram of @SkincareByHyram, a Gen-Z beauty expert, called it "genius."
Because of its popularity (10 million-plus views), the cream is constantly out of stock at Sephora, but several Cut staff members got their hands on it. Read on to find out if this mysterious green TikTok beauty product lives up to the hype.
Erica Smith, Beauty Writer
I was excited to try this stuff out because I'm a fan of Dr. Jart and having more sunscreen on hand, but unfortunately, it's gonna be a no from me, dawg.
I tried it several times and found applying it immediately after moisturizer and warming it beforehand (as TikTokers recommend) helped it blend in a bit better, but every time, my face was haunted by that dreadful white cast that comes with a lot of sunscreens. I looked like I was battling a Victorian illness and subsequently hadn't seen the sun in months. The formula also draws attention to any dryness or flakiness you may be experiencing, so I looked a little dehydrated, too — which went with the overall theme.
I will say, my face did feel super-protected from the sun. I could feel the product hanging out on my face all day as a shield. And it did even out my skin tone — just in a uniformly pallid type of way. It definitely photographs better than it looks in person, but I'll be sticking to a sunscreen that sinks in with less coaxing, and makes me look like myself, occasional redness and all.
Andrew Nguyen, Fashion Writer
I'm currently dealing not only with redness, but also dark spots from acne scars. So I'll try any product (especially a widely praised one) that claims to make it all disappear. And since I'm bad at remembering to wear sunscreen daily, Dr. Jart's Cicapair cream seemed like a dream come true. But my hopes were too high. I followed the TikTok instructions — warming the cream with your body heat before applying for best results — but my scars were still visible. And worse, I ended up looking paler than my normal skin tone — almost ghostly. A redeeming quality is that my skin absorbed it nicely with no lingering greasiness, but overall it was a dud for me. I'd recommend just using a green color-corrector underneath your BB or CC cream or foundation for particularly troublesome areas.
Sangeeta Singh-Kurtz, Senior Writer
I've wiped various greenish color-correctors on my face before. Most of them turned me gray, or else did little to dispel my rosacea. Cicapair (whatever that means) is a whole different story: After slathering it over several layers of moisturizer, my skin — extra red due to a retinol increase — turned one very even, very smooth color.
I was worried because at first it stayed quite green, but that went away after 20 seconds or so of blending. And while I don't wear foundation, TikTok says this stuff works better than any primer. It's the consistency of paint and smells a bit like it too, but if you struggle with patches and discoloration, this is amazing for reducing redness, at least for very pale tones like mine.
Kathleen Hou, Beauty Director
I don't know how I feel about this product! In the jar, it is sage green and chalky in texture. On my face, it feels like like heavy-duty paint and takes lots of moving around and coddling till it finally "blends in."
But does it ever blend in? I didn't think so at first. I didn't look green, but my skin tone was a different color. I was definitely two degrees paler. Up close in the mirror, I could still see leftover acne scars and caked-up residue in the dry spots around my nose. But in photos, it looked sort of okay? My skin did look evened out, but also kind of blown out — it gave me flash face, like when you take a flash picture at night. Maybe that comes from its sunscreen ingredients — which do kick back light — zinc oxide and titanium dioxide?
When I took it off at night, I had to use a makeup remover. My cotton pads were beige, so it does change color. It also lightly stung my skin and is very scented. I think the whole phenomenon is entertaining, but a regular tinted moisturizer would work better for most people, and definitely for people of color.
Daise Bedolla, Social Editor
I've been curious about this sunscreen for a while now, after seeing people praise it on my TikTok FYP. I went in knowing there would be a learning curve, but even after a couple of tries, I still can't get it perfectly right. I'm already very pale, and upon first application, I used too much product and ended up looking somewhat ghostlike. It seemed to neutralize my redness better when I first warmed it up on my hands for a couple of seconds, per one TikTok suggestion, but it still took a lot of rubbing to blend it in. It also doesn't play very well with my currently very-dry skin. My nose has been particularly dry over the past week, and if anything, it amplified the flakiness. I typically love Dr. Jart products, but this one's not for me.
Claire Lampen, Editor
Ultimately I think this product mostly did what it was supposed to do, if not to a super-noticeable degree. I am prone to patchy redness, which the Cicapair does seem to mute. The description says it will "restore fatigued skin," and while I don't think it made my complexion look less tired, that also seems like a lot to ask of a cream, given the global circumstances.
As I understand from the TikToks, the product's color shifts from light green to beige on your skin. I dotted it around my face and rubbed it in. In hindsight, I think you're supposed to pat it in for maximum fading effect; on me, it just looked green until it disappeared. At first I assumed the cream did nothing except leave a light, vaguely powdery finish. (I guess this is the promised "dust barrier"? Which makes me feel like a chinchilla.) But when I looked in the mirror a few minutes later, my skin — particularly on and around my nose, which often goes shiny and red in winter conditions — did look less rosy. It looked even and sort of pallid, to the degree that I felt washed out and put color back on my cheeks. That helped, but once I turned on my phone's camera to take this selfie, I noticed that my chin (another point of habitual redness) remained pink and a little spotty. Maybe the cream is warning me of cysts to come! Maybe it is aggravating my hypersensitive skin! I think I will keep using it and see what happens. At the very least, I am always happy to have more sunscreen on hand.
Taylor Roberts, Instagram Editor
I was skeptical at first because products with SPF are notoriously hit or miss on dark skin. Dr. Jart didn't leave that sometimes-greenish-sometimes-purplish hue on my skin, which traditionally has been a barrier for me using those type of products. It took a few minutes to blend fully but when it did it was seamless. 10 out of 10, will continue to use.
Every product is independently selected by our editors. Things you buy through our links may earn us a commission.