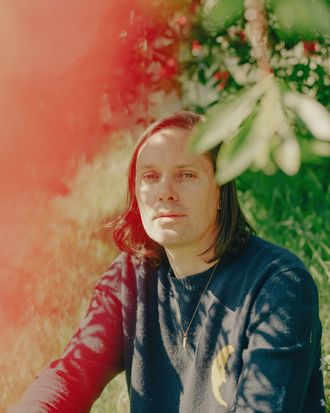 Photo: Emma Marie Jenkinson
When I first heard Rhye back in 2013, I was gobsmacked. His first album, Woman, had everything I was into in music — sensual, soft, hazy R&B songs that would feel just as at home on a mix for a new lover or a crying jag when things ended with said lover. The nature of the whole project was incredibly intriguing, and upon finding out that Canadian singer Mike Milosh was behind the androgynous vocals, I was all in.
As Rhye, Milosh has released two more critically acclaimed albums and has become well-known for his gender-defying sound. Home, Milosh's fourth album, is out today and continues his signature sound and R&B hooks. It also boasts a Sam Taylor-Johnson–directed video for the single "Black Rain" (starring her partner, Aaron Taylor-Johnson).
Milosh talked to the Cut about growing his sound, creating art and community in a pandemic, and what home means for him.
Your new album Home is such a continuation of your sound. How do you feel like you've evolved with the Rhye project since the 2013 album?
I've evolved as a person, but artistically, I'm just trying to keep refining my sound. I like the idea that I'm creating a sound that's not easy to achieve by just anybody. So I'm not trying to reinvent myself all the time. I'm back to embracing a more dance-friendly record, and it has a soulful dancing vibe to it. I'm just leaning into being me more.
What's this experience been like working with your community on an album and in a different way because of the pandemic? Has it changed the ways that you make your art? 
I don't want to just be a solitary individual that's just holed up in a studio, completely alone for 12 months working on something. I love the injection of other people's energy and people around me. I have a methodology that's just continuing to be refined. I've always recorded the strings separately. I sing all the parts and I write them while we're working. I just feel like there's a lot more energy and excitement that way. So it hasn't changed in the workflow because I set the studio up before the pandemic. The thing that's changed is that the people that I'm spending time with, it's just an intimate group of people that we've just all agreed that we would hang out with each other and everyone's been safe.
The title of the album, Home, is a word that feels so imbued with meaning right now. How do you feel like your perception of home has changed? 
We [Milosh and Geneviève Medow-Jenkins, his partner and collaborator] bought a place where there's a lot of land and there's a lot of trees and it's very natural and it's very free. Home for me is a very sacred place, and it's a place for creativity. It's a place to share time with really good friends. It's a place where me and Geneviève have our dog and our cat. It's very fortunate that I was able to buy a place that's outside of L.A., in Topanga, when we got it. It's nice from a creative standpoint because you don't feel overwhelmed. So when you're making music, you just keep going.
You've long been hosting Secular Sabbath, which used to present live music events, but you've shifted them to virtual events during the pandemic. It seems like a very different way of collaborating with your community and creating art than before. 
Pre-pandemic, we were doing events every three or four months that were sleepovers usually. The last one we did, 300 people slept over. It was ten different musicians doing ambient music and we had massage therapists do massages and a tea ceremony. We are trying to create this really weird event that is a long format where you can drop in. We've done them in the desert. We've done them in a Buddhist temple. We did them in Iceland. So we didn't want to stop doing stuff. We converted it into something where me and one other person would go out to the desert and do a Secular Sabbath performance to nobody in the desert, but we would record it and film it and put it up on social media.
Secular Sabbath becomes this place for collaboration because we all play with each other. Wes [Diplo] and I did a song together for his ambient record. And I think he even did that because of playing at Secular Sabbath. Me and Wes were doing things where he would DJ and I would sing over ambient music. And that's when we started doing weird livestreams that we were calling Corona Sabbath. We were trying to give ourselves something that's really fun and really hilarious.
What do you hope people get from this album while they are at home listening to it? 
For me, once you've put an album out into the world, you let it go. You never know how people are going to take the record. They might like it. They might hate it. They might feel moved by it. They might cry to it. My biggest hope is that people just find that they're present in it and that's it. As long as they're present and they're brought to a place where they feel very present, that would be a success for me.
In terms of being present in the music, "Black Rain" has people doing their own versions of Aaron Taylor-Johnson's incredibly muscular dance. What's it feel like seeing people collaborating with your music? 
People have sent hundreds of them to me. It's amazing when someone sends me a video of them dancing to any of the songs. This is so cool that I wrote a song and then someone heard it and they felt inspired to film themselves dancing. They're just living in joy. And to watch that inspires me to make more music. It's a perpetual-motion machine, you're seeing my art inspire someone to do their art and then their art inspires you to do your art. It's a positive feedback loop.