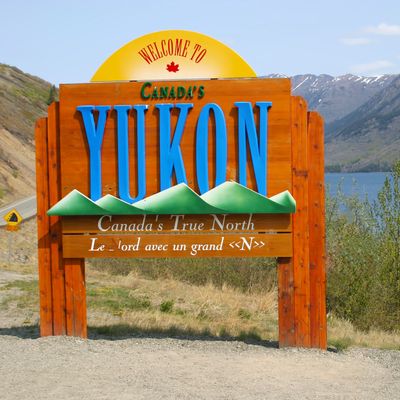 Yukon, Canada.
Photo: Patricia Marroquin/Moment Editorial/Getty Images
Unwilling to wait patiently for their own COVID-19 vaccines, an affluent couple from Vancouver devised an alternative to prioritize their own health at the expense of others. According to Canadian authorities, the casino executive Rodney Baker, 55, and the actress Ekaterina Baker, 32, chartered a private plane to a remote community in Canada, where they misrepresented themselves to get vaccine doses intended for Indigenous elders.
As described to CBC News by Yukon Community Services minister John Streicker, here's how the couple's plan unfolded: On January 19, the Bakers departed Vancouver and flew to Whitehorse, the capitol of Yukon, where they promised to complete a mandatory 14-day self-isolation period. They did no such thing. Just two days later, they took a private plane to Beaver Creek, a community of about 100 people, most of whom are members of the White River First Nation. Like many rural communities in Yukon, the area has been declared high priority for vaccines, "given our remoteness, elderly and high-risk population, as well as limited access to health care," as Chief Angela Demit told the Washington Post. The nearest major hospital is nearly five hours away by car.
The same day the Bakers landed in Beaver Creek, they headed to a mobile vaccination clinic, where they misrepresented themselves as new hires at a local motel and received their first doses of the Moderna vaccine. At this point, their plan was going swimmingly — but then they asked for a ride to the airport.
"People were like, 'Well, why would you be going to the airport?'" Streicker said. Clinic workers were getting suspicious and made calls to law enforcement and the motel where the Bakers claimed to work. Meanwhile, in Whitehorse, authorities discovered that the spouses were not at the location where they were supposed to be quarantining. Law enforcement was able to catch up with them before they made it back to Vancouver.
The response has been unsparing. "I can't believe I've ever seen or heard of such a despicable, disgusting sense of entitlement and lack of a moral compass," British Columbia solicitor general Mike Farnworth told the Vancouver Sun. In an interview with the same outlet, Bonnie Henry, a provincial health officer labeled "one of the most effective public health officials in the world" by the New York Times, struck a similar note of revulsion: "They put a community at risk for their own benefit, and that to me is appalling."
According to court records, the Bakers both face fines around $900 for violating quarantine guidelines. In addition, Rodney has resigned from the casino company where he served as CEO and president. (It is unclear whether Ekaterina, who recently appeared in the films Fatman and Chick Fight, is facing professional repercussions.)
Overall, the White River First Nation finds this punishment to be far too lenient, as the Bakers don't appear to be facing any charges in direct connection to taking vaccine doses meant for Indigenous elders. "It's clear to me that because we are a predominantly Indigenous community that they assumed we were naïve," Chief Demit told the Post, noting that the fines are "essentially meaningless." In 2019, Rodney earned more than $10.6 million from the Great Canadian Gaming Corporation, according to the company's financial statements.
In an interview with Global News, Janet Vander Meer, the head of the White River First Nation, echoed Chief Demit's sentiments. "Our oldest resident of Beaver Creek, who is 88 years old, was in the same room as this couple. My mom, who's palliative, was in the same room as this couple," she emphasized. "That's got to be jail time. I can't see anything less. For what our community has been through the last few days. The exhaustion. It's just mind-boggling."