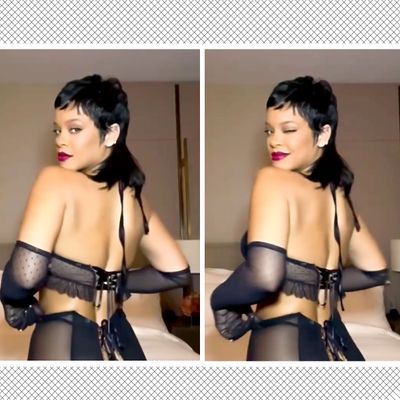 Some very good news for fans of Rihanna, mullets, and Rihanna's mullet. In a new video posted to Instagram yesterday, it appears that the singer, actor, and entrepreneur's short-long hairstyle is fully intact and very much thriving.
The video, set to music of — could it be? — her very own making, shows Rihanna in little else but Savage x Fenty lingerie, a full face of Fenty Beauty, and glossy black helmet hair. Since she's dancing in the video, we really get to see the style in action. It looks, of course, sensational:
Now that you've watched that 80 times, back to the mullet. A once-maligned haircut, the look has been going strong for about a year now. Miley Cyrus has one, as do legions of K-pop idols and their fans.
But Rihanna has a long history of wearing a mullet, and should probably be credited for this recent revival (well, her and New York art kids). She debuted her first mullet in 2013, a classic style with baby bangs, shaved sides, and a longer tail. She then reincarnated it in 2020 ahead of her second Savage x Fenty show — a feathery iteration with a chunky, Naruto-esque fringe:
Rihanna's latest version seems finer, maybe a little shorter, but it's definitely still a mullet. And given her propensity for trendsetting, we could all be sporting one by June.