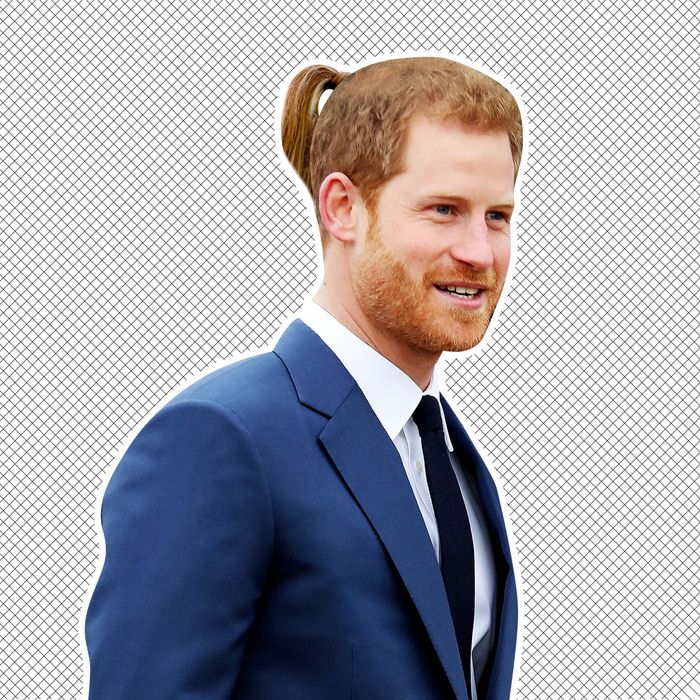 Photo-Illustration: by The Cut; Photos: Getty Images
On The Late Late Show With James Corden on Tuesday, the actor Rob Lowe claimed that he'd seen Prince Harry driving around their shared neighborhood of Montecito, California.
"I just ran into your countryman the English treasure Prince Harry at the stoplight ten minutes ago," the Holiday in the Wild star told Corden. Apparently, he lives a mile or so from Harry and Meghan Markle. But what Lowe says next gave me pause.
"It was very, very quick — don't totally quote me on it — but it looked like he's wearing a ponytail," Lowe said, his preternaturally young face inscrutable. "I'm just saying. It looked to me as a casual observer that his hair had grown very long and was pulled back very tightly by what I can only assume was a ponytail."
Okay, Rob Lowe. Let's think about this for a minute. We haven't seen much of Meghan and Harry since the two moved to Santa Barbara County in August after they suffered invasions of privacy in L.A. But let's consider the evidence we do have.
We'll begin with the earliest recent official photos we have of Harry. The first is from October 19, the couple's official portrait, in which Harry's hair is short. And then we have these photos of Meghan and Harry at the Los Angeles National Cemetery for Remembrance Day in early November. Could it be that his hair is slightly longer than it was in the official portrait? Maybe.
But here's where things get really tricky. I have three items to add to the record. The first: Harry's November 14 appearance on the British Dancing With the Stars. Is his hair short? Yes. Is his Zoom camera trained directly on to the front of his body, and does he keep his head rather straight and stiff the entire time? Also yes, which would technically prevent us from seeing a ponytail if it is indeed there.
The second: photos of Harry volunteering at a veterans organization on November 18. His hair appears to be short here, but he's also wearing a baseball cap, so if he is growing a ponytail, per Lowe's testimony, maybe it's one of those embarrassing high ones frequently worn by tools in puka-shell necklaces.
And then, finally, there's the Duke and Duchess's Christmas card. Not only is the back of Harry's head not visible in it, the image inexplicably appears to have been run through Photoshop's dry-brush filter, making it difficult to see any sort of detail.
The average rate of hair growth for a 36-year-old man is 0.5 inches per month, according to the American Academy of Dermatology. So if we take the length of Harry's hair in mid-November to be roughly 1.5 inches pulled taut, then today, January 13, it would be about 2.5 inches — maybe 3 if he were taking Nutrafol.
So if Rob Lowe did in fact see Prince Harry wearing a ponytail, it was a very tiny one. Perhaps he actually saw Harry's fellow redheaded Montecito neighbor Carol Burnett at that stoplight. Or maybe he's just a liar.