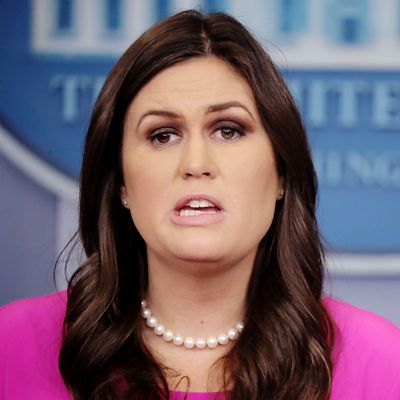 She's baaaaack.
Photo: Chip Somodevilla/Getty Images
Apparently, some alumni of the Trump administration now find themselves devoid of future employment prospects. According to Politico, former White House staffers who stuck with him until his final day in office are "really fucked," especially after the insurrection at Capitol Hill: "They were told over and over to take their hand off the hot stove, and they didn't want to listen." Meanwhile, other loyalists are capitalizing on the Trump name as they plot their next moves: See Sarah Huckabee Sanders, Trump's notoriously truth-averse former press secretary, who has now launched a gubernatorial campaign in Arkansas.
"I took on the media, the radical left, and their cancel culture," Huckabee Sanders says in a video announcing her candidacy in the 2022 election. "And I won. As governor, I will be your voice, and never let them silence you."
Per usual, that statement doesn't feel particularly truthful. During her time as Trump's press secretary (July 2017 to June 2019), Sanders repeatedly sparred with reporters even as she fed them misinformation. She affirmed Trump's assertion that all of the women ever to have accused her boss of sexual harassment were lying. She did not correct the record when Trump suggested the infamous — and very real — Access Hollywood tape was fake, even though he had already admitted its authenticity. She contradicted herself on the subject of Trump's hush-money payments to Stormy Daniels. She repeatedly, and falsely, insisted that "countless members of the FBI" supported James Comey's firing; when the Mueller report disproved this, she called the comments "a slip of the tongue."
Basically, Sanders presented as an unreliable and combative witness, and as the Washington Post points out, became "well-known for not answering emails or calls to her office seeking comment." By the time she stepped down, it had reportedly been 94 days since she briefed the press.
Naturally, this is not the narrative Sanders presents in her campaign video, which is (unsurprisingly) a regurgitation of the same MAGA agenda she pushed as press secretary. "I've been tested under fire, successfully managing one crisis after another, in one of the most high-pressure jobs in all of government," Sanders says. "At the table with President Trump, confronting our most dangerous adversaries; winning on tax cuts, the border, and judges; enduring relentless attacks, but still getting the job done." Again, debatable!
Still, Sanders is the daughter of former Arkansas governor and presidential hopeful, Mike Huckabee. In the 2020 election, the state stood by Trump, who encouraged Sanders to run for governor as she exited his office. In 2019, she told the New York Times she felt "called" to "run for office." Now, she joins Lieutenant Governor Tim Griffin and Attorney General Leslie Rutledge in the contest to replace current Arkansas Governor Asa Hutchinson, who is approaching his term limit. According to the Associated Press, no Democrats have joined the race so far. Stand by for screams!