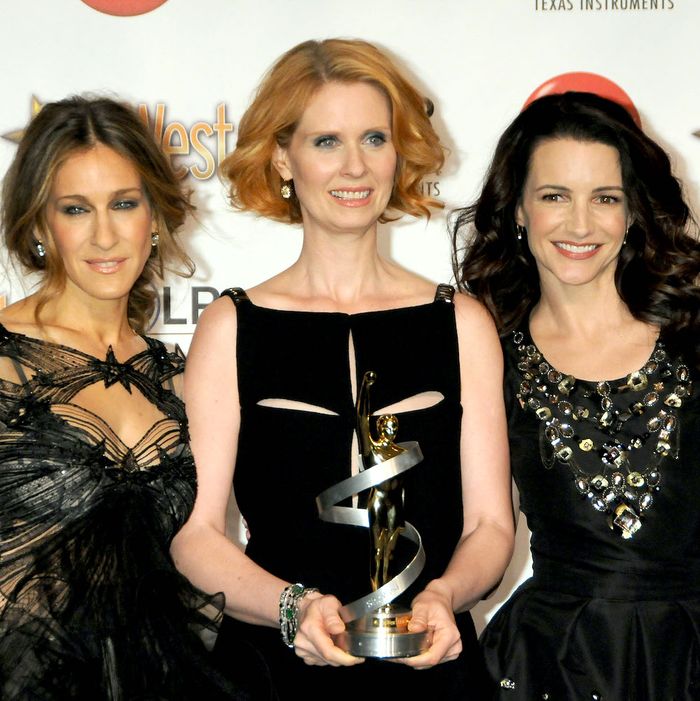 I don't know about you, but I have never, not once, wondered what the women of Sex and the City might get up to in quarantine. For one thing, I can't imagine ever being ready to revisit the coronavirus pandemic as content, but right now? When we are still living in it? Out of the question! Absolutely nope! And then, it also seems like a given that Carrie, Miranda, and Charlotte would've done what so many wealthy people did at the pandemic's spring peak and fled the city. So we can all agree that, w/r/t the forthcoming SATC reboot, there's no need for a COVID subplot, right? Well!
Speaking to Vanity Fair, Sarah Jessica Parker, a.k.a. Carrie Bradshaw, admitted that she does not know exactly what the new team of writers (all of them women) have in mind for And Just Like That … Still, she believes that the coronavirus pandemic would "obviously be part of the storyline, because that's the city [the SATC characters] live in." Parker expects the reboot will explore the ways in which isolation challenged the group's dynamics: "How has that changed relationships once friends disappear?" she wondered, adding: "I have great faith that the writers are going to examine it all."
I mean, it seems pretty clear to me that Charlotte would be one of those people who simply doesn't understand why her nanny can't commute to the Hamptons. I can also see Carrie, after one too many Zoom Cosmos, admitting to sneaking in hair appointments, and Miranda — who has been balancing the burdens of a full-time job and coordinating remote learning and housework largely alone — reprimanding both of them. But let us return to the subject of friends disappearing. One cannot help but wonder: What in the hell happened to Samantha Jones? What spectacularly erotic exit will the writers engineer to explain Kim Cattrall's absence from the core four? Was she murdered by her own vibrator? Did she die in the shower, like Mr. Big allegedly would've, had the third movie been allowed to go forward? Was Samantha exiled from the group thread after Miranda caught her teenage son sexting Sam, as reportedly would've happened if Cattrall hadn't passed hard on that script? The suspense is killing me!
Parker did not offer any hypotheses about Samantha's departure, but she did raise the possibility of a new professional direction for Carrie — namely, that in 2020, she might just be a podcaster. Which … of course she is.