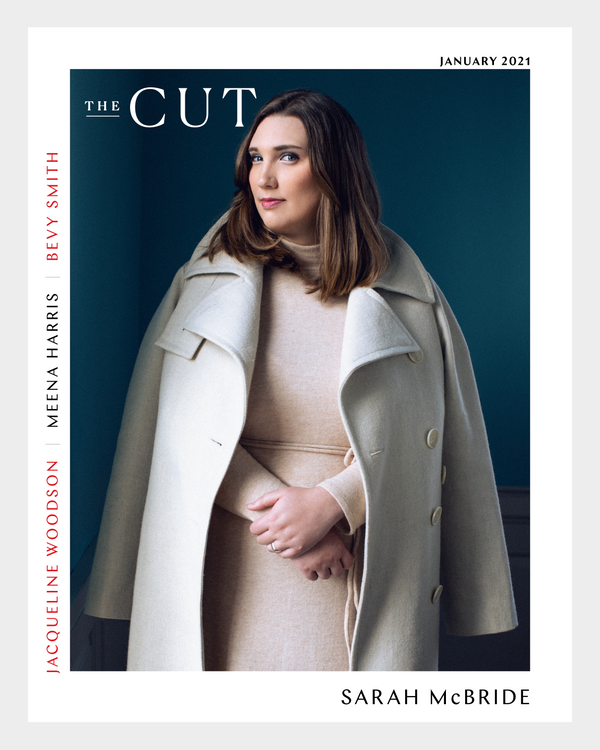 Delaware state senator–elect Sarah McBride is the Cut's cover star this January. McBride, 30, is currently the national press secretary of the Human Rights Campaign, and will be sworn in January 12 as the first openly transgender state senator. Back in 2016, McBride became the first transgender woman to address a national convention when she spoke at the DNC. The Wilmington, Delaware, native has been an activist her entire life, and her policies reflect her continued fight for equal opportunity, such as implementing affordable health care, expanding paid leave, supporting public education, and reforming the criminal-justice system.
Shot inside the Old State House in Dover, Delaware, by photographer Lia Clay Miller, McBride poses in a Vince dress and Stella McCartney coat styled by Liz McClean. The brick two-story Middle Georgian building served as the state capitol from 1791 to 1933, and is now a museum.
"There was this moment of realization that two trans women were creating work in a space where the constitution was ratified by a council of entirely white, cisgender men," said Clay Miller, herself a trans woman. "It's a moment in which you realize the weight of your own presence, and how much things have and hopefully will continue to change."
During the six-hour shoot, the team aimed to emphasize the juxtaposition between the historic site and McBride as a modern representation of the senate.
"Sarah is such a captivating, intelligent, charming — the list is endless — individual," said Cut senior photography director Liane Radel. "We wanted to make sure you could sense her intelligence, beauty, strength, leadership, and wit!"
All of the photographs from the shoot are minimalistic, featuring neutral clothing and simple backgrounds in order to really highlight Sarah. "Most importantly I wanted to portray Sarah as she was," said the photographer. "She's accomplished so much in her lifetime. I didn't want to take away from that at all."
Read the full story here.