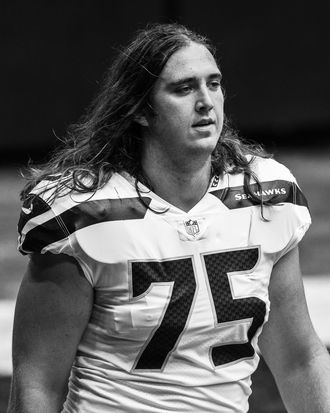 Seahawks player Chad Wheeler.
Photo: Danny Karnik/AP/Shutterstock
Over the weekend, now-former NFL player Chad Wheeler was arrested on suspicion of domestic violence against his girlfriend, who says Wheeler strangled her until she lost consciousness twice, and expressed shock that he hadn't killed her. In the days since, the Seattle Seahawks have dropped Wheeler from the team. On Wednesday night, prosecutors brought charges against him: first-degree domestic violence assault, which is a class A felony, as well as unlawful imprisonment domestic violence, and resisting arrest.
According to a police report from the evening of January 22, the Kent Police Department in Washington received a call from woman claiming that she had locked herself in a bathroom following a "physical fight" with her boyfriend. When officers arrived at the apartment, they could hear a woman screaming from inside, prompting them to force their way in. Once inside, per the report, officers realized the woman was in the bathroom, where they found Wheeler — who is nearly a foot taller than the woman, and more than twice her weight — hovering beside her. According to the charges, the woman suffered injuries to her face, eye, throat, and lungs, and will require surgery for a broken arm and dislocated elbow.
In interviews with law enforcement, the woman shed light on her relationship with Wheeler and the events leading up to the incident. She said that they had been dating for six months, and moved in together this past November. On the day of the alleged attack, the woman continued, Wheeler had been acting erratic leading up to the incident, and noted that he had recently stopped taking medication for his bipolar disorder. The evening of the 22nd, she said, Wheeler was "in a dark place" and demanded that she bow to him; when she asked him to explain what he meant, he threw her on the bed and strangled her until she lost consciousness. Then, after she came to and tried to flee, he yanked her arm and strangled her until she lost consciousness a second time. Per the police report, at one point during the alleged events, Wheeler was shocked that his girlfriend wasn't dead, exclaiming, "Wow, you're alive?" Eventually, the woman was able to run to their bathroom, where she called the authorities and family members, but Wheeler managed to pick the lock. Soon thereafter, police arrived on the scene, where Wheeler was apologizing profusely to his girlfriend, and then resisted arrest. Per the charging papers, it took three officers to subdue him, after which he was taken King County jail. Wheeler was released on Tuesday, after posting $400,000 bail.
Meanwhile, it wasn't until Wednesday afternoon — five days after the attack — that the Seahawks condemned the lineman's alleged actions, and announced that it was cutting ties with him. Following the announcement, Wheeler addressed the reports in a series of tweets, writing, "Events happened over the weekend that transpired from a manic episode," and apologized "profusely for the turmoil that I have caused to my family, teammates, fans and those closest to me." He continued: "It is time for me to walk away from football and get the help I need to never again pose a threat to another … I am truly ashamed." King County prosecutors brought charges against him later that night.
Per the Times, Wheeler's arraignment is scheduled for February 9. If convicted, he could be sentenced from 8 to 12 years in prison.
This post has been updated.