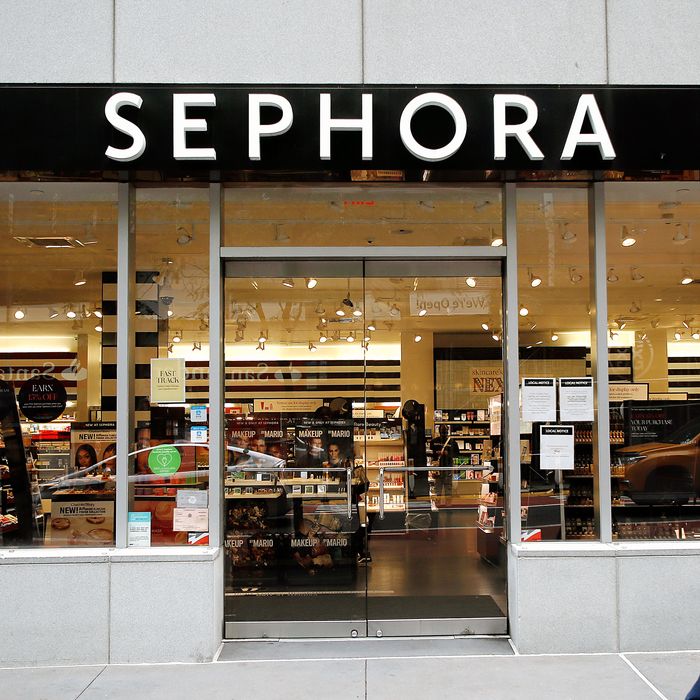 Photo: SOPA Images/LightRocket via Gett
Shopping can be a stressful experience for people of color, long before worries of COVID-soaked makeup testers ever entered the picture. But now, Sephora is doing something about racial bias, with hopes of helping combat the issue in other retail spaces, too.
On Wednesday, the beauty retailer revealed the results of the first-ever large-scale study on Racial Bias in Retail it commissioned. The yearlong look at unfair treatment and racially biased experiences in U.S. stores revealed that Black retail shoppers are two and a half times more likely than white shoppers to receive unfair treatment based on their skin color, while BIPOC shoppers are two times more likely than white shoppers to receive unfair treatment based on their ethnicity.
The study also found three in four shoppers feel excluded before even entering a store due to lack of diversity in marketing, merchandise, and store associates, while BIPOC retail shoppers use coping mechanisms, such as shopping online, to avoid bias they often experience while in a store browsing for makeup shades or textured hair-care products that may or may not even exist. Unsurprisingly, the study notes shoppers and employees alike aren't content with all the "listening and learning" that went around last year. Above all, they want to see "meaningful and long-term action" from retailers, and expect "a commitment to change through new programs, training, and tools" — which brings us to Sephora's action plan to tackle racial bias across the entire organization.
Last summer, the retailer took the 15 Percent Pledge to support Black-owned businesses, and it plans to double its assortment of Black-owned brands by the end of 2021, continue growing BIPOC-owned and -founded brands via an incubator program, and implement mentorship and career-development programs to support the hiring and advancement of employees of color. In physical stores, the presence of third-party security vendors will be reduced, and more reliance will be put on "in-house specialists" to provide better client care and minimize shoppers' concerns of policing. New client feedback mechanisms will also be put in place to help identify incidents of bias, including those experienced by non-purchasers, too.
To be kept accountable for all of the above (and then some), Sephora will share progress via a transparent D&I dedicated section of Sephora.com. "We know that we're in a strong position to influence positive changes in the retail industry and society at large and it's our responsibility to step up," Jean-André Rougeot, president and CEO of Sephora Americas, said in a statement. "We are stronger as a retail community when we are serving the needs of all of our shoppers, and hope other retailers will join us, with the ultimate goal of advancing inclusivity and improving the retail experience for all."