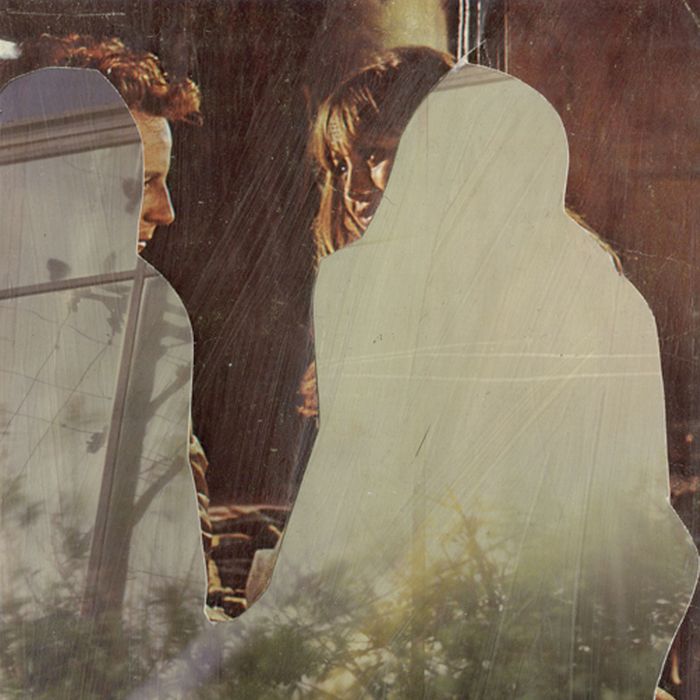 Photo-Illustration: James Gallagher
This week, a woman in California getting over a breakup by hooking up with a tough guy from the East Coast, getting drunk with the guy next door, and going on a weird first date with a Burning Man dude: 35, single, Southern California.
DAY ONE
8 a.m. I wake up thankful that I'm starting to feel human again. My boyfriend broke up with me a few months ago, and it's been devastating. I was ten years older than him (35 to his 25) and we were different in every way (I'm a Jew from New York, he's a military guy from the South) but I still thought we were going to get married and have kids. I really did. We met on a vacation in Miami when I brought him to my hotel for a one-night stand. That one-night stand lasted two years. In the end, he left me for some immature bullshit. He wanted to move to Vegas with his friends, party hard, fuck around. I think he had a freakout. That's all I got.
10 a.m. I go online to see if he's unblocked me from his social-media accounts. He has not.
11 a.m. I consciously refocus my energy onto other things … like the sound of my neighbors, who are having sex. I hear them all the time. I try to ignore it.
1 p.m. I have a few hours of work. I'm a dog trainer so my gigs are limited now because of COVID, but I keep busy and make just enough money to pay my rent. I do some graphic design on the side too. All in all, I'm not struggling as bad as others right now, but I'm certainly not swimming in money.
6 p.m. I notice that the sex neighbors got a new roommate. We share a wall and a backyard. They're out there drinking beers so I go out to say hello. He's very cute, and super tall, like six-seven. We flirt a little.
8 p.m. After a few socially distanced beers, I say good night to everyone. On my way out, the new neighbor compliments my butt:"You have a great ass." It's brazen, but we've been getting a little flirty, and honestly I hear this a lot. I know I'm going to sleep with this man in the near future.
DAY TWO
8 a.m. Wake up and feed my pets — two cats and two dogs! I'm not like a crazy animal fanatic. I just love to work with them and of course my animals are my babies until I have real ones!
10 a.m. I have a long talk with my mother about losing this year of dating to COVID. I'm 35, almost 36. I really want kids. I don't know how shut in I should be right now; like what's more important — the COVID of it all, or me finding someone? Is there a responsible balance? We decide that there is.
1 p.m. I go to the backyard with a book. The new roommate, Marco, comes out. He offers me a beer. He's an out-of-work actor so he has the time.
5 p.m. We've been drinking all day. He's a little weird but he's definitely hot. He also recently got out of a relationship and has been pretty sad. It's nice to have someone to talk to about it.
9 p.m. Marco says, "Do you want to go inside and fool around?" I'm like, "Okay, sure!" (We both had negative COVID tests within the last few days.) Once we're in his room, he says, "What do you want to do?" I suggest making out. He says that's too intimate and offers to eat my ass instead. I decline, and we try kissing, which leads to fingering, but the physical chemistry just isn't there. We end up masturbating together, and when we finish, he keeps saying "thank you" over and over until I ask him to stop.
DAY THREE
10 a.m. I see Marco on my way out to take care of a dog and I shit you not, the first thing he says is, "Again, thank you." Ahh!
12 p.m. I have two appointments in different neighborhoods, so it's a lot of driving — but some rewarding work too. I like training animals to behave better, doing therapy on animals, and walking them, of course. With COVID, it's very strange because there's this quick handoff between the owners with no interaction. Normally we're engaging a lot more and I'm providing tips and lessons — now it's mostly just glorified dog-walking.
3 p.m. A friend comes over and I remind her of that reality show Gigolos on Showtime. We find old episodes and watch them while smoking a little weed. We half-jokingly start talking about finding male escorts … maybe that would be more COVID-safe than trawling Tinder?
7 p.m. On Tinder anyway. My self-esteem is low after my breakup, and it's so hard to navigate all this with COVID. No one talks about STDs anymore. It's just like, "Are you COVID-free?"
9 p.m. I end up talking to a guy who lives an hour away. He's an East Coast tough-guy type. He's also a little bit of a COVID-denier. This is tricky … I have morals and values but I also want to have sex.
DAY FOUR
10 a.m. I have a bunch of work appointments today, but I've also agreed to see the Tough Guy tonight, so I'm thinking about that. I told him I'd drive out to his place because I don't want to risk seeing Marco again.
12 p.m. I spent most of the day working on my side projects and catching up with friends. Everyone loves my dating stories so I tend to have long, hilarious catch-ups with my peeps.
5 p.m. I get in my car and hope this guy isn't a serial killer or has COVID.
6:30 p.m. His apartment is fine; hardly the "sick pad" he said it would be. The first thing he does is pull out a guitar. He sits and plays and sings for an hour. Like, R.E.M and Dave Matthews. On the outside, I'm smiling; on the inside I'm fucking cringing. He isn't even a good singer.  "Name me a song," he says. Every song I name, he doesn't know. Then he makes up a song about me on the spot. It was so awkward, I tried to block it out.
8 p.m. He makes up for all that by almost making me squirt from going down on me. He really knows what he's doing. We decide to make that our goal. He's going to get me to squirt. He has skills. He knows how to press the G-spot, like a button, really hard. It's a whole technique.
10 p.m. I drive home smiling from the great orgasm.
 DAY FIVE
9 a.m. I wake up feeling like there's something off about the Tough Guy — he wouldn't really answer a lot of questions about himself, and his day job sounded a little sketchy. I don't really care, but I feel like I might keep my distance a bit.
11:15 a.m. I go on a hike. I realize that I don't really like him, but I'll keep it going as a casual thing. I have a tendency to jump into things quickly and I know that won't happen with him. It's time for me to take stock of who I'm talking to, and take it more seriously. This guy is just for sex.
2 p.m. I head home after a while and talk to my mom, all about dating and COVID and what to do. Sometimes I get depressed about my age and situation and talking to her makes me feel less alone.
7 p.m. I go online. My options are very disappointing.
DAY SIX
8 a.m. I go online and try to learn how to make myself squirt. You're supposed to finger yourself with the ring and middle fingers … I did not know that. I try and get myself there, kind of.
4 p.m. After a few hours of work, I go online and connect with a single dad in the area. He's an artist and I like artists. I'm drawn to eccentric people. We make a date for tomorrow night.
7 p.m. I take it easy with my dogs and cats tonight at home. I haven't crossed paths with Marco but I did see his roommates who said he might be moving out already. I'm sure it's because he's weirded out by living with two people who fuck nonstop.
DAY SEVEN
10:30 a.m. I have a great time at work today. Working with animals is so fulfilling. What a great way to make a living.
2 p.m. I kind of wish I was seeing the Tough Guy instead of the eccentric single dad tonight but I get myself excited for it nevertheless.
5 p.m. I drive to his house. He's cute enough but … he's definitely quirky. Basically he's a 40-year-old Burner. He has a deck covered with huge, oversize art and like, rainbow paintings. He seems fun but very odd. We put on some music and dance around the deck. It's pretty cool.
6 p.m. Then the artist walks up to me and licks my hair. He licks my fucking hair. It's just too weird. I go to use his bathroom and it's really messy; he has dirty underwear on the floor. I want out. The good news with COVID is that you can use it as an excuse to exit a situation immediately. I was like, "This all feels too risky. I'm going home."
8 p.m. The crazy part is the hair-licking artist was actually very nice to me. All I've wanted is a guy to be nice to me. But … not this guy. Definitely not this guy.
Want to submit a sex diary? Email sexdiaries@nymag.com and tell us a little about yourself (and read our submission terms here.)