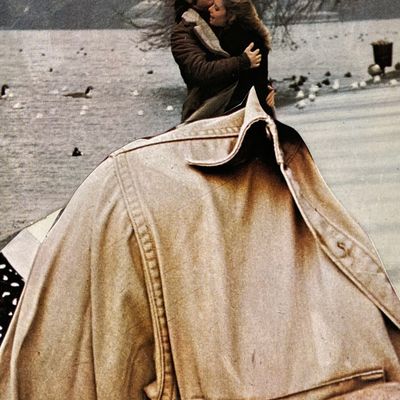 Photo-Illustration: James Gallagher
This week, a man from New York explores his online-dating prospects in a new place: 32, single, Miami.
DAY ONE
5 a.m. I'm flying to Florida today for a three-month "sabbatical." It's the first time I've traveled during the pandemic. I'm all packed but need to shower and get myself out the door and into an Uber.
7 a.m. At the airport. My stomach feels unsettled. I really have no idea what I'm doing moving to Florida. All I know is this: I'm 32 years old and single. My job — advertising sales — is remote until at least this summer. I'm extremely horny, lonely, and "looking." What am I looking for? Sex, mostly. Maybe a relationship.
1 p.m. The flight was pretty empty. I wore a mask and kept my distance. I don't feel that worried about germs. I'll get tested today or tomorrow if I can figure out where and how. First things first: settling into my apartment rental I found through Facebook. The house is small but clean, in a suburban area outside Miami. There are palm trees, a hammock, and it's walkable to a small beach. This is going to be much better than living with my constantly stoned roommate in the East Village. We never clicked. I couldn't understand why he never wanted to be my wingman or why he never dated or hooked up. Mostly he just hung out around the apartment and made it messy.
3 p.m. I'm getting my bearings. I was trying to avoid renting a car but it's clear I need a long term rental. I walk to get some groceries and come home to figure out the car situation. I'm not missing New York at all.
9 p.m. There is still a lot to do to get settled but I think I'll like it here. Scheduled a COVID test for tomorrow. And now, the moment we've all been waiting for … dating apps! I turn them all on (I have about four on my phone), make sure the location is recalibrated, and see what I find.
12 a.m. I've spent the entire night swiping, liking, chatting, and connecting. Hopefully my work will prove fruitful. I try not to be too creepy in my quest for sex because, like I said, I'm open to love too. So I toe the line by putting something in my profile like, "Looking for all sorts of things from fun to serious." Hey, it's the truth. Hard not to sound like a creep on these things. Too soon to tell how my efforts will play out.
DAY TWO 
8:30 a.m. Go to a clinic and get the rapid test. Comes back negative 20 minutes later. Phew.
9 a.m. I want to be productive but mostly I want to follow up on the responses to my online-dating outreach. Respond to a few prospects and then set up my computer and work station in the new place.
11 a.m. Cathy, a woman from upstate New York who is spending time in Florida to make the most of this weird time as well, is wondering if I want to grab a drink later. She isn't the woman of my dreams, but I'm open-minded.
7 p.m. Cathy and I meet at a bar near my new place. It's kind of like a tiki bar. When Cathy arrives, I know for sure she's not my type. But let's see how I feel after a few beers. We don't have masks on because we're outside drinking, but it still feels a little dangerous. She had COVID a few months ago so I'm less nervous about it with her.
9 p.m. She's actually really fun. We're having some laughs. She's very direct and kind of crass. Finally she says, "Let's go back to your place." I can't deny that I'm thrilled that on night two in Florida, I'm already getting laid. This is a very good sign.
11 p.m. We fuck twice. She's secure with her body and her sexuality and the sex is hot, dirty, and highly satisfying. She also tastes great. I love going down on women but this was particularly enjoyable! After a while she tells me she's going home. "That was fun," she says. We both know we probably won't see each other again and I appreciate that we're on the same page.
DAY THREE
9 a.m. It's Monday, so time for work. I don't feel compelled to tell everyone I've moved to Florida, but a colleague notices the change in scenery. I tell them I'm spending some time here during the winter months and hope no one asks any more questions. I am pretty sure it's fine to relocate without checking with my boss, but I'm not positive. Better to keep it vague.
5 p.m. I've been on Zoom most of the day so I'm happy to crack open a beer and go back online looking for women.
9 p.m. I put another four hours of work into the dating apps and hope to find another Cathy, but maybe someone I'd like to see more than once in a blue moon. I connect with so many women and it's crazy because they all seem different from the women I'm used to. I'm happy about that because New York wasn't good to me in the dating sense. I kept getting my heart broken by women who thought I wasn't rich enough, or handsome enough, or successful enough, or my dick wasn't big enough. I grew up in the Midwest and am a pretty simple guy, and that just won't cut it in the city. Not sure what that means for me long term but hopefully at the other end of this Florida trip, I'll have some answers.
DAY FOUR
9 a.m. Work. I like what I do. It keeps me busy and engaged with people. The pay is good. In the town I come from, I'd be upper-middle class. In New York, I'm a loser.
10 a.m. Last night I caved and emailed a woman I was in love with back in the city. For about a year, she used me for my company and unwavering adoration and dumped me when the pandemic happened, saying she was just too nervous to see anyone. It was her way of letting me go without any drama — blaming COVID. We were never in a real relationship but I really loved her and still do. My friends all say she's nothing but pain for me, but she's hard to quit. I texted her last night that she should visit me here and while I know that was complete regression on my part, I'm still hoping she'll say yes. She hasn't written back.
4 p.m. I've lined up a date for tonight with a girl named Jessica. She's hot, possibly too hot. I'm not sure why she would want to go out with me, but maybe she's just a hot chick looking for a good time. Fingers crossed!
8 p.m. Meet up with Jessica at the same bar as the other night. She's very pretty. She's quite a bit younger than me. After a few minutes of conversation, I also learn that she's not the most engaged person. She didn't vote. She owns a hair salon, which I'm very impressed by (it also means she gets COVID-tested weekly). After we've had some drinks, I ask her if she wants to see my place and we head that way.
10 p.m. Back at my place, we're fooling around. I go down on her and she gives me a pretty good blow job. Later she asks if I want to hang out again sometime and I lie and say, "Of course!"
DAY FIVE
7 a.m. I wake up to go on a run. Feeling kind of gross from last night. It's evident that it's easier to get girls when you're a guy from New York living in Florida, but I'm not sure these are the women that will make me happy. It's great getting laid but this might get old. Too soon to tell …
5 p.m. Full day of Zooms.
8 p.m. Frozen pizza, a bottle of wine, and a night of swiping.
9 p.m. I've texted both Jessica and Cathy to keep the flame alive, just in case the mood strikes.
DAY SIX
11 a.m. My roommate from New York calls to say the woman I've sublet my room to thinks the apartment is shit and wants to move out. I'm so pissed off. It means my roommate isn't keeping it clean and is smoking weed all day. I had asked him to be good about that stuff but I'm not surprised he screwed it all up. It's not like we can hold her hostage; if she wants to leave, she can leave! It means now I have to pay my NYC rent and pay for the Florida house. Fuck!
6 p.m. I'm a little tired so I've decided to watch TV all night and lay off the apps.
9 p.m. I jerk off to a fantasy of a woman dominating me with whips and chains.
DAY SEVEN
8 a.m. I wake up and realize I'm out of coffee, milk, and eggs. I have to take better care of this place. I jog to the grocery store and after a nice breakfast, I log on to work.
3 p.m. COVID cases across the country are only getting worse and suddenly I feel guilty for attempting to meet so many strangers and engage with new women so aggressively.  I've tried to do it responsibly, but I know I should just be staying home and doing nothing if I want to do the right thing.
5 p.m. That mentality doesn't last long. My dick always wins. I go back online and start chatting with a woman named Brandi. She used to be a stripper but now she's doing business school online. We make a date for tomorrow. If I didn't come to Florida for exactly that, then please tell me what I'm here for.
10 p.m. I jerk off to the idea of Brandi stripping for me then sitting on my face … and I have hope again.
Want to submit a sex diary? Email sexdiaries@nymag.com and tell us a little about yourself (and read our submission terms here.)