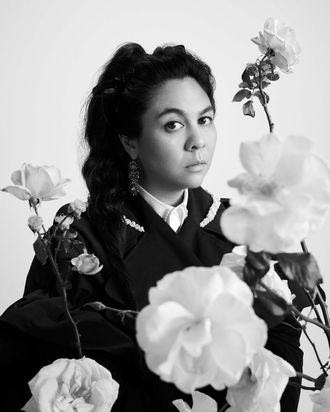 London designer Simone Rocha, Queen of the New Weird, will be H&M's newest designer collaborator.
For the first time ever, the designer will offer menswear and kidswear alongside womenswear. The collection — a reworking of her ten-year archive — will truly be available for everyone, whether they're loyal fans of her whimsical and ultrafeminine clothes or discovering the brand for the first time.
While the offering hasn't been revealed just yet, H&M says that we can expect Rocha signatures like delicate tulle dresses, tartan tailoring, beaded shirting, cable knits, trench coats, sparkling jewelry, and pearl-embellished shoes. And it'll all come in a romantic color palette that mixes cream, pink, red, and black.
"I am so thrilled to be working with H&M on this very special collection," Rocha said in a statement. "It truly is a celebration of the signatures of my brand, and the influences that have shaped me. As a designer, and as a customer, I've been such a fan of the H&M collaboration concept. Margiela, Alber Elbaz, Comme des Garçons — it's such an amazing list of alumni to be a part of."
The collection debuts March 11, but you can watch the teaser film, which features Rocha's community of friends and collaborators — like sister models Adwoa and Kesewa Aboah, stylist Robbie Spencer, model and friend Tess McMillan, and actress Daisy Edgar-Jones — below.