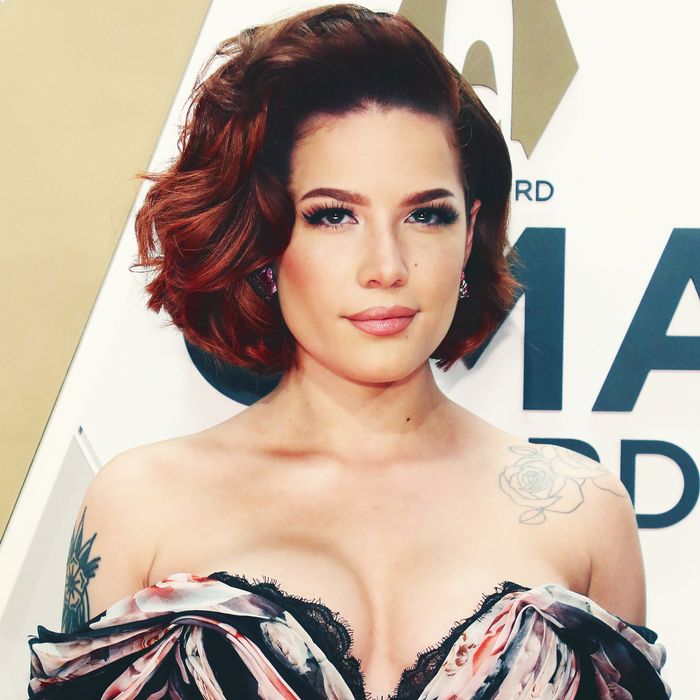 Halsey, a self-described "makeup junkie."
Photo: Taylor Hill/Getty Images
It's a new year, but some things are still the same: The celebrity beauty birth announcements keep on coming. Just a few days into 2021, singer Halsey has brought a dewy new bundle of joy into the world, giving her the first Celebrity Beauty Bingo square of the year. Named about-face, Halsey's new line launched with over 40 new products, and both beauty baby and new mama have been working a lot but are happy.
About-face is inspired by Halsey's love for self-expression. Growing up as an "art kid," she became familiar with color theory and brushes, and unlike other performers, the self-described "makeup junkie" often does her own makeup for photo shoots and performances. (She's also a former face of YSL Beauté.)
The brand's products will be vegan and cruelty-free, and the first collection focuses on textures: The Light Lock family of products includes highlighter, powder, and lip gloss to help secure a "moist" look, and the Matte line features eye pencils, liquid lipsticks, and eye paints. For drawing and coloring in your face like a true art kid, the Shadowstick is an eye shadow crayon that comes in eight pearly and matte shades. Prices start at $17, and the brand is teasing an "Anti-Valentine's Day Kit" for February. Orders begin shipping on January 25, but products are already selling out now.