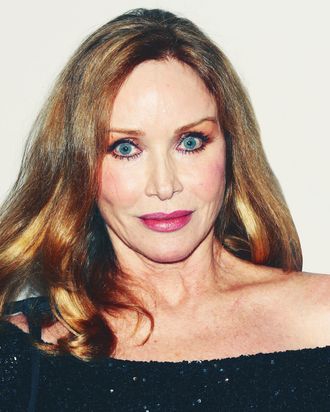 Photo: Paul Archuleta/FilmMagic
Early Monday morning, it was reported that actress Tanya Roberts — a Bond girl and TV star known for Charlie's Angels and That '70s Show — had died at age 65.
For most of the day, news of her death trended at the top of Google News while many of Roberts's famous co-stars shared memories of working with her on Twitter. While the internet mourned, major news outlets published obituaries outlining her many accomplishments. Hours later, their headlines were corrected to read something like: "Tanya Roberts Is Still Alive Despite Reports of Her Death."
Then, early on Tuesday, after this bizarre series of events, it was again reported that Roberts had passed away. But this time for real.
So how did this happen? Apparently, hours after Roberts's publicist, Mike Pingel, reported her death on Monday, he announced that she was in fact still alive. Pingel blamed "human miscommunication" for the error, explaining that he received notice of his client's death from Lance O'Brien, Roberts's longtime domestic partner.
According to the New York Times, Roberts had been hospitalized in L.A. since Christmas Eve. She had fallen ill following a hike and had developed sepsis. O'Brien had been visiting Roberts, and in recounting the visit to Pingel, he had told him, "I just said good-bye to her." Pingel was apparently left with the impression that Roberts had died, and, shortly after, O'Brien began receiving push alerts about his partner's death.
The error was corrected, as were the headlines. Ashton Kutcher, one of Roberts's That '70s Show castmates, even filed his own personal corrections on Twitter: "Yo bro she's not dead," he commented on a post by Topher Grace. To a post by Debra Jo Rupp, Kutcher replied, "Dj she's still alive." (At the time of publication, both tweets are still up.)
Throughout this ordeal, Roberts remained hospitalized and her condition worsened. She died on Monday night.