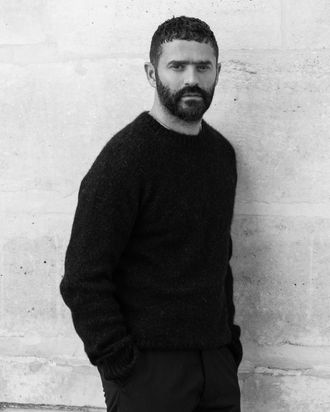 One of the first things you learn in French class is that ami means friend. It's also the name of a Paris-based brand founded by designer Alexandre Mattiussi, who knows a thing or two about the effortlessness of Parisian style.
Mattiussi says that as a kid, he expressed his creativity through classical dance, but his career path was forged when he fell in love with the costumes. He only fell deeper in love with fashion as he grew older, "thanks to Thierry Mugler, Jean-Paul Gaultier, Azzedine Alaïa, and the first collections from Tom Ford for Gucci."
Before Ami (which is also a play on his initials), the designer gained experience at Dior, Givenchy, and then Marc Jacobs. The brand started with menswear when it debuted in 2011, and seven years later expanded into womenswear. Last year, with a special anniversary collection, he celebrated nine years in the business — his lucky number, commemorated with a tattoo. Parisian chic runs through his veins, both in his design aesthetic and personal style. "I like simple, everyday clothes — well-fitted and made with nice fabrics. Carrot pants, jeans, sweatshirts, wool knitwear … very Parisian, you can say. And this is also Ami's essence!"
The Cut spoke with Mattiussi about the joy of poetry, his guilty pleasure, and one of Michelle Obama's favorite New York restaurants.
What's one piece you've designed in a recent collection that's especially meaningful to you?
My favorite piece from fall/winter 2020 is a structured jacket made from wool in different colors like black, blue, red. It's a special one because it fits great on both men and women and it's a more fashionable version of the jackets I used to make when I launch the brand ten years ago.
How do you thank someone for a gift?
With flowers! I feel that there's nothing better than receiving flowers. I love to send flowers to my friends, and I love to receive myself.
What would you never wear?
You can never say never, and I feel that my style could still evolve … but maybe fluorescent colors.
What's your dream vacation?
After a year of traveling restrictions because of the health crisis, my dream vacation currently consists of just being able to look at the sea. I dream of going far away with friends and family, ideally to a place like Tulum or Costa Rica that I like so much.
What's a good book on your coffee table right now?
Currently Nous sommes maintenant nos êtres chers from the French author Simon Johannin — a gift from my boyfriend. It's a poetry book more than a coffee-table book, but reading it is something that makes me happy in this moment.
Last show you binge-watched?
The Crown. I loved the latest season, and I like this show so much that now I want to start all over again!
What's your guilty pleasure?
Chocolate.
Secret to hosting a good party?
Great music, friends, and lots of happiness. Just what we all need right now.
What is a trend that you like right now?
Simplicity and romantic minimalism is making a comeback, and I just love it.
One you don't understand?
Well actually, there's no such thing for me. I like to respect the creativity of everyone.
Favorite restaurant in New York?
I really like Estela, which, fun fact, they've told me is a favorite of Michelle Obama.
What's the one thing you could eat everyday for the rest of your life?
Chocolate, as well.
Shoes you wear most often?
White sneakers.
What are five inanimate objects that bring you joy?
"I love anything handmade, and the colors are beautiful."
"Socks from Japan have been a favorite for a long time now. I promise they're special."
"Nothing makes me happier than watching Netflix in my bed wrapped in these."
Just the most relaxing way to start my day!
"Because tables need to be dressed, as well. The more original, the better."