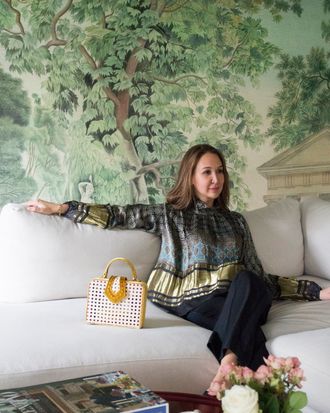 Photo: Courtesy of Mehry Mu
Wanderlust is hard to satisfy these days, but Turkish designer Güneş Mutlu can transport you to Istanbul with the handbags from her brand, Mehry Mu.
Each Mehry Mu collection takes inspiration from Mutlu's love of anthropology, literature, and travel. She sources materials like rattan, velvet, rope, and natural stones from the Grand Bazaar in Istanbul, where local artisans handcraft each bag. In her designs, the Turkish city's history merges with contemporary fashion: Think mini rattan box-shaped bags and leather trapezoidal bags with Western-shaped claps.
Mutlu founded the brand in 2010. Since then, thanks to an Instagram-friendly aesthetic and an accessible price point, it's gained a cult following that includes celebrity fans like Jennifer Lawrence and Laura Harrier. With her newest and biggest collection debuting next week, she spoke with the Cut about eclectic textiles, her love for handmade everything, and luxurious baths.
What's one piece you've designed in the spring/summer 2021 collection that's especially meaningful to you?
It was quite counterintuitive to launch such a big collection given the pandemic-related circumstances, but we wanted to offer a variety of all that we do in a coherent way. We specialize in handwoven and box bags mostly. But if I have to pick one, I will go with the rattan Fey Mini Box with velvet details. I just love see-through rattan and sumptuous velvet together.
How do you thank someone for a gift?
I believe there is no such thing as over-thanking. I make sure that the person who has given me a gift receives my gratitude down to every cell in their existence. I call or I send a photo, a message, or a note. It's the thought that counts, so anyone who expresses love for me with a gift gets a million thanks.
What would you never wear?
Polyester.
What's your dream vacation?
At this point, anything goes. But I have been dreaming of Bali.
What's a good book on your coffee table right now?
Near & Far by Lisa Fine. Really into eclectic textiles and home-related material these days.
Last show you binge-watched?
I watched The Crown and The Queen's Gambit in one go, but my actual favorite was my husband's discovery: Mozart in the Jungle.
What's your guilty pleasure?
Watching Frasier.
Secret to hosting a good party?
Inviting the right crowd. Party alchemy starts with the right people. And getting them a little tipsy before serving dinner helps!
What is a trend that you like right now?
Handmade everything, but in a sophisticated way.
One you don't understand?
Nail art.
Favorite restaurant in New York?
I Sodi, Atomix, and Blue Ribbon Brasserie.
What's the one thing you could eat everyday for the rest of your life?
Chocolate pralines.
Shoes you wear most often?
Vibi Venezia velvet slippers.
What are five inanimate objects that bring you joy?
"Maybe it's a placebo effect, but getting in that bath and throwing in those flakes is my only luxury during the pandemic."
"Everybody hates the smell. Oddly, I don't hate it. Plus, what's not to love about a product that makes you feel like you get a mini exfoliation facial every night?"
"I love that it's faux leather but also that it's not polyester and does not harm plants either. It is plant based and sustainable."
"I love their nonchalant attitude about fine jewelry. I love gold and precious/semi-precious stones, but I don't like my jewelry to take itself too seriously."