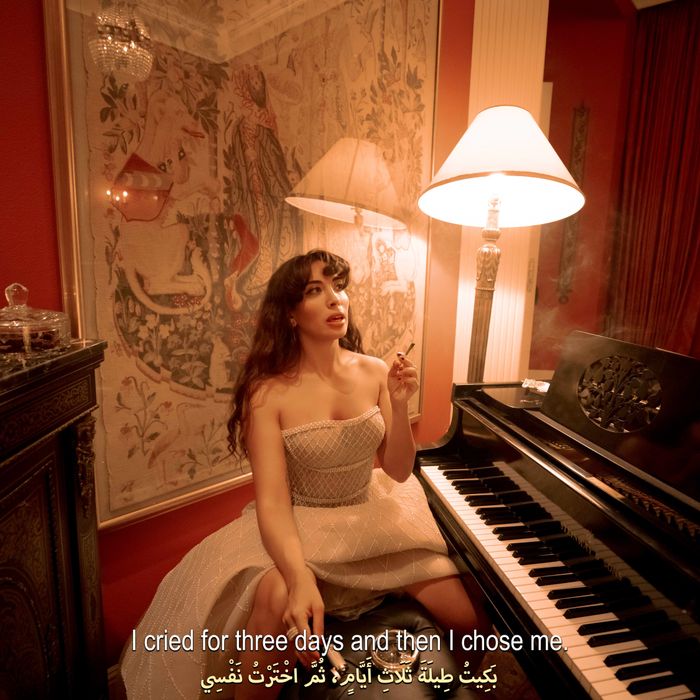 Photo: Courtesy of Sarah Bahbah
Sarah Bahbah wants you to know that being lazy isn't a bad thing. In fact, she wants people to embrace it without guilt, shame, or feeling like they have to be productive all the time.
A Palestinian artist based in Australia, Bahbah is best known for using photographs and film to explore the experiences of millennial women. Most recently, her extremely vulnerable "3eib!" photo series included a video and 31 self-portraits captioned with English and Arabic from a poem she wrote about the sexual abuse she suffered as a child.
Now, the 27-year-old is allowing herself to recharge and encouraging others to do the same with the launch of a new loungewear brand, called Lazy Cake. Its mission: to redefine laziness, of course. The matching sweatsuit sets come in colors like bubblegum pink and lime green, in sizes ranging from XS to 4XL. Sweaters are emblazoned with witty catchphrases, including "I'm not available for the emotionally unavailable" and "I gave myself three orgasms and a pizza" — a nod to Bahbah's subtitled artworks. "I wanted to create my ultimate comfort look — something that I could just slip on every day and feel cute and relaxed in," she told the Cut. "It's a uniform for rest and recovery."
We spoke with Bahbah about Airplane Mode, mezcal shots, and Instagram photo dumps.
What's one piece you've designed in the first collection that's especially meaningful to you?
"I'm my own muse" is the most meaningful piece to me. It represents the reclaiming of my identity and my announcement to the world that my art stems from a deeply personal place — the words spoken and the way I experience life all come from within.
How do you thank someone for a gift?
I have a strange time accepting gifts. I love giving gifts, but receiving them is a feeling I will never get used to. I go through a wide range of emotions. In a matter of seconds, I go from nervousness and awkwardness to giggles and gratefulness.
What would you never wear?
A fake smile.
What's your dream vacation?
I've lived it, but I'd love to go back as the person I am today — a little wiser, a lot more grounded, and a lot more grateful. It was Positano, with the three most important women in my life at the time, a sofa bed in a small apartment, local groceries, bottles of wine, terrace sunsets, our brown naked bodies, tears and belly laughs, a full moon, pebble roads, and sundresses. Love. Pure love.
What's a good book on your coffee table right now?
The Road Less Traveled by M. Scott Peck, M.D. My dear friend gave it to me for my birthday. She looked me in the eyes and said, "You need this right now." She was right.
The last show you binge-watched?
The Queen's Gambit — and everyone should.
What's your guilty pleasure?
Trejo's Donuts, Airplane Mode, and two fingers.
The secret to hosting a good party?
Hand every guest a shot of mezcal on arrival. Leave the room for 15 minutes, and when you come back, all of your guests have become friends.
What is a trend that you like right now?
The "photo dump" on Instagram. A seemingly meaningless collection of iPhone photos that actually tell an intimate story.
Favorite restaurant in New York?
Nom Wah Tea Parlor on Doyers Street forever.
What's the one thing you could eat every day for the rest of your life?
Blue crab roll.
Shoes you wear most often?
Since the pandemic, my Fenty x Puma faux-fur slides still get daily usage.
What are four inanimate objects that bring you joy?
"I find these earrings very poetic, and I love the asymmetry to them. Also, who doesn't love pearls and gold?"
"A nice comfortable and classic tank that goes well with any bottoms … or none."
"Can never go too far without checking in with my spiritual guides."
"These shoes are nothing short of glamorous. They're totally unique, and not a stress on my feet. They are a quick way to dress up a simple look."