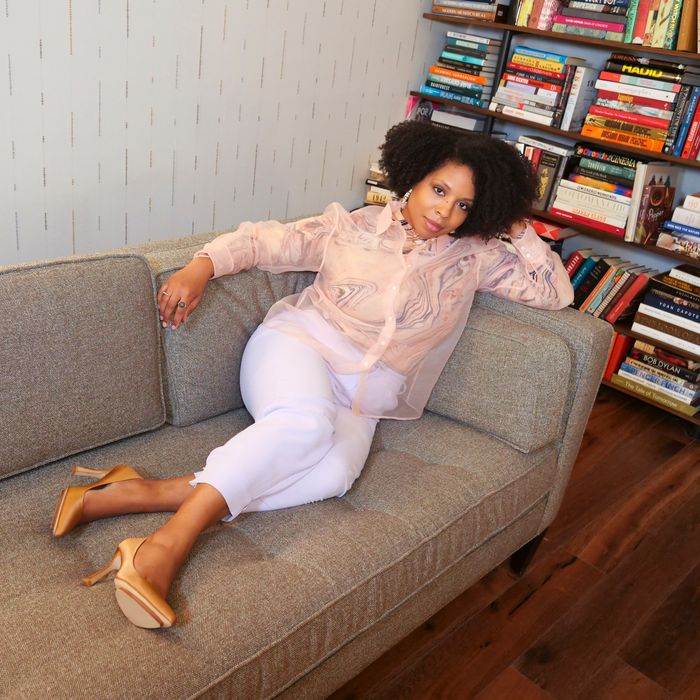 Photo: Courtesy of Salone Monet
Fashion is regarded as a forward-thinking industry, but there are still plenty of concepts that are outdated. "Nude," for example, has far too long excluded people of color with deeper skin tones. Designer Salone Monet is working to change that.
While working at a shoe store in Washington, D.C., Monet realized the need for color equity in nude shoes. "During one of the trainings, someone from corporate told us to always offer a nude heel to our customers, but we only sold that one-color-fits-all shade of nude," she told the Cut. "That was the light-bulb moment for me. I immediately went home, downloaded a blank business plan from the internet, and started filling in the blanks."
She made her first pair of nude heels from scratch after learning shoemaking in Brooklyn, and founded her eponymous label in 2018. Two years later, she was a recipient of the Bethann Hardison and CFDA Designers Hub, a grant that gives Black designers and Black-owned businesses guidance and opportunities to grow. Now her product line consists of three styles: a classic pump, a slingback sandal, and a flat — all in six inclusive shades of nude. Beyoncé, Gabrielle Union, and Keke Palmer are fans.
The Cut spoke with Monet about red bottoms, frozen-yogurt addictions, and themed parties.
What's one shoe you've designed that's especially meaningful to you?
The Sable is the first shoe design I brought to life. It's super special to me because of how strongly it represents my brand ethos. An uninterrupted silhouette to make the legs look longer, flattering fabric that matches the most important part of every outfit (you!), and a ball-supporting platform for comfort. It's truly a heel that celebrates the wearer.
How do you thank someone for a gift?
Paperless Post is my preferred method of sending thank-you notes because it allows me to be creative without exposing my messy cursive. I'm a millennial and started typing my homework in sixth grade. I wish I had practiced better penmanship because handwritten notes are so thoughtful.
What would you never wear?
Christian Louboutin shoes. Keeping the bottoms of your shoes pristine just feels like the ultimate setup. It's the same conundrum as having a living room you aren't allowed to sit in. The shoes are, of course, beautiful, and I totally respect the product differentiation.
What's your dream vacation?
A safari in the Serengeti followed by a few days on Zanzibar. I've been planning this vacation for years. Hopefully it will manifest soon.
What's a good book on your coffee table right now?
I recently took a socially distanced sleeper-car train trip and picked up The Warmth of Other Suns by Isabel Wilkerson.
Last show you binge-watched?
Blood & Water. Very happy they're making a season two!
What's your guilty pleasure?
Pinkberry frozen yogurt: Half–peanut butter and half-coconut. Since COVID-19, I started having it delivered more than I would like to admit. Then after a long time of not getting it, I walked to my closest Pinkberry to pick up my usual order. The manager came from around the counter and greeted me as one of their most loyal customers. It was really embarrassing, but we'll see if it helps kick the habit!
Secret to hosting a good party?
I love a theme and not necessarily something super elaborate. Over the summer, I had a lemon-themed outdoor dinner for my quaran-team. All the food and drinks had elements of lemon in them. For my 32nd birthday, the theme was "Chicken and Champagne," and all the food and beverages were from Black-owned businesses. At the very least, having a theme gives direction to the planning, which is helpful.
What is a trend that you like right now?
The clear face mask, the Vue Shield by Joe Doucet, is the accessory we all dreamed the future would have. I only wish it got popular for a fun reason, like commercial moon flights, and not because we're in the middle of a pandemic.
One you don't understand?
The return of the scrunchie, but only because it doesn't work on my hair.
Favorite restaurant in New York?
Carbone delivery makes for a really special occasion even when you can't dine out.
What's the one thing you could eat every day for the rest of your life?
My mom's or grandmother's mustard greens. Mustard greens over collards all day. End of discussion.
Shoes you wear most often?
Right now, I'm mostly wearing the black patent Aeyde boots on the few occasions I get to leave the apartment. Patent leather is my current cold-weather go-to.
What are five inanimate objects that bring you joy?
"It's perfectly tinted and great for a Zoom call when you really aren't interested in putting on a face of makeup but still want to look alive."
"I recently watched an Instagram Live of an A-list celebrity making lasagna, and they were cutting garlic with a knife. It's too much work. I couldn't imagine cooking regularly without a garlic press."
"Unique earrings are an essential part of any WFH look."
"I've been massaging it onto my scalp after wash days to keep my scalp moisturized and my hair follicles happy this winter."
"Loving this bag is no surprise, and buying Black is my favorite part of the resistance. I personalized mine with a pearl bag chain."