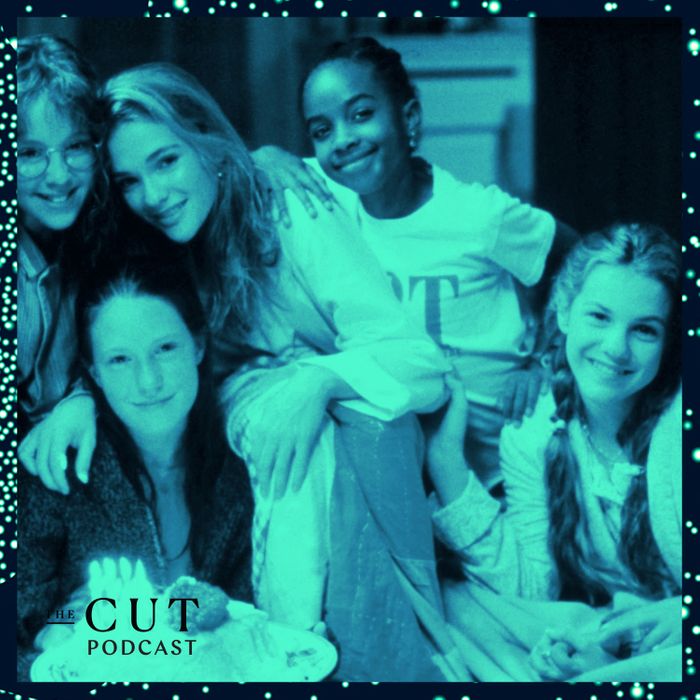 Photo-Illustration: by The Cut; Photo: Shutterstock
Whether it's in an old favorite like Matilda or the 2020 Netflix hit The Queen's Gambit, the trope of "helpful Black best friend" has long been a common feature in American television and film. This week, The Cut lead producer B.A. Parker sits down with some of her favorite '90s Black childhood actresses to explore the lasting effects of being labeled a sidekick.
Actress Zelda Harris made her mark as the ultimate childhood BFF when she played the role of Jessi, the only Black babysitter in The Baby-Sitters Club. Despite debuting her career as the lead role in Spike Lee's Crooklyn, Zelda quickly became frustrated as casting directors increasingly saw her as one thing only: the best friend.
ZELDA HARRIS: It starts to wear on you as a kid because you have the power of your imagination. You're working in an industry that can make anything happen. You've got puppets, Muppets, CGI. You got all this stuff going on. You're still getting this very consistent message that you're here to support so-and-so and you only have this many lines, and, yeah, the camera's gonna be set up right here and you're going to stand on the side. "I'm not sure if you're going to be in this shot." You know, having that kind of realization was intense.



Eventually, Zelda decided to pivot and become a teacher. Although she now spends her days in classrooms instead of on film sets, she hasn't completely left her past life behind.
ZELDA HARRIS: One of my students was like, "So I was watching He Got Game, and then at the end of the movie I was watching credits, and I saw your name. And then I looked you up, and I was like, 'Okay, yeah, it's [you].'" He was like, "How can you be just a teacher? You were in movies."



A similar role, the nerdy sidekick, appeared in 1996's Matilda. That part, Lavender, was played by Kiami Davael, a young Black actress whom Zelda often saw at auditions.
KIAMI DAVAEL: You know, young Black girls, we would audition for the same things at the same time, essentially.
Seeing the same Black actresses cycle through supporting roles had a profound effect on Parker. As a young Black girl herself, she began to fear that she was destined to be a sideline character in her own life. That was until Vanessa Chester was cast as Kelly Malcolm in the 1997 hit film The Lost World: Jurassic Park.
B.A. PARKER: A question that has been burning in my heart since I was 10: Was Kelly always written as Black?




VANESSA CHESTER: Yes. At the time I didn't know what my character would be, because it was so top secret. I didn't learn that Jeff [Goldblum] was playing my dad until I went to a wardrobe fitting. And I was like, Wait, what?
Vanessa embodied several iconic Black characters throughout the '90s: the servant girl in A Little Princess, and the best friend in Nickelodeon's Harriet the Spy.
B.A. PARKER: With Harriet the Spy and with A Little Princess you're the best friend again. But it's an important role. Was there a moment where you were like, Why can't I be the lead in something? 




VANESSA CHESTER: I'm a Leo moon, and I think I would be lying if I said that the thought of it not being about me crossed my mind, or whether I made the connection at that age. I don't think so. But as I got older? You're in your teens and you're starting to see the stuff that you're auditioning for; you're like, Why am I always, like, helping them out? Like, What is this about? And that I became far more aware of. The rose-colored glasses come off and you're like, Wait, wait, wait, what's going on?
Although Vanessa was rarely cast as the lead, her acting career meant a lot to a young Parker, who still finds comfort in seeing Vanessa onscreen today.
B.A. PARKER: I mean, it feels weird to say it, that I want to thank you. 




VANESSA CHESTER: Of course. 




B.A. PARKER: But your characters showed me a different way to be.




VANESSA CHESTER: I wish I had been able to hear from more Black women when I was younger. That they were excited to see someone like me. You clearly are a very strong human being. So I'll take credit for any of that. I haven't met you, but I raised Parker from a child.



To hear more about the consequences of young Black actresses being pushed to the sidelines, listen below, and subscribe for free on Apple Podcasts or wherever you listen.