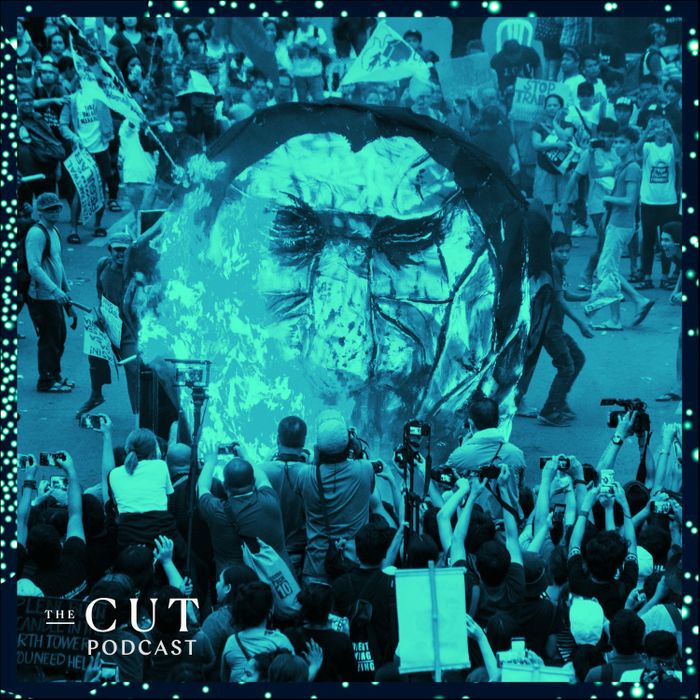 Individuals gather in the Philippines to protest president Rodrigo Duterte.
Photo-Illustration: by The Cut; Photos: Getty Images
Although the Trump administration has finally come to an end, the lessons learned from and effects of reporting on such a tumultuous time in American politics won't soon disappear for New York Magazine's Washington correspondent Olivia Nuzzi. Thankfully, we are entering a new, hopefully less disruptive, era with Biden's recent inauguration. However, the anxieties experienced by reporters in the U.S. over the past four years are nothing new for those in countries whose freedom of press and speech is less secure.
On this week's episode, Avery Trufelman and B.A. Parker lead conversations with journalists Olivia Nuzzi and the Philippines-based Maria Ressa to discuss what it is like to be so close to political corruption.
AVERY: How do you approach fear in your work? 




OLIVIA: A lot of the Trump era has just kind of been these extraordinary, bizarre situations that are too much to process in the moment. You just sort of have to try and document and be present in real time. And then later, try to sift through the meaning of these strange events.  




AVERY: But I guess the question is, when do you process it, or when will you process it? 




OLIVIA : I don't know. It's funny because I've been having a lot of conversations like this with White House officials and administration officials who in a completely different way are realizing that they have a lot to process. Because, they were trying to survive and—by choice—were committing to stick it out for as long as they could.



Most Washington correspondents are seasoned reporters. Many had been on the job for years by the time Trump entered the White House. That was not the case for Olivia.
OLIVIA: This is the first administration I covered, and it was also the first campaign that I covered. The first time I interviewed Trump, I think I was twenty-two? It's not like I went from being on the Romney plane in 2012, to covering the Obama White House, and then the Pentagon. I have no nostalgia for before [Trump] because I don't know anything about living through it as a reporter. Everyone keeps saying, "It's going to be a return to normal with the Biden presidency." I'm just so used to talking to these characters and appealing to [the Trump administration's] vainness and pettiness.
Learning how to grow from the destruction caused by the Trump administration is something we're all experiencing.
AVERY: I feel myself becoming a bad person in Trump's America. And I can only imagine with your proximity to this incredibly toxic work environment… I mean, you said you are taking on the attitudes of some of your subjects. And I guess, does that frighten you? Do you have any sort of ballast against that? Like, how do you fight that? 




OLIVIA: If anything, I feel like I have become almost paralyzed by empathy in the Trump era. Writing about a lot of ugliness and a lot of people who are just bad people has made me … I've always been extraordinarily sensitive, but this has made me so much more sensitive and almost paralyzed by the pain I feel about human beings in general and what we do to each other.



Under the Biden presidency, Olivia can learn what it is like work in media with hope rather than fear. Unfortunately, this is not the case for Maria Ressa, CEO of the news website Rappler, who will continue to report on the president of the Philippines, Rodrigo Duterte.
MARIA: He's [Duterte] sexist on good days, misogynist on bad days. The rise of the Duterte is very similar to Trump. It's an us-against-them kind of populism. He uses fear and violence. I asked him whether that's [violence] is necessary … And he said, "Absolutely, you have to make Filipinos afraid. Otherwise they will break the law.'"
Although Duterte's reign is significantly more deadly than Trump's, there are parallels between the two campaigns. From issues of targeted Facebook ads to the emotional battle to save the nation's democracy, Maria has reported on it all.
MARIA: In the Philippines, our battle for democracy is an individual battle for integrity. Each one of us will have to make a choice. I think that's the same in the United States? You just had stronger mores. Your institutions were stronger than ours. But you almost waited too late, you know. How long will Americans take to recover?
Despite facing numerous arrest attempts at the hands of Duterte's administration, Maria is dedicated to her work at Rappler and refuses to back down in the face of fear mongering or intimidation.
MARIA: This is a time when I can't buckle. So I think about it like this: history is like a relay race. I wish it wasn't me, but the baton was passed. I have to hold it and hand it to the next runner or carry it over the finish line … I don't have a choice if I am who I am. So my lawyers sometimes think I'm crazy, but you are who you are … If you believe in something, you have to stand up for it. 



To hear more about these journalists' amazing work, listen below, and subscribe for free on Apple Podcasts or wherever you listen.