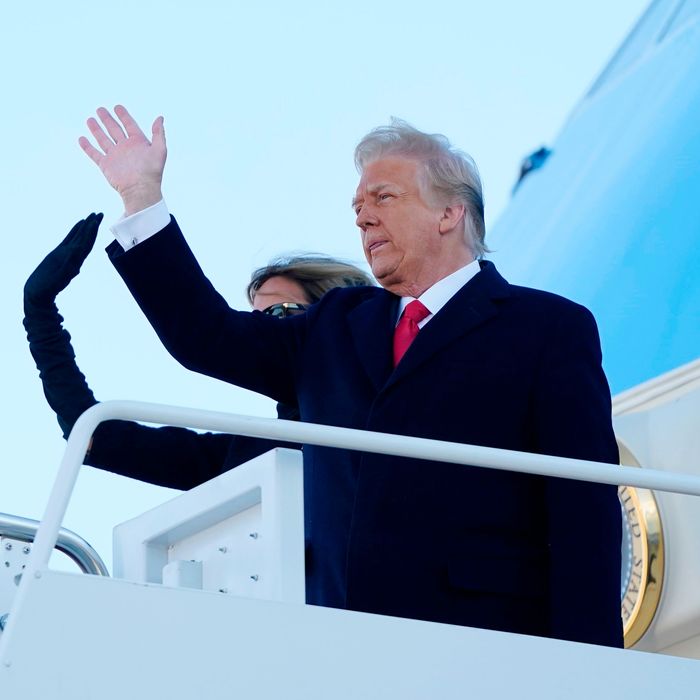 Photo: ALEX EDELMAN/AFP via Getty Images
The past four years have often felt like a labored political exercise in Murphy's Law, the president continually striving to surpass his own personal worst. Donald Trump's first few days in office brought a ban on travelers from seven majority-Muslim countries, the fulfillment of his campaign promise to implement a "total and complete shutdown of Muslims entering the United States." The xenophobia and the racism that underpinned his platform asserted themselves again and again: in the more than 1,500 migrant children separated from their families at the border; in Charlottesville's deadly Unite the Right rally and Trump's reticence to disavow the alt-right groups responsible; in the secret police deployed against protesters participating in Black Lives Matter marches. It culminated in an attempted coup: a collection of far-right extremist groups not loyal to either political party but to Trump himself storming the U.S. Capitol in what federal prosecutors believe was premeditated insurrection.
Until very recently, Trump operated outside the reach of real consequences. Despite being the first president to achieve double impeachment, he served out his full term. No matter how far toward the fringe he bent, congressional Republicans never seemed willing to take meaningful steps against him. Ultimately, the majority of voters were. On November 7, 2020, the networks called the presidential race for Joe Biden. The victory, eked out over the course of three days, did not immediately look like the resounding rejoinder to Trumpism the left had hoped for, but in the seconds after the news broke, it triggered an audible outpouring of relief. When I heard, I screamed from sheer surprise, a small shriek followed in short order by a mounting chorus of cheers from neighbors throwing open their windows. For hours, cars honked, music blared, and people danced in the streets. Finally, Trump was over, out, done for, finished.
After four years of chaos and targeted cruelty — of a political agenda ruled by pettiness and personal vendettas — it is dizzying to imagine a world without Trump in charge. Even though Biden was far from an ideal choice for many, his administration marks a first step toward change we desperately need. Unlike his predecessor, Biden believes in, and cares about, science — he mapped out a plan for managing the coronavirus pandemic even before he won the election. His vice-president, Kamala Harris, will be the first Black woman ever nominated to the office. He has assembled a historically diverse Cabinet, one that would give a Native American woman widespread jurisdiction over tribal lands and name a transgender woman assistant secretary of health.
With a fragile majority in both the House and the Senate, Biden's win offers the chance to start changing course. Fittingly, on his first day in office, he plans to sign a series of executive orders reversing some of Trump's cruelest and most obviously destructive policies: overturning the Muslim ban, rejoining the Paris climate accord, and halting construction of the border wall. There is real reason to feel relief.
And yet I still find it hard to shake the static dread of the Trump presidency, the familiar, agonizing tension of waiting for the other shoe to drop. Biden and Harris are being sworn in against a backdrop of far-right threats in a Capitol shuttered against the threat of violent upheaval, goaded on by the soon-to-be former president himself. And although it is true that Biden received an unprecedented 81 million votes, the largest share of any president before him, Trump got over 74 million — 10 million more than he did in 2016. In 2020, there is no space to argue that those people did not know exactly what they were voting for. Those 74 million people either embrace the extremism Trump embodies or can comfortably overlook it.
Trump is now en route to Mar-a-Lago and what the Washington Post calls a "MAGA oasis." He has reportedly been toying with the idea of launching a news network to rival his former love, Fox. Several of his family members are said to be considering runs for public office. The Trump name will not disappear from daily life today nor will those he emboldened: After the riot, just ten of 211 Republican representatives voted in favor of impeachment. The far-right contingent within Congress — the QAnon supporters, the representatives who booed Representative Cori Bush as she urged her colleagues "to legislate in defense of Black lives" — will still hold its seats on January 21. It remains to be seen whether or not Trump's staunchest GOP allies and enablers — Senator Lindsey Graham, Senator Mitch McConnell, both in attendance at Biden's inauguration — will hold him responsible for his actions.
But it still feels incredible to watch Trump go, to see him slump across the lawn, the large crowd he had been "eagerly anticipating" having fallen through one last time. It is so satisfying to see him scuttle into a waiting helicopter with a bland wave, the wheels lifting with impossible lightness, taking him away against his will. It borders on inconceivable to imagine that, at least for the next few years, we won't wake up to a scroll of alerts about the president's latest act of cruelty, performed simply for cruelty's sake, nor headlines guided by erratic tweets. It feels so good to say he's gone.