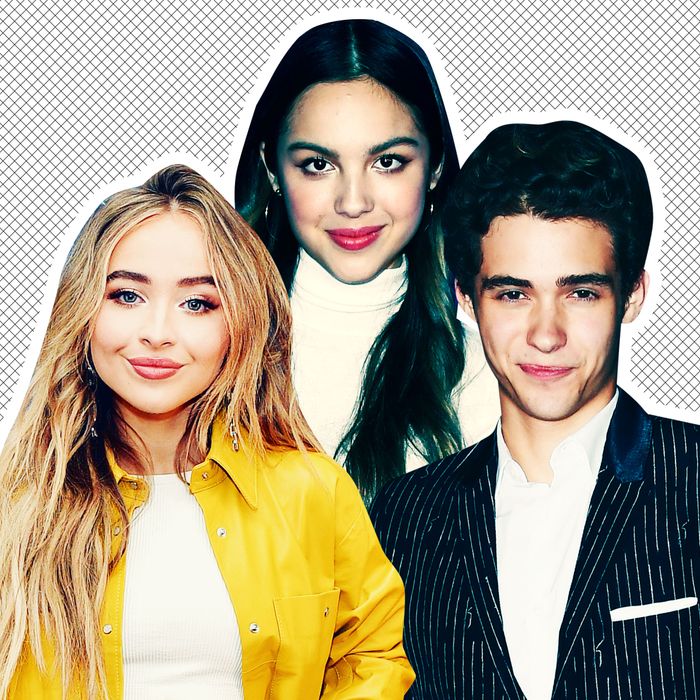 If you've been on TikTok at all in the last few days, even just for a quick ten-minute distraction scroll, I feel I can say with near certainty that you've heard Olivia Rodrigo's new single, "drivers license." It's the first song the 17-year-old star of Disney+'s High School Musical: The Musical: The Series has released independently of the show, and it hits like a Fearless-era Taylor Swift song.
The level of teenage angst heard in "drivers license" is truly breathtaking; it's about someone tearfully driving past their ex's house, having finally obtained their driver's license, but all for naught. (Sample lyrics: "You were so excited for me  to finally drive up to your house / But today I drove through the suburbs, crying because you weren't around.")  Already, Rodrigo has received pretty much the highest compliment you can get on TikTok — Charli D'Amelio posted a video of herself dancing to it.
Adding to the frenzy around the song, fans are theorizing that it's actually about Rodrigo's real-life ex-boyfriend and HSMTMTS co-star, Joshua Bassett. TikTok abounds with theories about the supposed love triangle between Rodrigo, Bassett, and Sabrina Carpenter, the blonde fellow Disney actress Bassett has lately been spotted with. (Another sample lyric: "You're probably with that blonde girl who always made doubt.") The level of intrigue here is high enough that people watched this entire badly soundtracked 26-minute video about the situation. So let's unpack!
So Rodrigo and Bassett were dating?
Rodrigo and Bassett never officially confirmed their relationship. They play on-again, off-again love interests Nini and Ricky on HSMTMTS, and their onscreen chemistry combined with flirty behavior in interviews ignited a popular fan theory that the two were secretly dating.
The timeline on their alleged relationship is unclear since it was never made public, but HSMTMTS filmed in the first half of 2019, and the two wrote a song together for the show. In March of 2020, Rodrigo shared a love song she wrote about someone with a "brown-eyed smile," which fans have speculated is about Bassett:
And less than a month later, Rodrigo shared a gushing post to Instagram in support of Bassett's single, "Common Sense":
When did they break up (allegedly)?
By May of 2020, fans noticed that the pair had stopped liking each other's social-media posts. But July was when the drama really started to unfold. Rodrigo shared an Instagram post of herself singing an as-yet-unreleased breakup song called "White Flowers." A few days later, she posted that she'd gotten her driver's license: "so now I can drive around the suburbs alone and cry to I miss you I'm sorry like a true American!!!!!"
On July 16, Bassett premiered his song "Anyone Else" — a song that some have speculated is about Rodrigo — and this time, there was no gushing Instagram promo on her end. A few days later, in fact, she shared an early version of "drivers license" with a key difference: In this version, Rodrigo references an older brunette girl.
On August 15, Bassett was photographed having lunch with Girl Meets World star Sabrina Carpenter, who, yes, is blonde and is 21 years old (this will be relevant later). In October, they shared TikToks in which they wore matching couples' costumes; he was Sharkboy, she was Lavagirl. Romantic!
Which brings us to "the blonde girl who always made me doubt."
As previously mentioned, in the official release of the song, Rodrigo slightly changed a lyric: "And you're probably with that blonde girl / Who always made me doubt / She's so much older than me / She's everything I'm insecure about." Fans are convinced those lines are about Carpenter; adding fuel to the flames of their speculation, Carpenter's own ex-boyfriend posted the song on his Instagram story.
Bassett, for his part, has been liking posts about "drivers license," and even posted in support of it on his Instagram story. But fans think he's really just smiling through the pain:
And then Bassett dropped his own single, "Lie Lie Lie"
Less than a week after the release of "drivers license," Bassett dropped his own single, "Lie Lie Lie." Obviously, it has only increased the sense of intrigue. Could it be a direct response to Rodrigo's lyrical takedown?
As previously noted, Bassett was at least outwardly supportive of "drivers license," and he hasn't said exactly whom "Lie Lie Lie" is about. Posting on Instagram Stories, he wrote:
I wrote 'Lie, Lie, Lie' after I found out someone close to me had been lying about me behind my back for a long time. It always sucks to hear that someone you thought you could trust would throw you under the bus when it benefits them. It happens to all of us, and I think all you can do is seek out people that build you up rather than tear you down.
It's totally possible "Lie Lie Lie" is about a childhood friend who was jealous of Bassett's newfound fame or something, or even a previous ex-girlfriend from before he met Rodrigo. And considering that he first posted a demo of "Lie Lie Lie" on his Instagram in November of 2019 — long before his rumored breakup with Rodrigo in the summer of 2020 — the timeline doesn't quite line up.
However. I will be joining the chorus of fans who have pointed out the aesthetic similarities between Bassett's video and Rodrigo's: Both Bassett and Rodrigo sing in front of and inside a '70s-style sedan, as well as inside a nice house, and both videos are interspersed with wide landscape shots. Bassett's video does seem to clarify that the song is about a girl: A shot of him arguing with her (we can only see the back of her head, but she has long brown hair not unlike Olivia's) is quickly followed by a scene of him waking up, apparently surprised she's next to him in bed. Hmmmmm!
And now Sabrina Carpenter has released a song of her own, "Skin"
Carpenter waited another week before releasing what seems to be her take on the situation, and her lyrics are pretty unambiguous. In the first 20 seconds of "Skin," she sings, "Maybe you didn't mean it / Maybe 'blonde' was the only rhyme."
In case you've forgotten, the Rodrigo lyric that had fans pinning Bassett and Carpenter as the subjects of "drivers license" was "And you're probably with that blonde girl."
If "Skin" is indeed directed at Rodrigo, Carpenter is clearly not pleased with her Disney colleague; the song is directed at a romantic rival whom she paints as a vindictive pest trying to get under her, under her, under her skin, and proceeds to remind that "he" (Bassett, presumably) is "all on [her] skin." It's a clever bit of lyricism, certainly. But it feels mean-spirited in a way that "drivers license" doesn't. Unfortunately for Carpenter, "Skin" just doesn't hit quite the way "drivers license" does. Congratulations to her on getting that song out fast, though.
The timing of it all is becoming increasingly suspicious; it could be that the three of them are long over the drama and simply taking advantage of their fans' obsession with their relationship(s) while laughing all the way to the bank. Either way, we got two and a half certified bops out of it.
This post has been updated with additional intrigue.