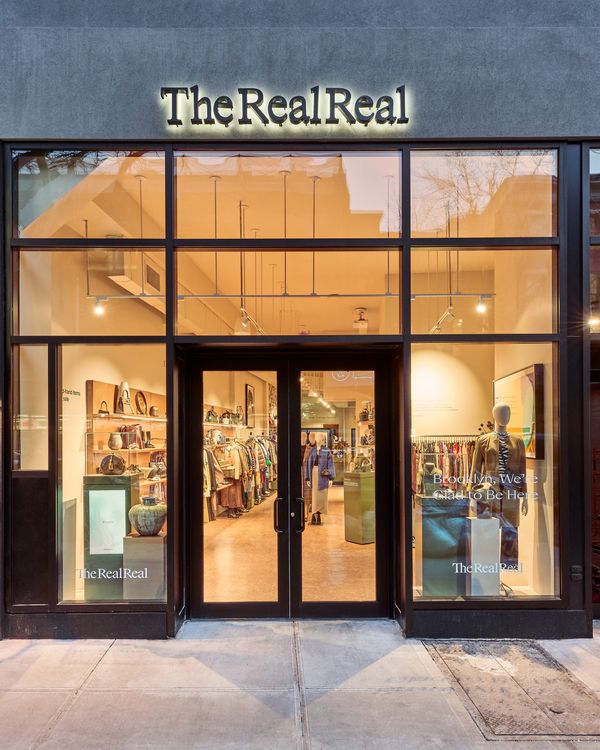 Out with the old, in with the … gently used.
On Tuesday, the RealReal opened up shop at 163 Court Street in Cobble Hill — its first store in Brooklyn and its third in New York, after Soho and the Upper East Side. The arrival of the luxury-consignment shop comes just weeks after the departure of Bird, a neighborhood fashion destination since 2006, where locals could find labels like Rachel Comey, Isabel Marant, Acne Studios, and more. It's also around the corner from the storefront that used to be Barneys, which closed in 2019. Now shoppers can get the same look — maybe even consigned by a former Bird or Barneys customer — only slightly later in its life cycle and for less. The going rate for a pair of Rachel Comey flared jeans, for example, is about $150 on the RealReal, down from $345 at original retail (and that's before the perennial 20 percent–off code).
It may come as a surprise to hear of a store opening, not closing, right now. But unlike Bird, the RealReal is not a small independent operation; it's a publicly traded company with an IPO of $300 million. It opened three new stores in 2020 — in San Francisco, Palo Alto, and Chicago — and plans to open ten more in the coming quarters, with Brooklyn's being the first in the new year. This is all despite the various challenges the business has faced during the pandemic and the fact that it has yet to actually turn a profit. Still, the future of resale, unlike the future of multi-brand retail, looks bright. Now more than ever, people are purging the contents of their closets and looking for deals.
At this point, the RealReal's arrival in Brooklyn is arguably less a signal of gentrification than a shift in the ways people shop — a shift that took place well before the pandemic. Trained to expect markdowns, customers don't necessarily want to shell out $345 for vintage-looking jeans anymore, and they're perhaps more conscious about how much new stuff they accumulate.
On some level, secondhand shopping has always been cool in Brooklyn. What's changed is that a growing population of the borough's residents is now more interested in gently used Celine than in gently used Carhartt — and the RealReal is where they go to get it. The latest Brooklyn wedding on the Vogue website featured a bride wearing a Marni dress that she'd found on the RealReal that same week.
The store's arrival in Cobble Hill could pose a real threat to the luxury-consignment stores already in the area. (Consignment Brooklyn, for example, is just a few blocks away.) Smaller stores, likely already strained by the pandemic, probably can't compete with the $100 credits the RealReal regularly doles out as rewards. They also probably can't logistically take everything people want to consign, which is why people often leave feeling rejected. By comparison, the RealReal is friendly and easy. Its "white glove" service makes tossing your stuff feel like a luxury experience, not a hassle.
Consignment Brooklyn's Eva Dayton, who has been a small-business owner in the area for 26 years, is staying positive, however, and doesn't believe the RealReal poses a threat to her community. "Yes, business is off for me because of the world events, but I am still here, and I have so many wonderful supporters that are sticking by me — they are like family," she says. "I have weathered many storms, for sure, and here we are!"
As an e-commerce venture and app first and foremost, the RealReal also has years and years' worth of data at its disposal regarding what, exactly, its customers are buying and selling.
"We see stronger demand for casual and bohemian styles from our millennial and Gen-Z shoppers in Brooklyn," said Sasha Skoda, head of women's merchandising, matter-of-factly in a press release. So for the first time ever, the store will feature a dedicated vintage section with certified-old and "vintage-inspired" pieces.
As for ready-to-wear, the store knows the Cobble Hill woman likes her sweaters, her knit pants, her tweed blazers, and her capes (capes!) from brands like Rachel Comey, Hermès, Burberry, and Ulla Johnson, all of which will be front and center for the opening.
Meanwhile, the new men's selection in Brooklyn will be "leaning into 'gorpcore,'" said Mayank Hajela, head of men's.
For home: vintage, one-of-a-kind ceramics, of course.
The circular economy can feel a bit dizzying in this way. Bird's stock brands didn't disappear from the neighborhood; they just went around the block.
This story has been updated to include a statement from Consignment Brooklyn.