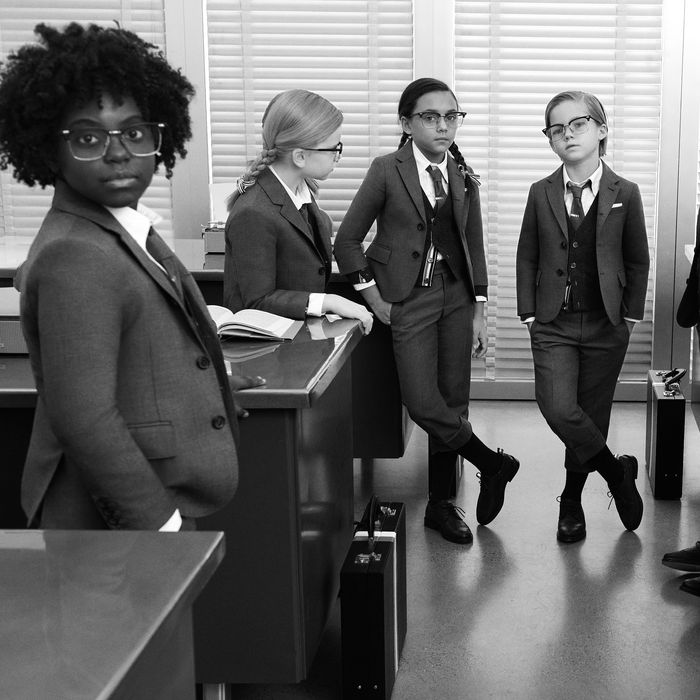 Photo: Courtesy of Thom Browne
Unlike most kids, Thom Browne didn't mind wearing a Catholic school uniform as a kid. In fact, he actually enjoyed it. "I loved that sensibility then, and I love it now," the designer said over Zoom last week. He was dressed, of course, in his own grown-up uniform, which included a button-down shirt, vest, and tie from his eponymous brand.
It should come as no surprise, then, that Thom Browne's new children's line, which launched Sunday in conjunction with the spring 2021 menswear collection, is a miniature version of his signature wardrobe. Yes, those shrunken gray suits just got even tinier. (Unfortunately, this means it will likely be difficult for small adults to do that trick where they buy the largest sizes for themselves. Darn!) In addition to jackets and trousers, the collection also includes four-stripe cardigans, oxfords, and brogues, plus the Thom Browne "Friday uniform" of T-shirts, sweats, and sneakers. Prices range from $230 to $1,550.
"I wanted it to fit seamlessly into what I do," Browne said of the collection. "But the most important thing was that [the kids wearing it] felt like kids."
In an accompanying video directed by Cass Bird, a group of children sit in a gray Thom Browne office, tapping away on vintage typewriters, which are completely foreign objects to them. They look like mini-adults, bored out of their minds, but after a few minutes, they inevitably start bouncing off the walls.
"I thought they would be like, 'Ugh, I'm so uncomfortable,' but none of them did," Browne said of the shoot. "[The clothes] didn't prohibit them from being kids. It's not like all of a sudden they acted more serious or more strict. They were jumping on the desks and throwing things at each other. They were being themselves. [Even though] they're all wearing the same thing, the personalities of each and every one of them is so apparent."
Despite his formal-looking uniform, Browne's collections always have elements of childlike humor and imagination that make you smile. Remember when Cathy Horyn carried a Thom Browne wiener-dog bag around Paris Fashion Week? Now that's what I want when I grow up.