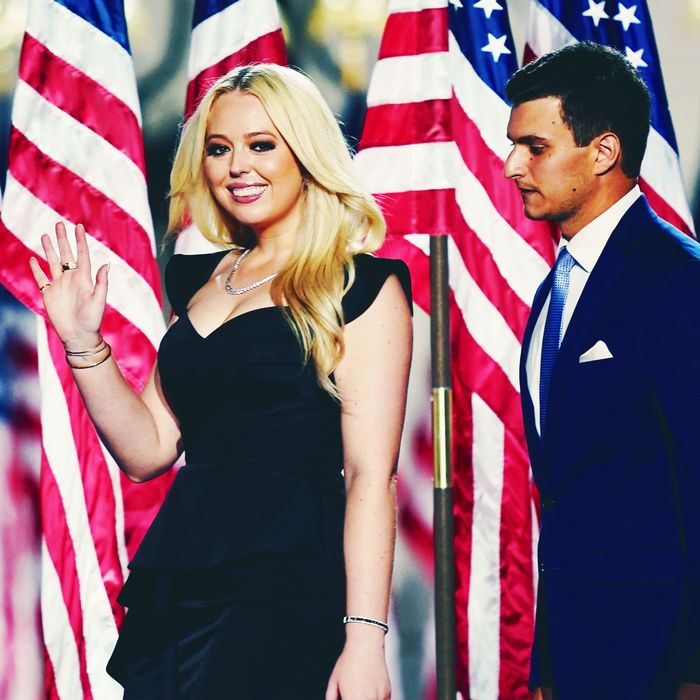 The happy couple.
Photo: Evan Vucci/AP/Shutterstock
Big day for the Trump family, whose patriarch — President-for-around-19-more-hours Donald Trump — is being compelled to vacate the White House in what many would call disgrace. (Double impeachment, baby.) Meanwhile, First Lady Melania Trump is said to be avoiding her husband, Ivanka and Jared Kushner are reportedly trying to salvage "what little is left for them in terms of sellable currency as Trumps," and, oh, what's this? Tiffany Trump got engaged. Okay!
The news comes via a "Page Six" "exclusive," announcing that the president's other daughter accepted a "massive diamond ring" in the spartanly renovated Rose Garden today, courtesy of her boyfriend of about two years, Michael Boulos. Tiffany announced her impending nuptials with an Instagrammed couple's photo taken at the White House, where she has been "honor[ed] to celebrate many milestones, historic occasions," and family memories, "none more special than [her] engagement to [her] amazing fiancé Michael!"
I can think of at least one legitimately historic moment that might outrank this union — tomorrow's inauguration of President-elect Joe Biden and Vice-President-elect Kamala Harris, which comes amid a devastating pandemic and a threat of extremist violence Tiffany's father encouraged — but the bride-to-be is "feeling blessed and excited for the next chapter," so.
Tiffany and her fiancé — the 23-year-old heir to Nigeria-based Boulos Enterprises, which deals in vehicle parts and assembly — met sometime during the summer of 2018, when Tiffany was vacationing in Greece and, per TMZ, "living it up with old friend Lindsay Lohan." (Town & Country refutes the idea that the pair's meet-cute occurred at Lohan Beach House Mykonos, and while I personally would like to believe that it did, photo evidence of Tiffany's time at Lohan Beach House Mykonos has been wiped from social media.) Regardless, a White House source told "Page Six" that "the family is delighted."
So … that's happening.