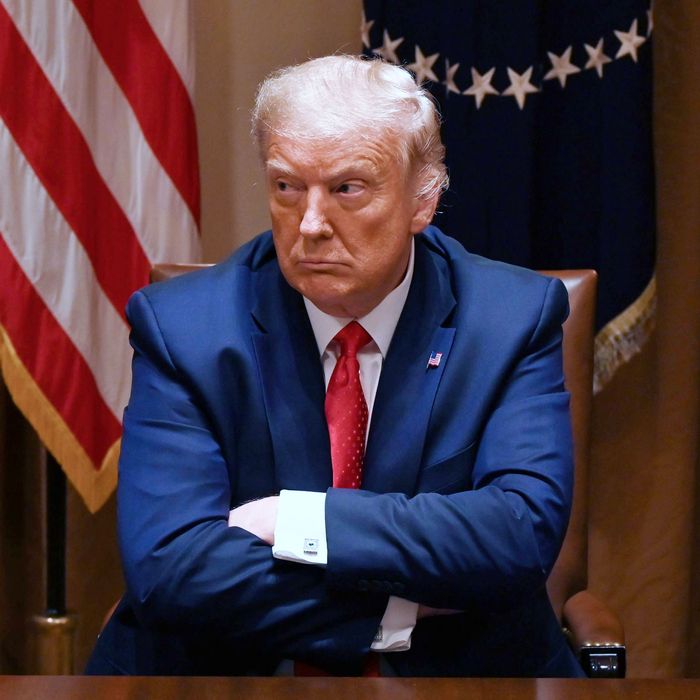 Whelp!
Photo: JIM WATSON/AFP via Getty Images
If there's one thing Trump loves, it's declaring himself the best — the "youngest person ever," with "the best words" and "the biggest crowds." And now he can add get another credential to that list: The first president ever to have been impeached twice. Twice in a single term, at that! An honor, we are sure.
Having filed a single article of impeachment — for "incitement of insurrection," pertaining to the Capitol riot that Trump that verbally encouraged in a rally on January 6, and tweeted about prior to that — the House held its vote on Wednesday. Ultimately, ten Republicans joined Democrats in charging Trump, voting 232 to 197 in favor of his impeachment, reportedly making it the most bipartisan impeachment vote of all time. (Another record!) Ahead of the vote, House Speaker Nancy Pelosi urged her colleagues to support "a constitutional remedy that will ensure that the Republic will be safe from this man who is so resolutely determined to tear down the things that we hold dear and that hold us together."
"He must go," she continued. "He is a clear and present danger to the nation that we all love."
That the Democratic-majority House voted in favor of the article is not necessarily surprising, and unfortunately, it seems unlikely that it will lead to Trump's premature removal. Despite reports that Senator Mitch McConnell was "pleased" with the prospect of impeachment, he said Wednesday that he had "not made a final decision on how I will vote, and I intend to listen to the legal arguments when they are presented to the Senate," which is the next step in the process. He has also clarified that a Senate impeachment trial will not occur before January 20, when Joe Biden is sworn into office: "Given the rules, procedures, and Senate precedents that govern presidential impeachment trials," McConnell said in a statement, per CNN, "there is simply no chance that a fair or serious trial could conclude before President-elect Biden is sworn in next week."
But even if Trump is not ousted from office early, a vote by the Senate to convict would then allow the body to vote on whether or not Trump can hold office in the future. The New York Times reports that, while history is murky on post-term impeachment (once again, Trump is a trailblazer!), precedent suggests it could be done. Anyway, huge congrats to the current administration on this unprecedented distinction — hope it ruined their day!