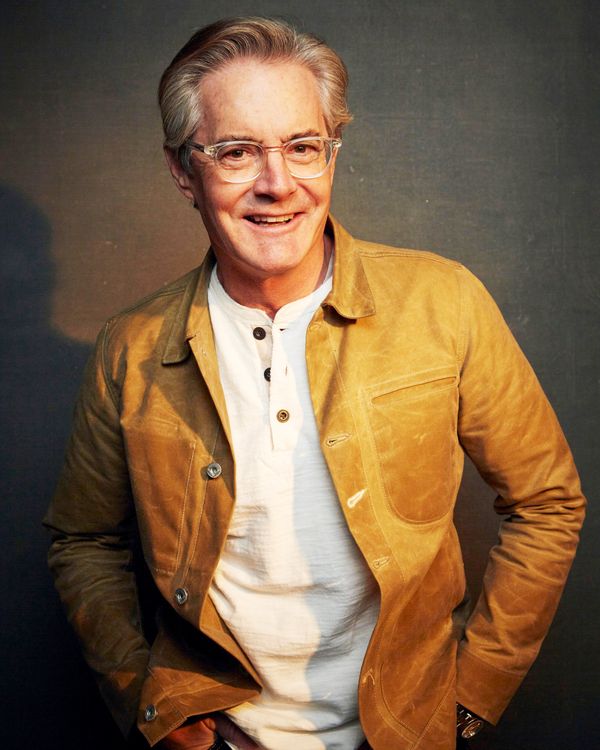 Photo: Taylor Jewell/Invision/AP/Shutterstock
Mostly, I avoid TikTok (I don't like the bad feeling you get when a 20-second bathroom break becomes a half hour of StockTok), but there are times when the app delivers something really delightful. And I found that today, with this:
Twin Peaks actor Kyle MacLachlan, now a 60-something silver fox, has created a TikTok that seems solely concerned with his day-to-day activities, which are a little bit strange and very charming.
For instance, there's one video in which he's cruising along on what appears to be an electric skateboard wearing a suit with no tie, drinking coffee, and lip-syncing to Fleetwood Mac's "Dreams." His expression is serene, as if this is simply his morning routine.
My favorite three-video series involves MacLachlan's "tomato mystery," in which he wanders through his tomato garden exclaiming things like, "Something has been nibbling at my tomatoes!" and "I will avenge you!" to half-eaten fruits. Other times, he references his past work, like when he posted a video of him driving from a Twin Peaks episode and set it to Olivia Rodrigo's "drivers license."
My hunch is that he started the account to advertise his wine, which is inexplicably bear-themed (it is called "pursued by bear" and includes such varieties as "baby bear syrah" and "blushing bear rose:). For this, he's made a series of kitschy videos called "Beary Tales," which feature a friend dressed in a bear suit. The mischievous bear will do things like steal the hamburgers MacLachlan is grilling and chase him across his yard. In another, the bear uses all of his toilet paper and returns an empty cardboard tube. ("Our Bear friend here is not the best "roll" model 🧻," reads the caption.)
It's simply a miscellany of dad jokes, wine, and good vibes, making for the best TikTok experience I've had since Andrew Lloyd Webber remixed "WAP" and "Phantom of the Opera." And, as we near the first anniversary of the Imagine video, may it serve as a reminder of what celebrities should be doing on social media.