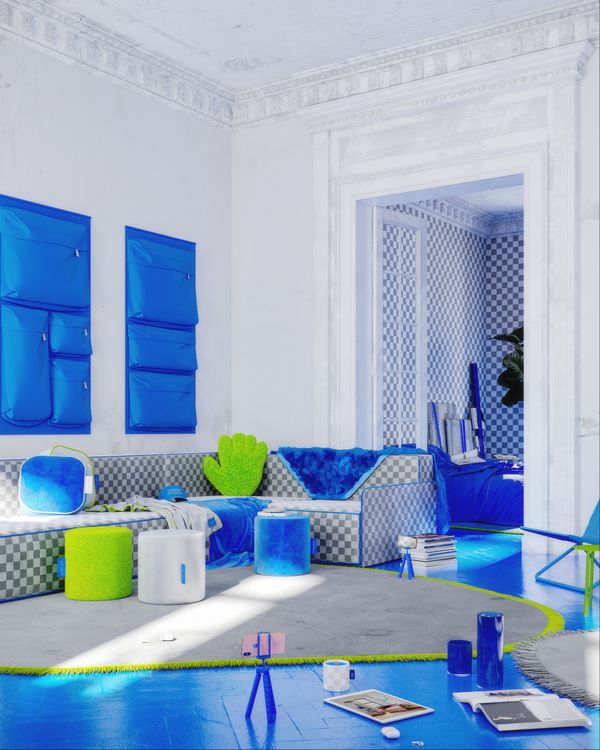 Photo: Courtesy of Crosby Studios
Artist Harry Nuriev is known for mind-bending, fashion-adjacent works like his Balenciaga air conditioner from Miami Art Basel, or the tiny bedazzled folding chairs he created for the Area runway show. Unfortunately, both are nonfunctioning, but the good news is that Nuriev just launched Crosby Studios Home, which makes playful (and, more importantly, actually usable) home goods inspired by contemporary art and material culture.
This is the first time that Nuriev's work is available to the masses, but it maintains his wit and sense of nonconformity. He says that Crosby Studios "aims to capture the essence of what we truly crave when we enter spaces: comfort and stimulation, clarity and calm, and a sexy personal story."
The debut collection includes loungewear, a chair made from puffer coats, velour dining chairs, rugs in the shape of giant socks and shopping bags, fuzzy notebooks, candles, soaps, glassware, and floor lamps. For those in desperate need of touch right now, there's even big hand-shaped pillows and oversize body pillows (literally — they're shaped like human bodies). "I like to think of the humanoid pillow as 'the Crosby friend,'" Nuriev told the Cut. "And hands, for me, symbolize happiness." He's known for working with punchy color schemes — everything in this collection is slime green, cobalt, or gray checked.
Home goods this whimsical deserve an out-of-the-box shopping experience. Crosby Studios Home's virtual showroom uses gaming software to create an interactive apartment. Visitors can walk around the virtual blue-floored home and discover products that are for sale. When you click on an object, you have the option to enter "AR View" on a phone to see how the products look in your home. "I really want to change how we shop online," Nuriev said. "I'm not a fan of mindless scrolling. I want e-commerce to embody the same excitement and emotions that IRL shopping does." If you want to get lost in the world of Crosby Studios, click here.