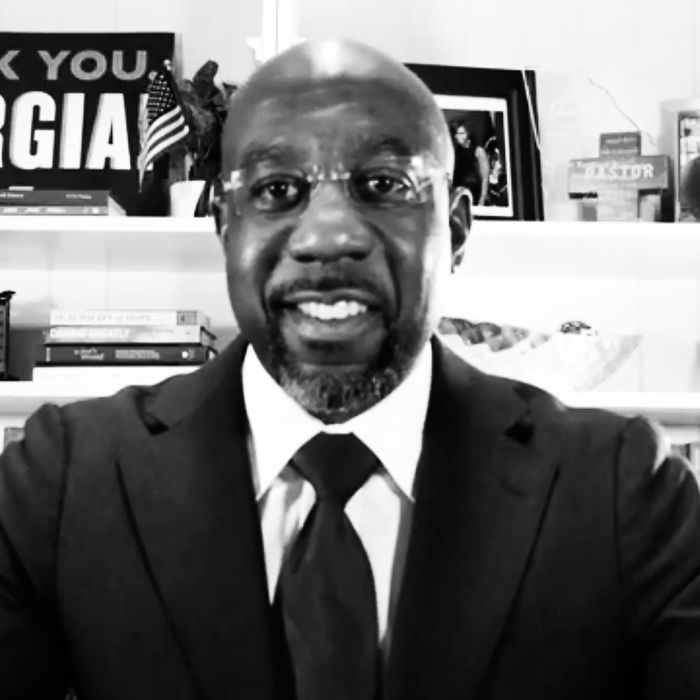 Georgia Senator-elect Raphael Warnock.
Photo: Raphael Warnock via YouTube/EPA-EFE/Shutterstock
In the early hours of Wednesday morning, Raphael Warnock declared victory over Republican incumbent Kelly Loeffler in one of Georgia's two pivotal Senate runoff races, becoming the state's first-ever Black senator. In a triumphant livestreamed speech, which Warnock delivered from his home with the cadence of a pastor speaking to his flock, the senator-elect introduced himself "a proud American" and "a son of Georgia." He then, as he often did on the campaign trail, pivoted to pay a stirring tribute to his mother, who worked as a sharecropper in Georgia in the 1950s.
"The 82-year-old hands that used to pick somebody else's cotton went to the polls," Warnock spoke, momentarily pausing, "and picked her youngest son to be a United States senator." While Warnock delivered his address before major news outlets had officially called the race, he has since been declared the winner.
Warnock's historic victory is hugely meaningful for Black Americans, who organized mass mobilization efforts and turned out voters in droves for this special election. As the New York Times reporter Astead Herdon writes, few Black people have won U.S. Senate races, and few Black people have been elected to statewide office in the former Jim Crow South. "The improbable journey that led me to this place in this historic moment in America could only happen here," Warnock said in his speech. During the campaign, Loeffler ran attack ads that darkened her opponent's skin tone and attempted to portray him as an extremist, while characterizing herself as "more conservative than Attila the Hun." Warnock campaigned on a liberal platform that included expanding health-care access, criminal-justice reform, and raising the minimum wage.
On the trail, Warnock also frequently spoke of his experience as a Black man in the South. He grew up in public housing in Savannah, received his education at the historically Black Morehouse College, and eventually rose to occupy the pulpit at the Ebenezer Baptist Church in Atlanta, where Dr. Martin Luther King Jr. once preached. Throughout his speech, Warnock frequently evoked Dr. King's legacy, at one point quoting his words: "In the words of Dr. King, who grew up just blocks from where I stand tonight, 'We are tied in a single garment of destiny, caught up in an inescapable network of mutuality. Whatever affects one directly, affects all indirectly.' "
To end his victory speech, Warnock returned to his family, recalling how his father — who died in 2010 — "used to wake me up every morning at dawn." He continued: "But it was still dark. It's dark right now. But morning comes. And scripture tells us weeping may endure for the night, but joy comes in the morning. Let us rise up, greet the morning, and meet the challenges of this moment. Together, we can do the necessary work and win the future for all of our children."