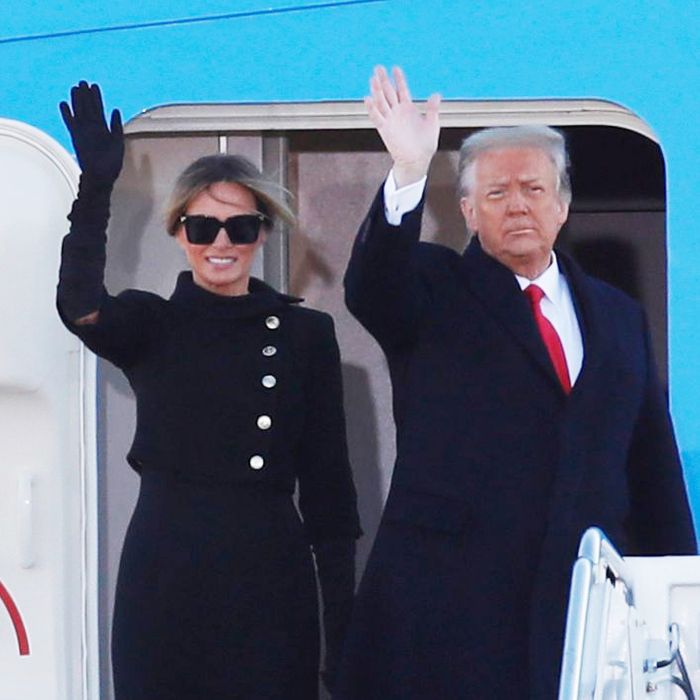 Photo: Luis M Alvarez/AP/Shutterstock
Well, here we are. Four long, dark years after he was sworn in as the 45th president of the United States, Donald J. Trump has departed Washington, D.C. He left just hours before the inauguration of his successor, Joe Biden, under the pall of a deadly global pandemic and a crumbling economy and to the tune of the Village People's 1978 hit "Y.M.C.A."
Shirking tradition and grace yet again, Trump decided not to attend Biden's inauguration ceremony on January 20, instead leaving Washington early to fly down to his home in Florida. To the crowd assembled at Andrews Air Force Base, Trump gave a rambling ten-minute speech in which he boasted about the recent COVID vaccines, his creation of the Space Force, and his work with Congress — "at least, certain elements in Congress."
He concluded, "Have a good life! We will see you soon." Then he and Melania — who, clad entirely in black, recalled a wealthy widow — turned and boarded Air Force One one last time, while speakers blasted the pulsing disco hit.
"Y.M.C.A." was one of Trump's favorite songs to play on the campaign trail. It's possible the lyrics took on a special meaning for him today, though, as he left behind the smoldering wreckage of his time in office. One can picture the soon-to-be-former president leaning forlornly against a window of Air Force One, the new chapter ahead of him full of uncertainty and possible legal action, and mouthing silently to himself:
Young man, there's no need to feel down
I said, young man, pick yourself off the ground
I said, young man, 'cause you're in a new town
There's no need to be unhappy
And then, after picturing this, one can, for a brief moment, breathe a sigh of relief.