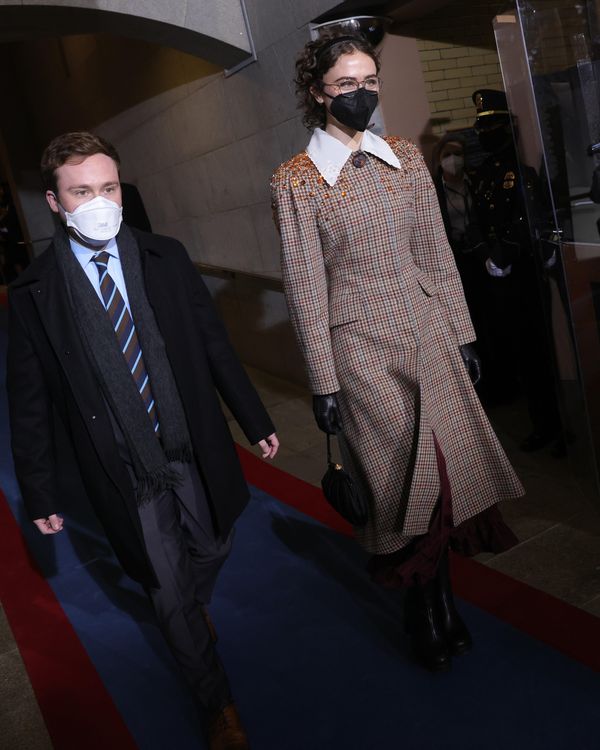 Around 10:55 a.m., the Inauguration Day Twitter spiral turned its attention to Ella Emhoff, and what she was wearing walking down the steps of the Capitol. Emhoff, a Parsons student and Brooklyn resident, is the daughter of Second Gentleman Doug Emhoff and stepdaughter of Vice-President Kamala Harris. The 21-year-old textile designer is known for her knitwear and androgynous, eclectic style, and she did not disappoint for the occasion of her stepmother's historic swearing-in.
While many on Twitter speculated that Emhoff's sparkly coat was her own design, the fashion kings and queens on the internet embracing Emhoff's chic and disruptive look were wrong. Actually, the First Daughter of Bushwick graced our eyes in a Miu Miu Shetland Pied De Poule coat with embellished shoulders and signature Miu Miu collar, which she styled with her natural curls and John Lennon glasses, stealing the show like a true style icon.
Unlike the last stiff and "traditional" daughters of government leaders, everything about Ella Emhoff feels refreshing and represents the future of America. Upon the arrival of Mike Pence, the previous occupant of her stepmom's job, Emhoff gave off a playful eyebrow waggle, and we exhaled a collective sigh of relief. Channeling Bridgerton's over-the-top costumes, the unabashedly queer style of King Princess, and an artsy teen, she's a symbolic figure for most young creative Brooklynites. Overall, Emhoff's approach to fashion will definitely be one to watch over the next four years.