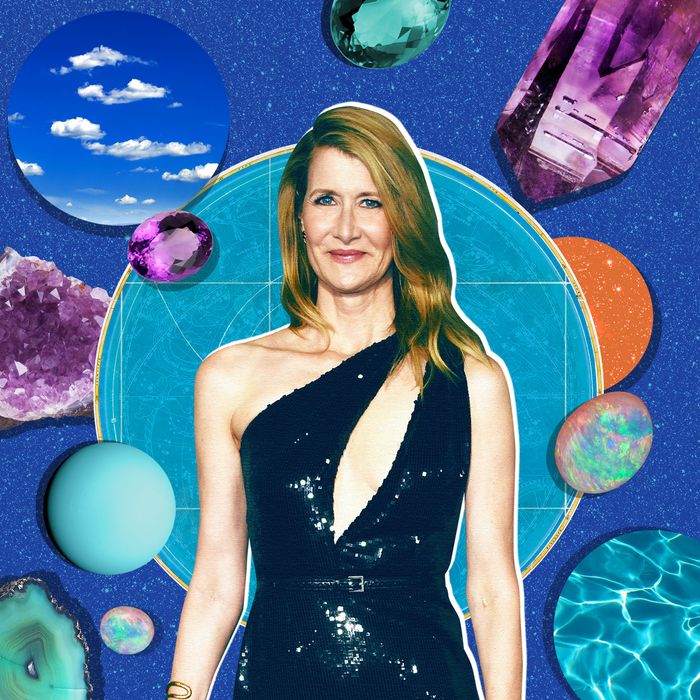 Laura Dern, an Aquarius.
Photo-Illustration: by Preeti Kinha; Photos Getty
On Thursday, there's a full moon in bold Leo, illuminating the drama, the contradictions, and the emotions that have been hiding just out of sight. It might be a day of high energy, of big feelings, of conflict, and the clarity that conflict brings with it. Then, on Saturday, Mercury retrograde begins. For the next three weeks, misunderstandings and miscommunications may abound. Prepare to be generous: You'll get some things wrong, and others will, too, and it won't be the end of the world.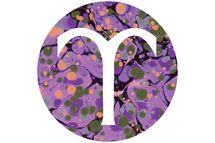 Aries Weekly Horoscope
This is a week to do right by yourself, a week to honor your fighting spirit. It's hard, sometimes, to know where to direct all your boldness, all your courage, all this passion inside you. Sometimes, it feels like you need to mute all your hot energy in order to get by; this week, though, all you need is an outlet, somewhere for it all to go. This week, don't try to force yourself to be softer or calmer or quieter — just look for places to direct your fire.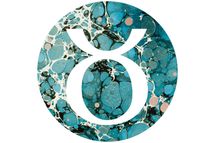 Taurus Weekly Horoscope
You're keenly aware of the texture in your life. You know every building, every tree, every face in your neighborhood; you value every color, every rhythm, every sound. And this makes it hard not to focus all your energy on every change, every loss. It can feel impossible to look out upon a world that's been so vastly changed, to contemplate a future that's practically unrecognizable. But this week, nothing is impossible. This week, your strength will surprise you. This week, courage is what is needed, and courage is what you have.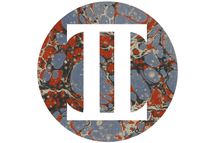 Gemini Weekly Horoscope
As the dust settles this week, you'll be left with the question of how to truly feel alive, how not to be so trapped in your own head. This week, your desire to live fully might make you reach out to everyone around you; it might make you act and speak wildly and impulsively. And while it's valuable to try to moderate some of this wildness, you should still honor the part of yourself that needs action and movement. You still do deserve a life that feels like living.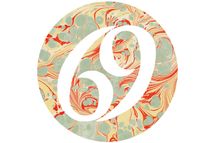 Cancer Weekly Horoscope
This is a week to consider the ways your desires, your personality, your whole emotional landscape have all shifted. Change is natural enough, but it can be uncomfortable to think about how little choice you've had in the matter, about how much the violent world has shaped you. But this week, don't look at change as a sign of weakness or an indication that the world has gotten the better of you. It hasn't. You've survived up until now, and that's no small feat. And if your power has totally transformed, that isn't a problem, but a gift and a valuable tool.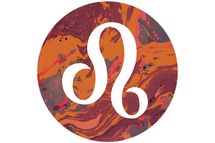 Leo Weekly Horoscope
This week, your heart might swell with hope, with energy, with life — but it's going to be difficult to move forward without first releasing something you've been holding onto. To make beautiful new plans, you might need to walk away from old ones. To form new relationships, you might need to let go of the failures of relationships in the past. Your heart wasn't built to keep taking on more and more weight forever. Your body wasn't made to store a whole lifetime of fury at once. It's never easy to forgive and move on, but it's worth it at least to practice, at least to try.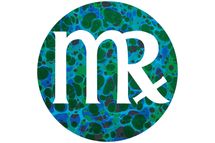 Virgo Weekly Horoscope
There's so much to be frustrated about. There's so much in other people's behavior that falls short, that makes no sense, that leaves you irritated, distracted, hopeless for the future. This week, it's important not to let all this frustration consume you. This week, it's possible to carve out some space in your life that's beautiful and good and just for you. If you just look, you can find evidence that the world is still full of potential, that it's bringing you closer and closer to what you really need.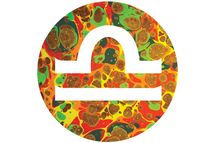 Libra Weekly Horoscope
Others may try to convince you that it is inherently meaningful to struggle and toil away, that it's only through hard work that you will find true satisfaction. This week, it's important to remind yourself that that's not necessarily true. Sometimes, conflict is inevitable — sometimes it's even valuable — but it's okay to struggle only because you have to, not because you love to. It's okay to turn toward sweetness when you can.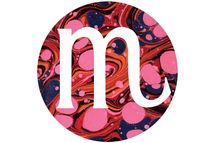 Scorpio Weekly Horoscope
Sometimes, your desire for a better world can be like a hidden flame inside you; it can make you strong, make you brave, can light you up with purpose. Sometimes, though, it just makes you a little grouchy, sparking with a heat you can't figure out how to use. When the world blocks your best energies, it's natural to try to overcorrect — to speak louder than you have to, to assert yourself more forcefully than you need. But this week, it's better to focus on keeping your balance. Act on what opportunities you can, and trust that your time is still coming.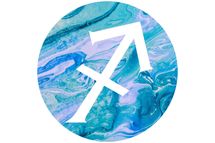 Sagittarius Weekly Horoscope
It isn't easy to be so aware of the world's cruelty; at a certain point, wisdom comes to feel more like a burden than a gift. This week, you might feel a powerful urge to act wild and impulsive and free, to return to a lighter, bolder, more reckless version of yourself. You might feel a powerful urge to take action, just to feel like you're truly alive. And you really do deserve some lightness and freedom. Just keep watch over your fire: Don't let your hard-won boldness burn out of control.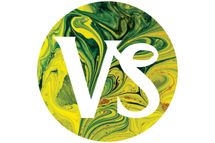 Capricorn Weekly Horoscope
This week, you might start to question yourself and your intentions. It's hard not to, when so many of the people around you seem more concerned with appearance than in reality, more focused on surfaces than truth. It's hard not to worry that you're not as good as you want to be, that you're not trying hard enough. This week, though, be gentle with yourself. It's useful to question yourself — to listen to your doubts, to move with caution and care — but don't let it paralyze you. Your heart is still good, your integrity still sound.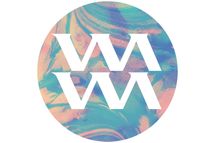 Aquarius Weekly Horoscope
Your quest for real freedom, for a world worth living in, has taken you across so many kinds of terrain. Sometimes the path has been rocky, and sometimes it's been smooth; sometimes it's been lonely, and sometimes thronged with other people. This week, you may wish desperately for solitude, to be free from other people in all of their wild and frustrating unpredictability. But right now, there's no way forward without them, and that isn't a bad thing at all. This week there's a true, surprising joy in collectivity, if you'll just let yourself feel it.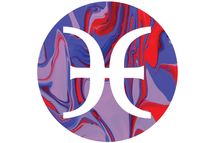 Pisces Weekly Horoscope
This week will ask you to let some things go. If there are old feelings of shame or inadequacy that have been haunting you, stale feelings of anger and frustration that have been coiled up tight in your heart, this is a week to exhale. Speak your feelings out loud; tell the truth to whoever needs to be told. This is a week to unburden yourself of the feelings you've carried secretly. None of this is easy, of course, but you've been trying so hard, you've been giving so much, and you deserve a lighter load.
Read the weekly horoscopes for the week of January 18. The weekly horoscopes for the week of February 1 will be online next Sunday.
Get Claire Comstock-Gay's book, Madame Clairevoyant's Guide to the Stars, out now.