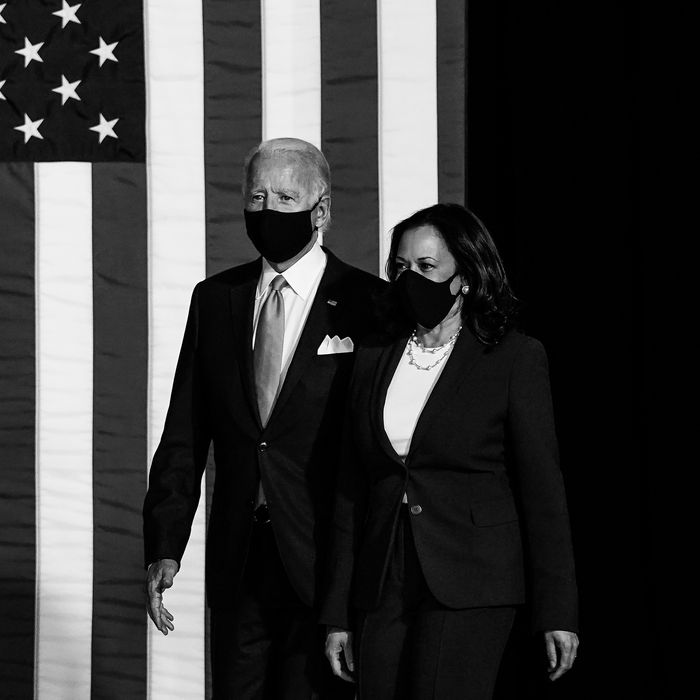 Joe Biden and Kamala Harris.
Photo: Drew Angerer/Getty Images
Today, when the clock strikes noon, Donald Trump's presidential term — a tumultuous one defined by the mass rollback of civil rights, the transformation of the federal judiciary, and extreme pettiness — will finally end. Concurrently, Joe Biden will be sworn in as the 46th president of the United States, and alongside him, Kamala Harris will become the country's first female vice-president.
While Inauguration Day typically brings swarms of people to the nation's capital and is celebrated with a public parade and a lavish ball, this year's ceremony won't resemble those of the past. Due to the coronavirus, much of the ceremony will be virtual, and Biden's Inaugural Committee has discouraged members of the public from traveling to Washington, D.C., for the festivities. Additionally, following the riot at the U.S. Capitol last week, the threat of right-wing violence looms, which has put the city on high alert.
Here's everything you need to know.
When is Inauguration Day?
When: Wednesday, January 20. The ceremony will begin around 11:15 a.m., and Biden will be sworn in around 12 p.m. (The date and time are actually mandated by the 20th Amendment to the Constitution, which states, "the terms of the President and Vice President shall end at noon on the 20th day of January.")
Where: Biden will be sworn in on the U.S. Capitol's West Front in Washington, D.C.
What will the ceremony look like?
Due to a surge in cases of COVID-19, a disease which has killed nearly 400,000 Americans in less than a year, this year's ceremony will be scaled back, and many of the celebrations will be virtual.
The swearing-in ceremony is expected to begin around 11:15 a.m., with Father Leo J. O'Donovan delivering the invocation. Other notable guests at the ceremony include Andrea Hall, a firefighter who will recite the Pledge of Allegiance; Lady Gaga, who will sing the national anthem; Amanda Gorman, who will do a poetry reading; Jennifer Lopez, who will give a musical performance; and Reverend Dr. Silvester Beaman, who will deliver the benediction. Just before 12 p.m., Biden and Harris will each take the oath of office, after which Harris will be sworn in by Justice Sonia Sotomayor, and Biden by Chief Justice John Roberts Jr. Then, once the ceremony has concluded, Biden will give his Inaugural Address.
According to the New York Times, after taking oath, Biden will be publicly escorted one block toward the White House, by representatives of each military branch, which will provide "the American people and world with historic images of the President-elect proceeding to the White House without attracting large crowds and gatherings," the Presidential Inaugural Committee said. Per the committee, there will also be a virtual "Parade Across America," which will tributes to frontline workers and musical acts, including a performance by the band the New Radicals, which is reuniting for the first time in more than two decades to play "You Get What You Give."
Biden's committee has also prepared a 90-minute primetime TV special, which will start at 8:30 p.m. ET. The special, called "Celebrating America," will be hosted by Tom Hanks, and feature performances from artists including Bruce Springsteen, Jon Bon Jovi, Demi Lovato, and John Legend.
Is there any threat of extremist violence?
Even before Biden defeated Trump in the presidential election, experts who study right-wing and extremist violence warned that the period between the election and Inauguration Day would see unrest. Following the mayhem that unfolded last week at the U.S. Capitol, when a destructive mob of Trump supports breached the building, causing some elected officials to fear for their lives, those fears have only mounted. Earlier this week, CNN obtained an internal FBI bulletin showing that the agency has information that "armed protests" are planned for Inauguration Day at every state capitol.
Megan Squire, a computer-science professor at Elon University who studies how the far-right operates in the online world, thinks this is likely. While she doesn't anticipate we'll see an exact repeat of the Capitol riot, due to heightened security measures, she told the Cut that she expects extremists will "redirect their energies at the state capitols, for example, or governors who they're annoyed with." She continued, "All indications are that, if they show up, a healthy percentage will be armed."
In anticipation of violence, a number of extra security measures have been put in place. Last weekend, Washington, D.C., mayor Muriel Bowser asked the U.S. Interior Department to "cancel any and all public gathering permits in the District of Columbia, and deny any applications for a public gathering during the period Jan. 11 through Jan. 24." On Inauguration Day, the National Guard presence is expected to surpass 20,000, and the National Mall will be closed to the public.
Will Trump be there?
The swearing-in ceremony is intended to mark a peaceful transfer of power, which Trump begrudgingly promised to comply with after the Capitol insurrection. Nevertheless, he will not be in attendance — a decision made by just three other presidents before him, according to the New York Times. In fact, Trump has already departed the White House. Just past 8 a.m., he boarded a helicopter and headed toward the military facility Joint Base Andrews, where he touched down to give brief remarks. He assured his supporters that, one day, "we will be back in some form," before parting with, "have a good life." Then, he descended the stage to his go-to walk-off song, "YMCA."
Trump's own vice-president, Mike Pence, did not attend Trump's farewell "ceremony." Instead, his schedule shows that he's planning to be at Biden's inauguration, as are most living former presidents and their spouses: Barack and Michelle Obama, George W. and Laura Bush, and Bill and Hillary Clinton. (Jimmy Carter, who is 96, announced that he and his wife will not be present for the ceremony.)
How can I watch?
Every major news network is expected to broadcast the ceremony live: ABC, CBS, CNN, MSNBC, and others. The Presidential Inaugural Committee will also livestream the events.
This post has been updated.