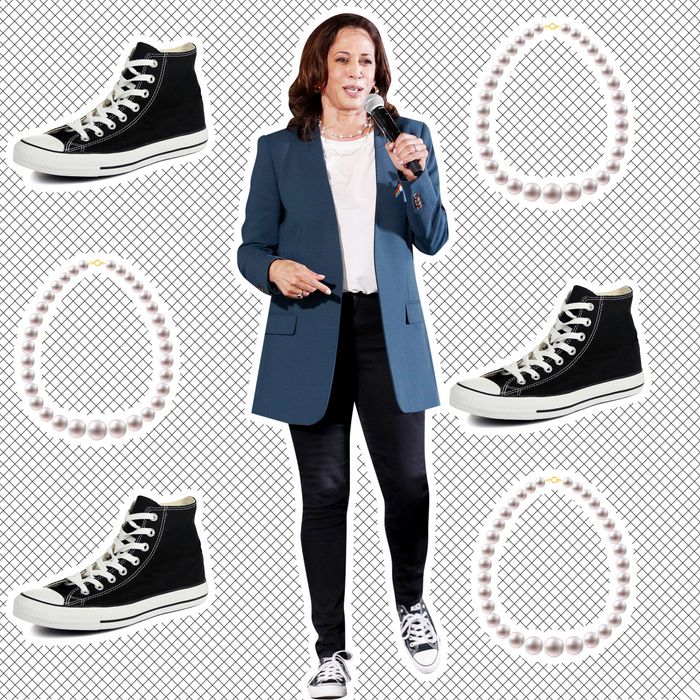 Photo-Illustration: by The Cut; Photos: Amazon, Getty Images
Inauguration Day 2021 looked different because of the pandemic and the recent insurrection at the Capitol. A new administration under Joe Biden was sworn in without the usual crowd on the National Mall. But women found a way to celebrate from home as Kamala Harris became the first woman, the first Black woman, and the first person of South Asian ancestry in U.S. history to assume the role of vice-president.
In honor of Harris, women across the country donned Chucks (Converse All Stars) and pearls. The widespread movement was organized in Facebook groups like Chucks and Pearls Day, January 20th, 2021 and Wear Pearls on Jan 20th, 2021, with over 90,000 and 450,000 members, respectively. "We love our new VP and we know how much she loves chucks and of course, those Pearls," one description reads. "We want women from all walks of life to honor her by wearing chucks and pearls."
Harris's pearls have become a signature look because they have particular importance to her. When she accepted the Democratic vice-presidential nomination, Harris thanked the family she found in her sorority, Alpha Kappa Alpha — one of the country's oldest historically Black sororities, with notable members like Maya Angelou, Coretta Scott King, and Rosa Parks. The sorority's founders were referred to as the Twenty Pearls, and today, its members are known as "pearls." In their honor, Harris has worn pearls at significant moments in her life, including when she graduated from Howard University, when she was sworn into Congress, and during her victory speech on November 7.
As for the Converse, the vice-president made the casual shoe her look on the campaign trail. Her team put out playful messages like "Laced up and ready to win," and more recently she wore the shoe on her polarizing Vogue cover. According to Harris, the sneakers tell a story about who she is as an everyday American; they're a symbol of universality. "We all wanna go back to some basic stuff about who we are as a country," Harris said in an interview with Complex. "Chucks — whatever your background is, whatever language your grandmother spoke — you know, we all at some point or another had our Chucks."
With Chucks and pearls, Harris is already uniting women across the U.S. on her first day on the job.